A tiny European craft despatched to Mars for a trial touchdown Wednesday "crashed" into pieces on the Red Planet's surface instead, a European Space Agency mission manager told AFP on Friday.
A NASA photograph of the intended landing site confirmed the Schiaparelli craft, missing for two days, had "crashed on the surface of Mars", Thierry Blancquaert said by telephone from mission control in Darmstadt, Germany.
The craft "reached the Martian surface a lot faster than intended," he said.
Flight operations manager Michel Denis added that an image captured by NASA's Mars Reconnaissance Orbiter showed a "white spot, consistent with the size of a parachute. About two kilometres (1.2 miles) away, there is a black spot... most likely Schiaparelli's point of impact".
The black spot was "larger than it would have been if Schiaparelli was in one piece", said Denis. "It is smashed."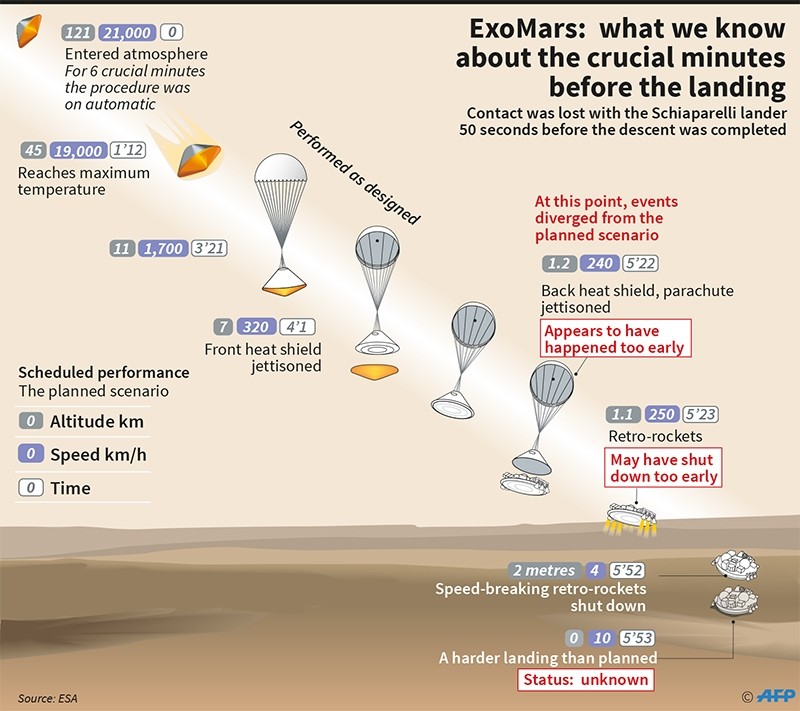 The lander was on a test-run for a future rover that will seek out evidence of life, past or present, on the Red Planet.
It fell silent seconds before its scheduled touchdown, while its mothership Trace Gas Orbiter (TGO) entered Mars' orbit as planned - part of a joint European-Russian project.
This is Europe's second failed Mars landing in a row, after the British-built Beagle 2 robot lab disappeared without trace after separating from its mothership, Mars Express, in 2003.