Nobel Prize-winning biochemist Aziz Sancar encouraged students to work hard in the field of science during his visit Tuesday to a Turkish school in Uzbekistan's capital Tashkent, saying science is the key to Turkish unity.
Sancar was invited to the country by the National University of Uzbekistan, where he met students at the Turkish primary school, part of an initiative supported by Turkish Airlines and the Turkish Cooperation and Coordination Agency (TIKA).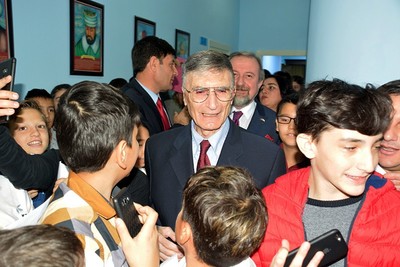 At a meeting attended by TIKA's Tashkent Program Coordinator Ali Ihsan Çağlar, Tashkent Embassy's Education Counselor Ali Eyyüpkoca and Media Counselor Davut Gazi Benli, Sancar told students to work hard as great things are expected of them.
When asked what his greatest dream is, Sancar answered, "My biggest dream right now is to see Turkish unity."
Sancar cautioned that Turkey may lag behind countries like the U.S., Japan, Germany and the U.K. if it doesn't prioritize science.
"Without being strong in science, the Turkish people would not be able to unite," he said.
Scientists build business and cultural ties by traveling internationally to do their work, he said, noting a lack of internationally-recognized Turkish scientists.
"To successfully unite the people of Turkey, we must succeed in the field of science," he added.
Sancar said that, working in the field, he often faced with disappointing results but never considered quitting.
One student asked the Nobel laureate how he managed to succeed. Sancar replied: "I don't believe in intelligence. We all, more or less, have the same level of intelligence. The only secret to success is hard work. I worked really hard. If you all work very hard, you too will be successful."
Sancar told the students he was "very happy" to visit Uzbekistan, calling the country his "homeland" and "the birthplace of science."
In 2015, Sancar received the coveted Nobel Prize from Swedish King Carl XVI Gustaf for his work on how cells repair damaged DNA, sharing the prize in chemistry with two fellow scientists. Sancar is an honorary member of the Turkish Academy of Sciences and the American Academy of Arts and Sciences.
Turkey has sought to ramp up its field of science and technology, with President Recep Tayyip Erdoğan most recently calling on Turkish scientists to return home from abroad, during Istanbul's first aerospace festival Teknofest in September.