Collaborative industrial robots and universal basic income were discussed in the robotic systems panel at Information Summit '18 on held Nov. 21-22.
A vision of how collaborative robots (cobots) will change production, the economy and society was discussed by Hepsirobot Chief Design Officer (CDO) and Chief Marketing Officer (CMO) Ali Tan Şerbetçi and Robotel Turkey founder Zeynep Karagöz. Some of the jobs we do now will cease to exist in the next 10 years, starting with repetitive and routine tasks, and resistance on this point is futile. As the active-passive communication of cobots with people increases daily, resistance control values, flexibility and degrees of freedom also develop day by day.
Developing algorithms increases the predictive capabilities of robots and make them faster in repetitive jobs with industrial robots starting to compete among themselves.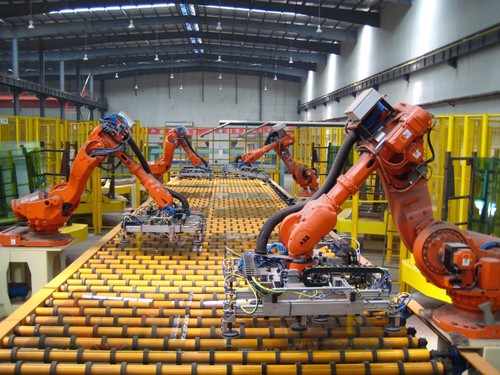 According to predictions, automation will change in line with industry and jobs and we will have more jobs than what automation extinguishes.
Demonstration videos show how giant robot brands counteract a table tennis player and can hit three-pointers on a basketball court. Industrial robots are becoming quicker and more accurate every day. Swiss-based robot giant ABB announced it would establish a factory in Shanghai in 2019 with the motto: "Robots will build robots."
So what will the next 10-20 years bring?
Young population of Turkey
How ready is the world for automation? The Economist magazine tried to answer this question in 25 countries where the density of robots is high and developing countries and countries that have products from countries with high robot density. Three main criteria were taken into consideration: innovation environment, education and labor policies. The results indicate that the countries most ready for automation, robotics and artificial intelligence are South Korea, Germany and Singapore, while the least ready are Mexico, Vietnam and Indonesia. Turkey, which has 12 industrial robots for every 10,000 workers and uses half of these in the automotive sector, is 15th on the list. It ranks sixth out of seven European countries readiness for automation.
The International Federation of Robotics (IFR) and international economists said that the use of industrial robots increases every year in Turkey where they have great potential for production.
In addition, economists David Autor and Anna Salomons studied over 35 countries for 19 years and found that increased work efficiency increases employment not unemployment and that societal demographic structure is the most important factor in increasing work efficiency. However, they emphasized enough people are required to satisfy demand. Thus, an insufficient number of people to provide production and services in developed countries with older populations are a negative factor in productivity. Thus, Turkey has a positive future outlook in terms of increasing production due to its young population.

Value of people in labor force to increase

According to McKinsey, an international management consulting firm, 5 percent of current jobs will not exist in 2030, but new jobs will be created at a rate of 10 percent. Only 10 percent of current jobs will be fully automated. Automation will change in line with industry and jobs and we will have more jobs than automation extinguishes. Economists Autor and Salomons indicate that business processes will be more reliable, cheap and faster as automation and computer use increase and the value of people's share in the production chain will increase. One example: when ATMs entered our lives in the 1990s, the number of branch workers did not decrease, new branches were opened and employees received more qualified jobs.

Replacing humans not the aim

According to the IFR, robot purchases increased by 30 percent in 2017, and this will advance at a rate of 14 percent until 2020 when the number of industrial robots should exceed three million. According to the IFR, innovative, creative companies increase work efficiency and are more competitive; thus, they will not be defeated by automation. The main threat is not being able to keep up with the competition. Middle and low-quality jobs and high-quality jobs, in particular, will emerge for companies that invest in robots. The IFR says the purpose of automation is not to replace a worker or employee but to redefine work and tasks and employ people in different ways to enrich the workforce.
Thus, some research points to the positive correlation between automation and work. For example, with the transition to computers from 1999 to 2010, the EU needed to increase its labor force by 11.6 million. Data shared by the global professional services firm PwC indicates that in sectors where robotics is dense - such as automotive, electronics and metal - the demand for mechanical and industrial engineers increased by 20 percent in the U.S. and the blue-collar workers needed for setup and repair doubled.