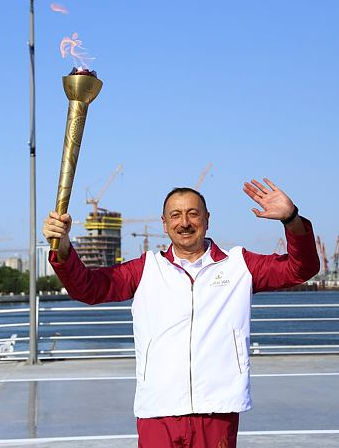 Azerbaijan President İlham Aliyev fired the European Games' torch.
The Baku 2015 European Games Opening Ceremony will be staged on Friday as the host nation looks to capture the world's attention. "After the European Games in Baku, people across the world will know that Azerbaijan is in Europe," Sports Minister Azad Rahimov said. For Rahimov the motivation was clear for Azerbaijan's multi-billion dollar effort to host the first European Games, an official Olympic franchise.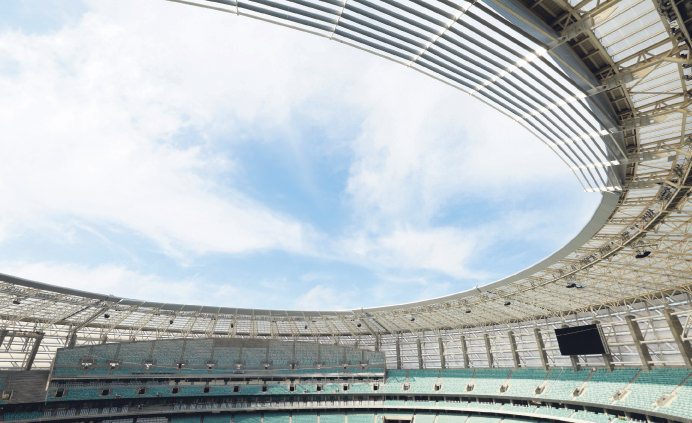 Azerbaijan's government wants to put the country on the map.
With 6,000 European athletes competing in 20 sports at newly-built venues in the capital Baku, the official cost of the game stands at $1.2 billion.
Some 190 sportspeople from Turkey will attend the 2015 European Games, which is the Europe's largest sport event.
Aiming to receive as many medals as possible in the games, Turkey will participate in the games with 109 men and 81 women, totaling 190, in 23 disciplines under 19 sports branches.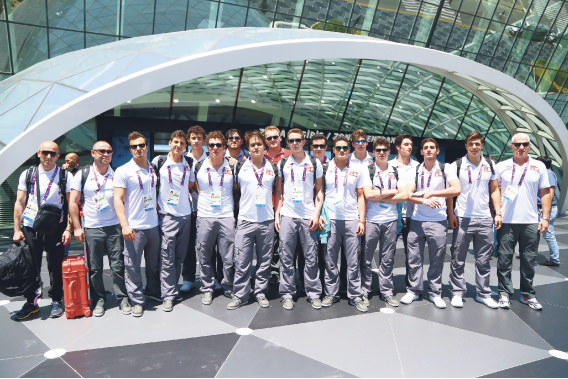 The first Turkish group has already arrived in Baku. The Turkish Ambassador to Azerbaijan İsmail Alper Coşkun, Baku 2015 officials and press members welcomed Turkey's first group of 49 sportspeople from synchronized swimming, water polo, triathlon, and bicycle national teams at Haydar Aliyev Airport.
Welcoming the Turkish sportspeople with flowers, Ambassador Coşkun told press members that even though they looked at the arrival of the Turkish group in "brother country" Azerbaijan as if they were coming to Turkey, he wanted to welcome them on behalf of Turkey.
Stating that thorough preparations have been made for a long time in Azerbaijan and the preparations were in the final phase before the games, Coşkun said that the 2015 European Games will be an event that Azerbaijan and Turkey will proud of. Emphasizing that Azerbaijan will show the world how good its infrastructure is, Coşkun said that "We want our sportspeople to be successful together with Azeri sportspeople. The success of Turkish sportspeople will make Azerbaijan proud while the success of the Azeri sportspeople will make Turkey proud."
Vice General Directory of Sports Head of International Organizations at the Ministry of Youth and Sport Ozan Çetiner said that Turkey would be represented in Baku 2015 with 320 people, 190 of whom will be competing. Stressing that Azerbaijan is a friend and brother country and they see it as their own soil, Çetiner said that "As Turkey, we have held successful sports events. I am sure that Azerbaijan will also organize a successful event. We will fight
here to get the best results. Our aim is to win more than 35 medals."
Synchronized swimmer Laçin Akçal said that they were very excited and worked very hard for these European Games. Underlining that competing in Baku is a big advantage for them, Akçal said that "We feel as if we are in our own country here. Everybody is speaking Turkish. I hope we will have a very good event. We will fight for medals."
Before the 2016 Rio Olympic Games, sportspeople will have a chance to test themselves in the 2015 European Games, which takes place every four years. The Baku 2015 European Games Opening Ceremony will be overseen by one of the world's most experienced and celebrated professionals in large scale live event ceremonies, Catherine Ugwu.
Originally from Manchester, Ugwu has been a pre-eminent producer of ceremonies since her first in her native Manchester in 2002. After producing the closing ceremony for the XVII Commonwealth Games at the City of Manchester Stadium, she also produced the opening ceremony at the 15th Asian Games in Doha, Qatar, in 2006. Catherine was senior producer for the strategic phase of the opening, closing and victory ceremonies at the Vancouver Winter Olympics in 2010.