The two continents were connected with swimming strokes for the 27th time during the Samsung Bosporus Cross-Continental Swimming Race. The race, which was launched on Sunday by Youth and Sports Minister Akif Çağatay Kılıç, resulted with Turkish swimmers' success both in the men's and women's categories. The race saw more than 1,870 athletes from 49 countries compete against one another. Hundreds of swimmers began the race from one of the most famous locations along the Bosporus in Kanlıca and started swimming toward Kuruçeşme on Istanbul's European side. The course stretched 6.5 kilometers in total.
The Bosporus was far from tranquil, but despite the conditions, families came to Kuruçeşme Park to view the competition where banners were hung and applause and cheers reached from Asia to Europe. In the end, Bertuğ Coşkun came in first while fellow Turkish swimmer Emre Öztürk came in second and Italian Claudio Gargaro came in third.
Coşkun finished the 6.5-kilometer course in 1 hour, 1 minute, 21 seconds. Öztürk came second, finishing in 1 hour, 3 minutes, 6 seconds, followed by Italian swimmer Claudio Gargaro finishing in 1 hour, 5 minutes, 1 second. In the women's category, Nilay Erkal came first with a time of 1 hour, 4 minutes, 53 seconds, followed by Deniz Güngöroğlu of Turkey in second who finished in 1 hour, 6 minutes, 48 seconds, and Jessica Wooddisse of the U.K. in third who finished in 1 hour, 8 minutes, 52 seconds.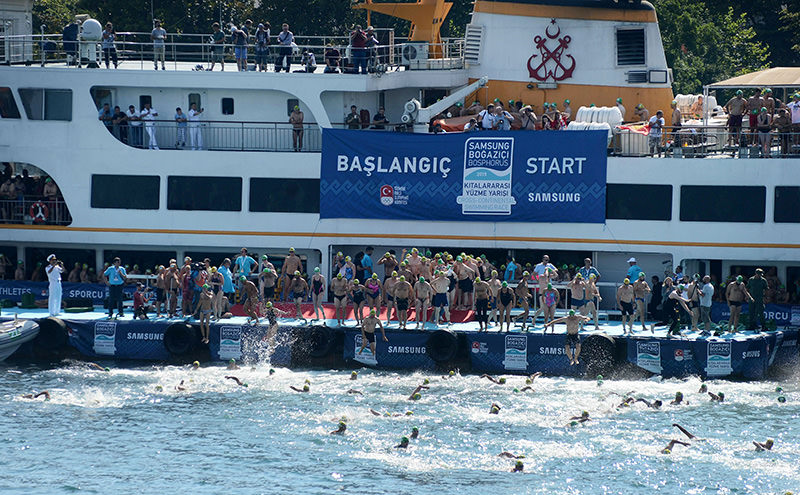 After the competition, Coşkun said, "To come first is a wonderful feeling. The parkour was much more difficult compared to before. I finished it in 40 minutes last year but it took one hour this year."
English swimmer and the race's guest of honor, Adam Walker, jumped into the Bosporus 10 minutes before the race. He said, "To swim in the Bosporus was magnificent."
For 26 years, thousands of athletes from around the world and Turkey have gathered in Istanbul for friendship, to compete, to challenge and discover their limits. The pleasure of swimming or rowing from Asia to Europe, to experience the exquisite beauties of the Bosporus and witness the passion of the fans all combine to create this unique event.
The Samsung Bosporus Cross-continental Swimming Race is organized under the auspices of the International Olympic Committee with large social and corporate support. Thanks to increasing interest year after year, this adventure, which began with the participation of four female and 64 male athletes in 1989, has grown to become an important part of the Turkish sports tradition.
The results of general classification:
Men:
1. Bertuğ Coşkun (Turkey), 01:01:21
2. Emre Öztürk (Turkey), 01:03:06
3. Cladio Gargaro (Italy), 01:05:01
4. Berkhan Sakal (Turkey), 01:05:27
5. Ahmet Nakkaş (Turkey), 01:05:31
6. Efe Erduran (Turkey), 01:06:29
7. Janez Bernat (Slovenia), 01:07:42
8. B. Emrah Gemicioğlu (Turkey), 01:07:52
9. Evgeny Korkutov (Russia), 01:08:25
10. Luciano Vietri (Italy), 01:08:30
Women:
1. Nilay Erkal (Turkey), 01:04:53
2. Deniz Güngöroğlu (Turkey), 01:06:48
3. Jessica Wooddisse (U.K.), 01:08:52
4. Beyza Kordan (Turkey), 01:09:02
5. Nuala Muir- Cochrane (Iran), 01:11:21
6. Gözde Tekin (Turkey), 01:11:44
7. Katharine Nimmo (U.K.), 01:12:00
8. Deniz Kayadelen (Turkey), 01:12:18
9. Laura Palascino (Italy), 01:12:24
10. İrem Damar (Turkey), 01:12:45