A South by Southwest volunteer has been dismissed and festival organizers apologized after an U.S. Olympic fencer, Ibtihaj Muhammad, who is Muslim was asked to remove her headscarf in order to get a credential. Muhammad is set to make history in Rio as the first U.S. Olympian to represent her country wearing a hijab.
I was just asked to remove my hijab at SXSW Registration for my ID badge.. I can't make this stuff up #SXSW2016

— Ibtihaj Muhammad (@IbtihajMuhammad) March 12, 2016
Even after I explained it was for religious reasons, he insisted I had to remove my hijab for the photo to receive my badge #SXSW2016

— Ibtihaj Muhammad (@IbtihajMuhammad) March 12, 2016

South by Southwest registration official Amin Simms said in an emailed statement that it was "an insensitive request" and against the festival's policy to ask Ibtihaj Muhammad to remove her hijab Saturday at the Austin festival. Muhammad couldn't immediately be reached for comment.

Wait, it gets worse, when she finally received her ID badge, it didn't even have the right name on it.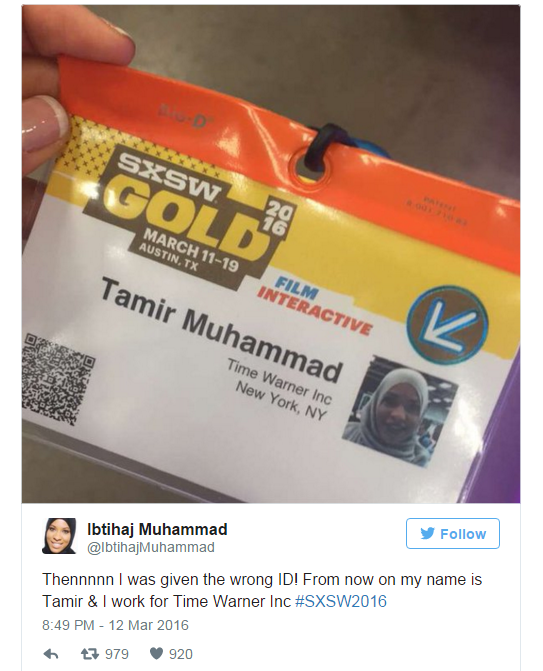 Simms wrote that festival organizers apologized to Muhammad and that they were embarrassed by the situation.

"It is not our policy that a hijab or any religious head covering be removed in order to pick up a SXSW badge. This was one volunteer who made an insensitive request and that person has been removed for the duration of the event. We are embarrassed by this and have apologized to Ibtihaj in person, and sincerely regret this incident."

Muhammad is set to compete for the U.S. at the Olympics in Rio de Janeiro this summer.

South by Southwest is a major festival of film, interactive media, and music.

U.S. fencing powerhouse Ibtihaj Muhammad is no stranger to sabre rattling, so when the Muslim-American athlete heard Donald Trump threaten to ban Muslims from U.S. shores, it only steeled her resolve to return home with a medal from the Rio Olympics.

The U.S. presidential hopeful proposed in December to ban Muslims from entering the country following the deadly shootings in San Bernardino, California, by two Muslims who authorities said were radicalized.

"I feel like I owe it to people who look like me to speak out," Muhammad told reporters on Wednesday. "When I hear someone say something like, 'We're going to send Muslims back to their countries,' I say, 'Well, I'm American. Where am I going to go?"

A champion sabre fencer, Muhammad's trajectory in her sport since age 13 was shaped in part by her religion, and partly by a fierce sense of competitiveness.

One of five siblings, she remembers growing up in an athletic family but feeling out of place in some sports because she chose to dress more modestly than other girls. With fencing, where competitors don protective suits and facemasks, that wasn't an issue.

"I was self serving," Muhammad said. "I wanted to find a sport where I could be covered and I didn't have to look different from everyone else."

Muhammad, 30, didn't immediately fall in love with swordplay, finding fencing tedious at first. But the New Jersey resident stuck with it for another reason: the promise of a college athletic scholarship.

She had done her research, discovering that almost all of the top U.S. universities had fencing programs. Muhammad graduated from Duke, where she was an All-American athlete.

GROWING FAME

Muhammad qualified for Rio by winning bronze at an Olympic qualifier in Athens last month. In 2014, she won a gold medal at the world fencing championships in Russia.

She has enjoyed growing fame in the run-up to the Aug. 5-21 Rio Games, and her corporate sponsors now include big names like Visa and United Airlines.

But Muhammad said it has also been an unsettling time. She has watched the U.S. presidential race with trepidation, worried that "fear-mongering" about Muslims is setting a perilous precedent.

She is frequently confronted by anti-Muslim "trolls" on social media, whose messages she promptly deletes. She also gets hundreds of messages of support each day, including from young Muslim girls whom she has inspired.

After fencing, Muhammad says she may consider a career in U.S. diplomacy. She recently had a chance to voice her concerns to President Barack Obama during a roundtable he held at his first visit to a U.S. mosque. Obama told her he was counting on her winning a medal in Rio.

"For her, being a Muslim-American and an African-American female, in many ways she represents the most disadvantaged and can be a role model for a lot of communities," said U.S. sabre fencer Daryl Homer.

Between training sessions, Muhammad teaches fencing to youth in New York. She also runs a clothing line, Louella, with her brother and a sister. The label features colorful designs and aims to make a mark on the "modest" fashion industry.

As her training ramps up ahead of Rio, Muhammad will face the rigors of sustaining her fencing form during the Muslim holy month of Ramadan starting in early June when she plans to fast during daylight hours.

She plans to work closely with a nutritionist, get up before dawn and often train well into the night.

Muhammad's goals for Rio extend beyond athletic performance. She knows she'll be in the Olympic spotlight at a time when Muslim-Americans like her are also "under the microscope" during a presidential campaign.

"I'm hoping to change the image that people may have of Muslim women," Muhammad said.