The Court of Arbitration for Sport yesterday dismissed a Russian appeal against a ban imposed by athletics governing body over state-run doping that rules the country out of the Rio Olympics track and field. CAS said its panel unanimously "confirmed the validity" of the International Associaition of Athletics Federations (IAAF) decision to ban Russia from Rio because the country is suspended from the world body. The Russian Olympic Committee (ROC) "is not entitled to nominate Russian track and field athletes to compete at the Rio 2016 Olympic Games", the ruling said. The International Olympic Committee has said the CAS ruling will help shape its decision whether to ban Russia entirely from the Rio over an investigation which accused Russia of rampant state-backed doping at the 2014 Sochi Winter Olympics and other major events.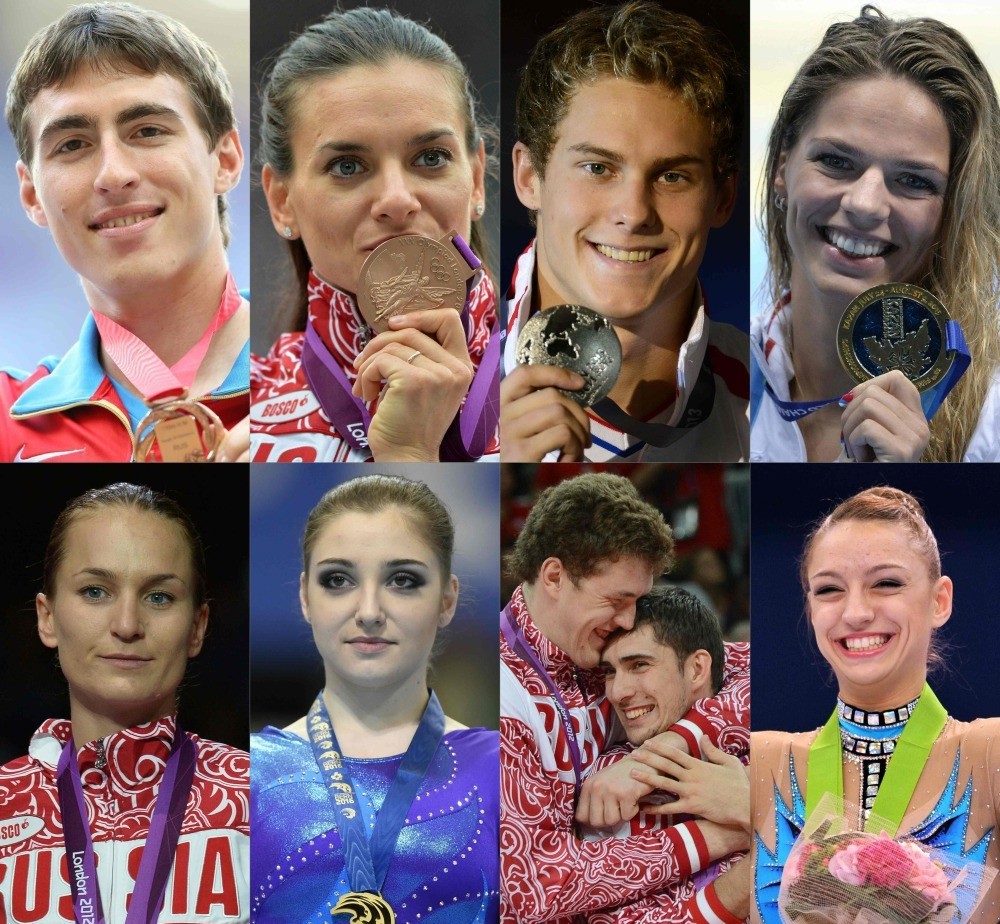 Some of the top Russian athletes that may miss the upcoming 2016 summer Olympics: Top row, from left: Sergey Shubenkov (men's 110 metres hurdles), Yelena Isinbayeva (women's pole vault), Vladimir Morozov (men's 50-metre freestyle swim), and Yuliya Efimova (women's 100m breaststroke swim). Second row, from left: Sofya Velikaya (Women's sabre), Aliya Mustafina (Artistic Gymnastics), Dmitriy Muserskiy (L) and Dmitriy Ilinykh (men's volleyball), and Evgenia Kanaeva (Rhythmic Gymnastics).
The Russian Olympic Committee and 67 Russian athletes had sought to overturn the IAAF ban after a World Anti-Doping Agency investigation documented widespread doping in the country's track and field program. The IAAF said the Russian athletics program had been tainted to the point where even negative drug tests could not be trusted. The ROC and 68 athletes had challenged the IAAF's right to punish those who had never tested positive for doping. U.S.-based long jumper Darya Klishina has since been cleared to compete in Rio however. The IAAF has said individuals who could definitely prove they were not tainted by the country's corrupt system could be eligible for Rio. CAS also said any Russian athlete who met the IAAF's elibililty criteria could be cleared for Olympic competition. IAAF President Sebastian Coe says he is "thankful that our rules and our power to uphold our rules and the anti-doping code have been supported."
The International Olympic Committee's (IOC) executive board will hold a conference call on Sunday to discuss banning Russia from the Rio Games over state-run doping, an IOC spokesperson told AFP.
Russia yesterday slammed the ruling. "In my view, this is a subjective and somewhat politicised decision for which there is no legal basis," Sports Minister Vitaly Mutko told TASS news agency.
The Kremlin expressed "deep regret" over the move and said that it was unfair to ban all athletes from competing at the Games.
"The idea of collective responsibility from our point of view can hardly be considered acceptable," spokesman Dmitry Peskov told journalists.
Former World Anti-Doping Agency president John Fahey says a "clear-cut" decision is required: Russia should not be allowed to compete at the Olympics in Rio de Janeiro. Fahey told The Associated Press (AP) yesterday that Russia should "definitely not be going" to Rio and said the integrity of the 2016 Olympics and future games is in jeopardy.
"This is widespread corruption, not individual, not a group, not one sport," Fahey said during a telephone interview. "It's a conspiracy of the state through the ministry of sport, the anti-doping organization and their security service and the previously accredited Moscow lab.
"They have all conspired to bring this about. The only way you can support the clean athletes who will be competing is to make it known that widespread cheating will not be tolerated."
The IOC is examining the legal options of a blanket ban following a report by WADA investigator Richard McLaren that accused Russia's sports ministry of overseeing doping of athletes.
McLaren's report uncovered a state-run doping scheme that implicated 28 sports, both summer and winter, and ran from 2011 to 2015. The investigation told of 312 positive tests that Russia's deputy minister of sport directed lab workers not to report to WADA. Russia's intelligence serve was also involved, the report said. It also provided further details of the swapping of samples to protect Russian dopers, including medalists, at the Sochi Games.
Tatiana Grigorieva, a Russian-born pole vaulter who won Olympic silver for Australia at the Sydney Games in 2000, told Fox Sports Australia she agreed Russia should be banned, adding "it's obvious by now that the system is rotten."
"The fact that the new findings are saying that (Russia's) secret service are involved in this, it scares me," she said. "It goes a lot deeper than just sport or the Olympic Committee."