Manny Pacquiao lost his WBO welterweight world title to Jeff Horn in a stunning, unanimous points decision Sunday in a contest billed as the Battle of Brisbane and an outcome that had his backers asking questions.
The 11-time world champion entered the fight at Suncorp Stadium as a hot favorite but got more than he bargained for against the 29-year-old former schoolteacher, who had most of the 51,000 fans on his side and won at least three of the first five rounds on all three of the judge's scorecards.
Still, Pacquiao appeared to dominate most of the rounds from the eighth. Pacquiao was close to finishing it in the 9th when he pounded Horn and had him wobbling — to the point where referee Mark Nelson asked the 29-year-old Australian's camp before the 10th if he could continue — and could also have come out with the win.
"I felt buzzed for sure, but I'm the Hornet — I've got to come back," Horn said of that round. "I'm not a quitter. Australians aren't quitters to start with. We've showed we're winners.
"It was the battle of Brisbane, that's for sure," Horn said. "Absolutely unbelievable."
Pacquiao thought so, too, and he's at least considering a rematch.
"That's the decision of the judges. I respect that," Pacquiao was quoted as saying by broadcaster ESPN immediately after the fight. "We have a rematch clause, so no problem."
All three judges awarded it to Horn, with Waleska Roldan scoring it 117-111 and both Chris Flores and Ramon Cerdan scoring it 115-113.
A spokesman for the 38-year-old Philippines senator said Pacquiao was dealing with head cuts and wouldn't be able to attend the formal post-fight news conference. He also declined any interviews in the dressing room later Sunday at Suncorp Stadium.
The referee had to pause the fight in the sixth and seventh rounds for Pacquiao to get treatment for a cut on his head that resulted from a clash of heads. He also intervened so Horn could cut tape away from his glove.
Justin Fortune, Pacquiao's conditioning trainer, had no doubt the outcome should have been reversed.
"The referee was sketchy, the judges were crazy," he said. "Manny lost the fight, but Jeff Horn looks like a pumpkin. Those scores, that card? It should be the other way."
Top Rank promotor Bob Arum said the result was a close call after some close rounds late in the bout as both fighters looked for a decisive blow.
"It was a close fight, it could have gone either way," said Arum. "A couple of close rounds, but you can't argue with the result.
"I scored a lot of the early rounds for Jeff. Then I had Manny coming back in the middle. The 12th round, Jeff really won. If you give Manny the 11th, you have it a draw. You give Jeff the 11th, it's 7-5."
Pacquiao's long-time trainer Freddie Roach predicted the fight would be short and sweet but Horn — unbeaten in his 17 previous professional fights — applied pressure by getting in front after five rounds and then coming back in the decisive 12th.
Horn immediately declared himself "no joke."
Roach had said earlier in the week that he'd think about advising Pacquiao to retire if he lost the fight, but that would depend on how he fought.
Horn can't see Pacquiao retiring any time soon.
"I'm sure he'll want to come back. It was a close decision and I'm sure he'll want to come back and prove himself," he said.
Arum said there was a clause for a rematch, but he'd give it time before talking to Pacquiao about it.
"I know Jeff would welcome the rematch, but I don't know Manny's future position," Arum said. "Is he going to stay in politics and not continue in boxing? I don't know, and he doesn't know now — it's unfair to ask him now."
Pacquiao's camp had talked about a rematch with Mayweather if he got past Horn, hoping to avenge his loss on points in the 2015 mega fight. That seems to be a distant chance now.
Pacquiao, who entered the fight with a record of 59-6-2, 38 knockouts, was defending the WBO title he won on points against Jessie Vargas last November.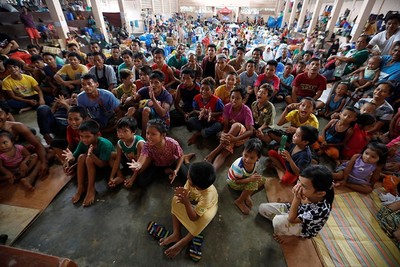 In Marawi City in the southern Philippines, more than 500 displaced villagers at a government hall, along with troops and police, yelled Pacquiao's name as they watched the bout live on a wide screen.
Local officials organized the free public viewing to give the displaced residents a respite from the disastrous siege by Daesh aligned militants who took over several villages in the city last month.
"Many couldn't accept the result initially but the entertainment side of it provided a respite from their everyday struggle," Marawi crisis committee spokesman Zia Alonto Adiong told The Associated Press by telephone. "But the message of courage and resiliency to face the challenges head on, I think Manny Pacquiao provided that here today."
The excitement and noisy fanfare at the government center soon turned into shock and disappointment.
"It's a hometown decision," Marawi resident Jamael Panggaga said.
"It's very clear, Horn's face was battered, Manny only was bloodied because of head butts, how can he lose?" said Sergeant Badrodin Andak, who was among troops guarding the provincial capital.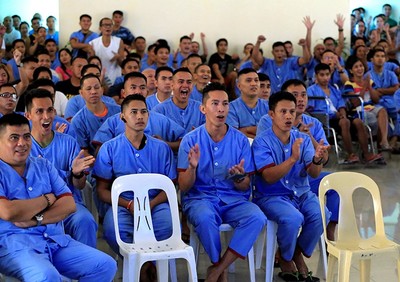 Soldiers at an army base in Manila were stunned into silence as they left a gymnasium after the ring announcer declared Horn as the new champion.
Some of the servicemen in the crowd were among those who have battled the Daesh militants on Mindanao island, where more than 400 people have died in the conflict.
"It's a sad day for the Philippines," Divinagracia Matutina said in a Facebook post. "I was devastated, never expected Manny to lose."
The unanimous decision was considered controversial in the Philippines because believed Horn was a dirty fighter, who often used his head to injure Pacquiao.
"Manny Pacquiao's loss in Brisbane would not diminish the honors he bestowed to the people and the flag," presidential spokesman Ernesto Abella said in a statement. "Nothing will change, Senator Manny Pacquiao will remain our people's champ."
Many Filipinos are hopeful that a rematch between Horn and Pacquiao, a sitting senator and an army colonel in the reserve force, will be organized for later this year.