North Korean and Iranian athletes at the Winter Olympics will not receive high-end smartphones being handed out to their fellow competitors because of U.N. sanctions, organizers said Wednesday.
Games sponsor Samsung Electronics has donated 4,000 "Olympic edition" handsets of its flagship Galaxy Note 8 device to be distributed among athletes and International Olympics Committee (IOC) officials free of charge.
However, "North Korean and Iranian athletes will be excluded because of existing U.N. sanctions" against the two countries, a Pyeongchang organizing committee spokeswoman told French Press Agency (AFP).
Other Olympians receive the Samsung phone upon their arrival at the Olympic Village.
The devices retail for around 1,000,000 South Korean won ($920) and so could fall foul of measures banning supplies of luxury goods.
North Korea has sent 22 athletes to the Olympics. Only 10 of them will compete for their country at the Games, with another 12 on the roster of a unified Korean women's ice hockey team.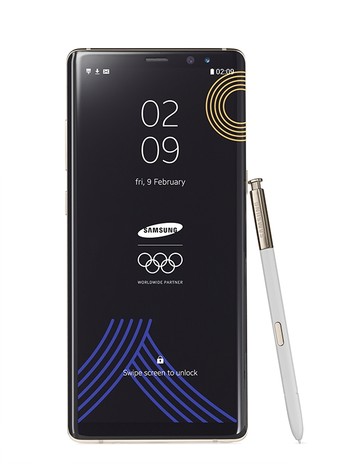 The phone is one of the sticking issues that South Korea is dealing with as it conducts a careful dance of welcoming North Koreans for the Olympics to send a message of peace while trying to avoid causing any frictions with its allies worried about the North's nuclear weapons.
In order to accommodate North Korean artists arriving by sea, South Korea's government had waived its own sanctions imposed against Pyongyang that bans entrance of North Korean vessels to the South. While South Korea says the move was inevitable to ensure the successful hosting of the Winter Olympics, some critics say Seoul is sending the wrong message to North Korea and also the international community, which has been stepping up financial and maritime sanctions against the North in recent months.
On Wednesday, Seoul's Unification Ministry said it is considering North Korea's request to provide fuel to the ferry that transported more than 100 artists for performances at the Olympics. Unification Ministry's spokesman Baik Tae-hyun said the government will discuss with the United States and other countries so it would raise no problem with sanctions.
The North's attendance has eased tensions over its nuclear threats and triggered a rapid rapprochement on the divided Korean peninsula.
But critics say the North is taking advantage of the Pyeongchang Games in a diplomatic drive to weaken sanctions imposed on it over its banned nuclear and ballistic missile programs.