Turkish competitor Ahmet Tekin won the "Biggest Fish" award on Tuesday at the 31st Spearfishing World Championships hosted by the World Confederation of Underwater Activities (CMAS) in Portugal.
The competition took place in the open waters of Sagres, a small town towards the southwestern tip of Portugal, according to an announcement by the Turkish Underwater Sports Federation (TSSF).
Out of 150 competitors, Tekin claimed his award for catching a 7-kilogram "Rubberlip Grunt" fish in the waters of Sagres.
President of the TSSF Şahin Özen said: "This award is the most significant one in the championship. I congratulate our national competitor Ahmet Tekin from the bottom of my heart. I congratulate our national team's trainers, and our athletes for their efforts. By improving our performance and experience, I believe that we will make a great impression in the next championships," he said.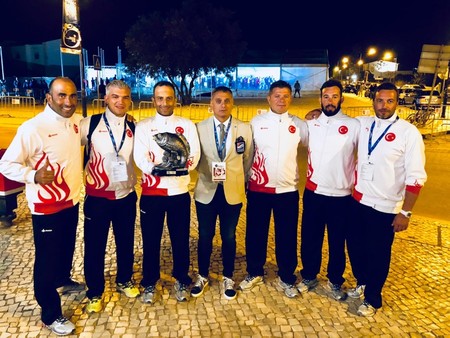 The Turkish National Spearfishing team finished in 11th place out of 30 national teams from around the world.
The top three of the tournament were Spain, Portuguese and Chile, respectively.
When asked about finishing in 11th place, Özen said, "This result has not demotivated us at all. On the contrary, it has given us hope for the future."
Founded in 1959, the CMAS consists of more than 130 federations from five continents. The federation often organizes international underwater sports events and competitions while also conducting scientific research and development about underwater habitats.