Kenyan Ruth Chepngetich won the 40th intercontinental Istanbul Marathon women's title and Kenyan Felix Kimutai won the men's race by breaking the 42-kilometers Istanbul Marathon's records on Sunday.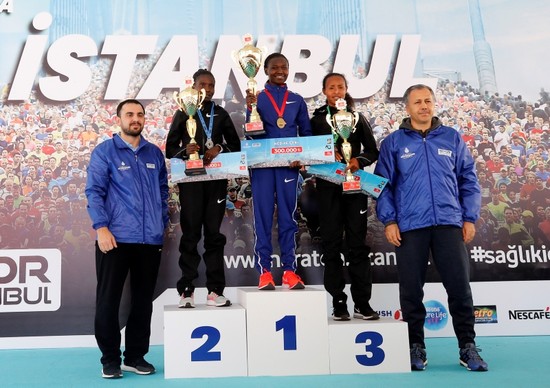 Top three athletes in women's race: Ruth Chepngetich of Kenya, Margaret Agai of Kenya and Fatuma Sado of Ethiopia. (AA Photo)
Last year's winner Chepngetich finished 42-kilometer (26-mile) run in 2 hours, 18 minutes and 35 seconds while Kimutai finished the same distance in 2 hours, 9 minutes and 57 seconds.Both Kenyans broke the 42-kilometer Istanbul Marathon's records in men's and women's races.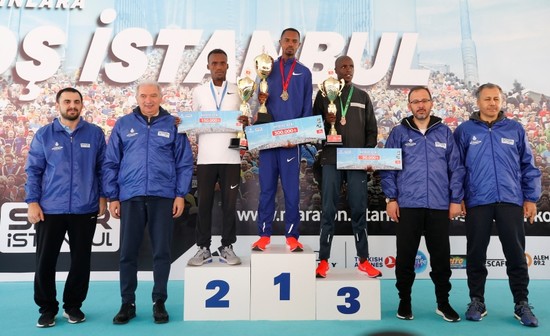 Turkish Youth and Sports Minister Mehmet Muharrem Kasapoğlu​ (2R), Istanbul Governor Ali Yerlikaya (R) and Mayor Mevlüt Uysal (2L) presented the trophies and prizes for athletes completing the marathon in top three rankings in men's race, Felix Kimutai of Kenya, Abdi Ibrahim Abdo of Bahrain and Abraham Kiprotich of France. (AA Photo)

A record number of runners are competing in the world's only intercontinental marathon in Istanbul on Sunday.
The Vodafone 40th Istanbul Marathon started on the Asian side of Istanbul's July 15 Martyrs' Bridge, formerly known as the Bosphorus Bridge. The finish line is located in the historic Sultanahmet Square on the city's European side.
This year's theme is: "Run Istanbul for a healthy future."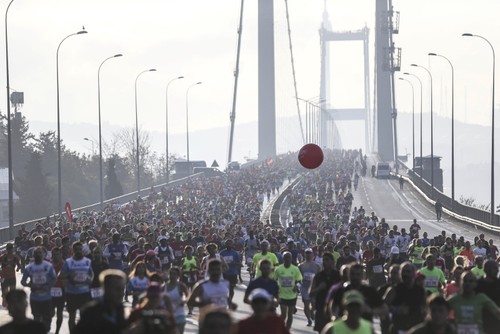 Around 30,000 professional runners, from more than 100 countries, took part in the marathon.
In addition to that, about 100,000 people were expected to run in the 8-kilometer (5-mile) transcontinental Istanbul Marathon Fun Run.
The event featured a 42-kilometer (26-mile) marathon, and three other races on courses of 15 km (9.3 mi.), 10 km (6.2 mi.), and 8 km (4.9 mi.). It also included a race for wheelchair-bound participants.
Turkey's Yasemin Can won 15-kilometer women's race in 47 minutes and 43 seconds while Kenyan Shadrack Korir won 15-kilometer men's race in 43 minutes and 4 seconds.
Turkey's Suzan Tunca won 10-kilometer women's race in 37 minutes and 11 seconds while Turkey's Fatih Korkunç won 10-kilometer men's race in 33 minutes and 23 seconds.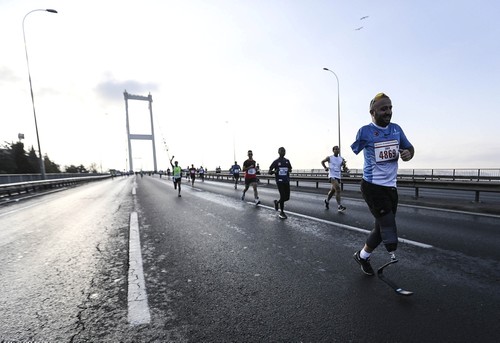 About 5,000 runners -- more than half of them foreigners -- have competed in the 42-kilometer marathon. The top five countries sending runners are Russia, Germany, Ukraine, Britain, and France.
Fifty-five elite runners from Turkey, Kenya, Ethiopia, Azerbaijan, France, Bahrain and Morocco participated in the marathon.
Compared to recent years, the number of foreign runners in the marathon has doubled.
The Istanbul Marathon is among 17 marathons in Europe and 38 marathons in the world.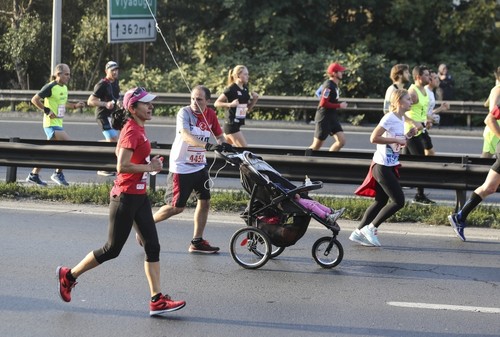 Vodafone is the main sponsor of the race organized by the Istanbul Metropolitan Municipality's Spor Istanbul subsidiary.
After the transcontinental marathon started, Turkey's Youth and Sports Minister Mehmet Muharrem Kasapoğlu told Anadolu Agency that "Istanbul became a brand for a marathon like New York, Boston and Tokyo."
"By connecting the continents, we will prove the unifying power of sports," Kasapoğlu added.
"We can turn this marathon into the best marathon in the world by making this organization better. Now, it is among the top 15 marathons in the world," Istanbul Metropolitan Municipality Mayor Mevlüt Uysal said.
Noting that about 100,000 people ran in the marathon last year, Uysal said the number of participants increased this year.
Last year, French runner Abraham Kiprotich won the men's category and Kenya's Ruth Chepngetich the women's category.
For more information, visit www.maraton.istanbul and follow the #runistanbul and #run4health hashtags on Twitter.