Thousands of Ethiopians and Eritreans took part in a 10-kilometer reconciliation run Sunday in Addis Ababa in the first joint sporting event since the former bitter foes launched a rapid diplomatic thaw in July.
The runners filled Meskel Square in downtown Addis Ababa for the kick-off sporting t-shirts that feature the flags of Ethiopia and Eritrea, and it came as one of major events since the two countries began a fast-paced diplomatic thaw ending two decades of tense relations.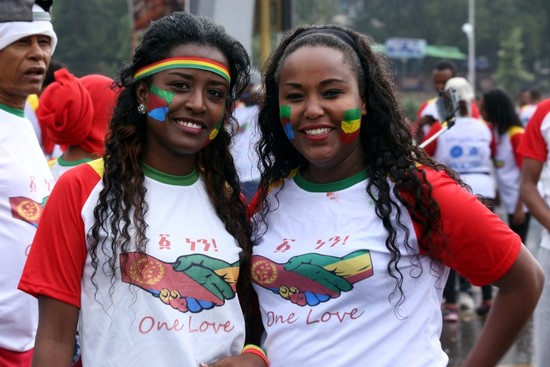 The two countries fought a war from 1998-2000 that left an estimated 80,000 people dead on both sides.
Reformist Prime Minister Abiy Ahmed took over in Addis Ababa in April and kicked off peace moves, agreeing to hand back disputed areas to Eritrea.
The neighbors have restored diplomatic ties, trade and phone links, resumed flights and re-opened their common borders.
Sunday was the first athletics event for the new friends and Ethiopian Mohammed Ahmed said he took time off work and trained hard for the "noble" race.
"I'm very happy, I don't know how I can properly express my happiness to you, there is nothing more than love, reconciliation and happiness in this world," he said.
The guest of honor was Ethiopia's most celebrated singer and song writer Tedros Kassahun (aka Teddy Afro), whose numerous songs advocated for unity, peace and love between Eritrea and Ethiopia-an advocacy that began during the sad days of enmity between the two governments in the 1990s.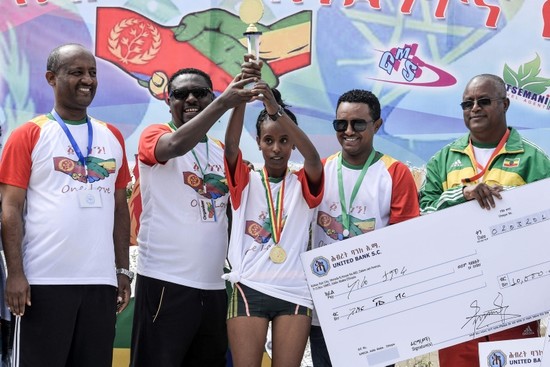 Kassahun (2R) presents prizes during the awards ceremony of the first Ethiopia-Eritrea Peace and Reconciliation Run.

Ethiopian police constable Chalachew Addis had personal reasons to attend after the borders were re-opened on September 11.
"With the opening of the border my brother has come back to Ethiopia after 20 years and met me," said a beaming Chalachew.
"I'm running this race while wearing Eritrean flag, I feel happy this day has come," he told AFP.
Nega Belay, former coach of Eritrean athletics star Zersenay Tadese and a representative of the Eritrean community in London was also celebrating.
"This is not a run of two people, but a run of one people, what differentiates them is minor or can be said to be non-existent, they are similar in every sense," Nega told AFP.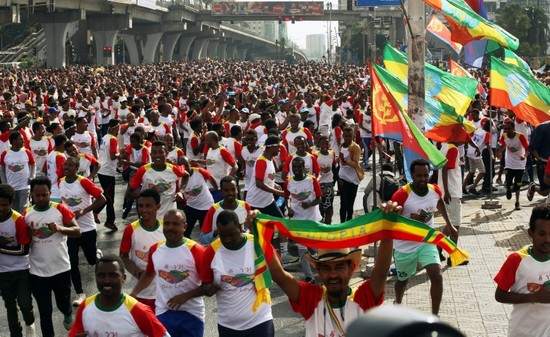 "It is a very happy day for the peoples of the two countries and I thank God for making me live to see this day," Tilahun Masresha, 79, told Anadolu Agency.
Masresha said he worked as teacher in Embatikala in Eritrea for five years when the two countries were under one flag.
"We should never have been separated," he said, pointing to his t-shirt that reads "We are one."
He said he was holding discussions with Eritrean National Athletics Federation (ENAF) to stage a similar event in the Eritrean capital Asmara on January 1, 2019.
Eritrea gained independence from Ethiopia in 1993 and war broke out later that decade over a border dispute.
A 2002 UN-backed boundary demarcation was meant to settle the dispute, but Ethiopia refused to abide by it.
On Thursday, Eritrean President Issaias Afeworki together with Somali President Mohamed Abdullahi Mohamed visited the Amhara regional state in Ethiopia where they met Ethiopia's Prime Minister Abiy Ahmed as a follow up to the Declaration of Comprehensive Cooperation the trio signed in September in Eritrea's capital Asmara.