On Sept. 30 Russia declared that it was deploying its air force and troops to Syria on the pretext of combatting DAESH at a time when Western-backed moderate rebels had made significant advances against the Syrian regime in Idlib and Aleppo. Several monitoring groups as well as the U.S. and Turkey have said that Russia was intensely bombing moderate rebel positions and civilian areas rather than DAESH's stronghold of Raqqa. Russia's air support and military advise have strengthened the regime, which took back several strategic positions around Aleppo.

After the opposition, the regime, the U.S. and Russia agreed on a U.N.-brokered ceasefire two weeks ago, diplomatic efforts ramped up, and the U.S., Turkey and the opposition groups said that Bashar Assad cannot maintain his position in Syria. Moscow, unlike Iran, seemingly has not been keen on keeping Assad at his post, but aimed to strengthen the regime, not necessarily Assad, and Kurdish groups like the Syrian PKK affiliate Democratic Union Party (PYD) to have a strong position in the country's future. While the talks were ongoing, Russia, unexpectedly, said it was pulling out its troops and air force, but leaving its military presence in Tartus and Latakia. Why Russia intervened and why it is now withdrawing remains to be clarified.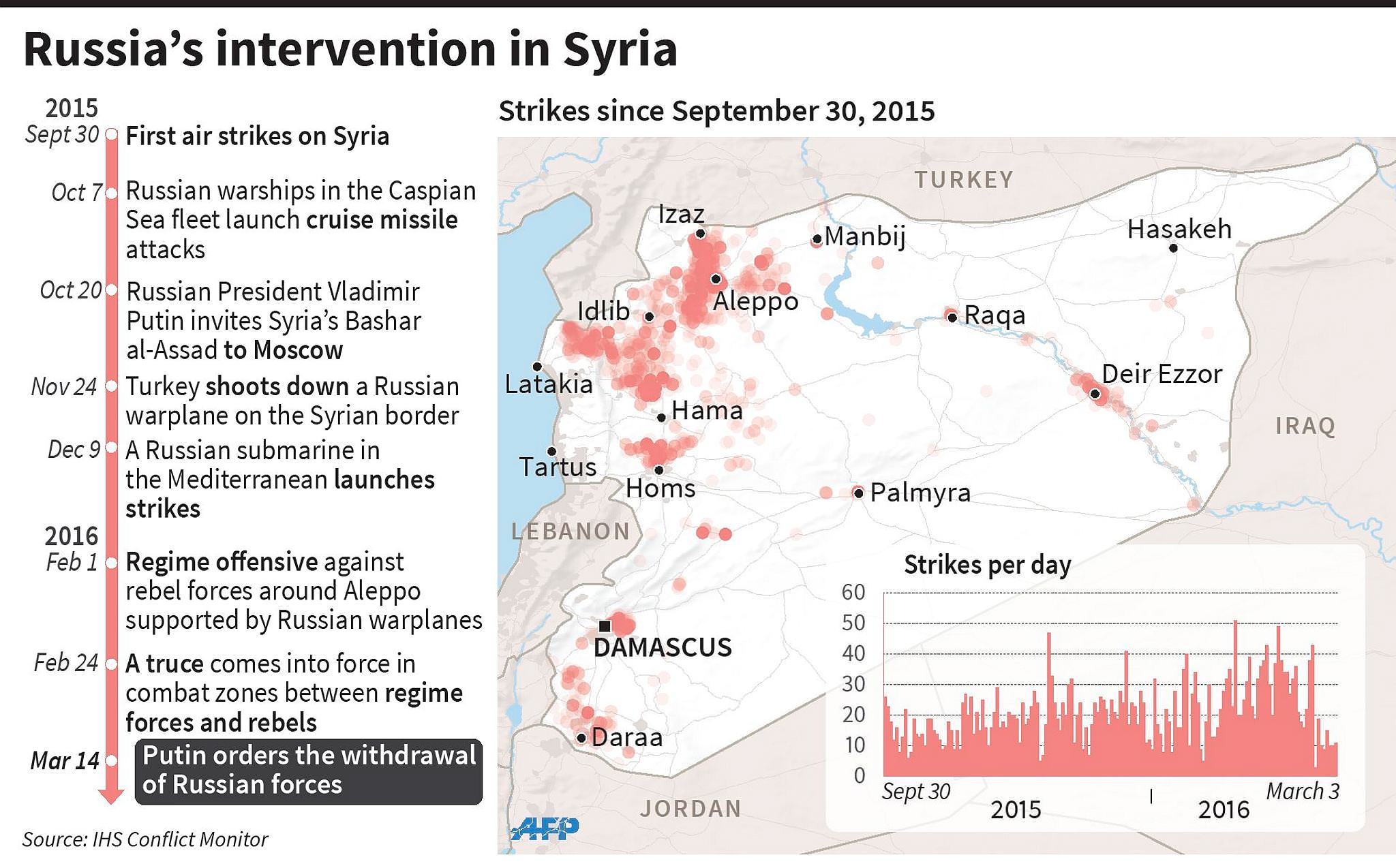 Bearing in mind the Soviet invasion of Afghanistan lasted more than 10 years and resulted in a defeat in mind, the Russian intervention was not about winning the complicated war in Syria where several groups who have common enemies clash with each other. Russia's intervention had two main objectives. Firstly, Russia's economy has been suffering from sanctions imposed by the EU due to the conflict in Ukraine and from the sharp decrease in oil prices and as such felt itself obliged to use hard power to show its strength and to break its isolation. Secondly, Moscow, whose relations with Ankara and Gulf countries have taken a downturn, had to defend its last ally in the region. Any regime in Syria that replaces Assad would not necessarily have friendly relations with Moscow, and Russia would lose its main ally in the Arab world with whom its relations have been strong since Hafiz Assad, Bashar Assad's father, took power in 1971.

Russia has apparently reached its goals. It has proved its power and capability to intervene in a conflict militarily despite strong objections and sanctions. The EU and the U.S. have imposed strict economic sanctions on Moscow after annexing Crimea and supporting paramilitary groups in Ukraine. Russia has also equalized its position with the U.S. since Moscow and Washington are the guarantors of the current ceasefire. Alexander Baunov, a senior associate at the Carnegie Moscow Center, told Reuters: "Russia has returned to the global board of directors. It has returned to the table where world and regional powers decide the fate of others' conflicts, and Russia is clearly not a local but a world player." "State propaganda outlets spoke on Tuesday of a 'mission accomplished,' a phrase that deliberately mimicked the one plastered on a U.S. warship in 2003 when President George W. Bush declared the end of major combat operations in Iraq. The real mission, some say, was to give Russia a say in world affairs," Reuters said. The Syrian regime, which has gained more territories than it ever had since the beginning of the war, is stronger than before, has higher morale and is content to follow Russia. "The unexpected injection of Russian air power on Sept. 30 not only changed the arithmetic on the battlefield, it also re-energized the regime. The scale of the bombing assault, with more than 9,000 sorties flown according to [Russian] Defense Minister Sergei Shoigu, allowed government forces to turn back the tide. Not only were they able to retake Aleppo and some 400 other settlements by Shoigu's count, but the Syrian Arab Army's morale recovered considerably too," Mark Galeotti wrote for Reuters. Moreover, the Democratic Union Party (PYD), which receives Russian military support for it People's Protection Units (YPG) fighting against moderate rebels in Syria's north, also tries to become an actor in the future of Syrian politics despite Ankara's opposition. "A powerful Syrian Kurdish political party is planning to declare a federal region in northern Syria, a model it hopes can be applied to the entire country, PYD spokesman Nawaf Khalil said Wednesday. Khalil told the Associated Press (AP) that his party is not lobbying for a Kurdish-only region, but an all-inclusive area that would include representation for Turkmens, Arabs and Kurds in northern Syria," AP wrote yesterday, showing that the Kurdish group has gained enough power to declare autonomy, which would be impossible without Russian support.

Russia's withdrawal comes at a critical time as the war in Syria is not sustainable for the damaged Russian economy, and it allows Moscow to claim it is one of the main actors that is in favor of restoring peace in the country. The war so far has led to 300,000 deaths and caused an unprecedented refugee crisis. Russia, after turning the war in favor of Assad, demands he be more engaged in the peace talks and distance itself from Iran-backed Hezbollah, whose presence also threatens Russia's relations with Israel. Russian President Vladimir Putin insists on keeping the regime, but not directly Assad himself. Maha Yahya, acting director of the Carnegie Middle East Center, told AP: "There was an overlap in interests in the last few months. Now they [the Russians] are telling Assad, 'This is where we start to diverge, and you've got to step up to your responsibilities, you can't rely on us forever'."

"As Assad's forces regained momentum, Assad has taken a more hardline position, saying he will continue fighting until he recaptures every inch of Syrian territory. Syrian Foreign Minister Walid al-Moallem held a news conference over the weekend in which he said any talk of removing Assad during a transitional period sought by the U.N. is 'a red line,' and he rejected the international call for a presidential election to be held within 18 months -- key opposition demand. Assad also has called for parliamentary elections to be held as scheduled next month in government-held areas of the country," AP wrote. Yahya said: "For Assad, this is a very long-term fight. I don't think it's a fight that Putin necessarily wants his country to be part of. This is not his Vietnam."

Touching on the economic cost of the intervention, Nikolai Petrov, a political expert at the Higher School of Economics in Moscow, told Reuters: "Putin has already got all the political benefits. It is better to withdraw before costs increase, before any accident can happen and before the risks become too high." According to Reuters, the cost of the five-month intervention has cost the Kremlin $700 million to $800 million. Russia's intervention in Ukraine, its rift with Ankara and crisis with Egypt after DAESH downed a Russian plane killing all 224 passengers in November, has deteriorated the Russian economy. In the last four months, Russia has decreased or stopped flights to Ukraine, Egypt and Turkey, which has caused Russia, following very aggressive foreign policies in recent years, to lose $77 million. This loss contributes to the crisis in the Russian economy, which shrank 3.7 percent in 2015. This followed Russia's struggle with a drop in the price of its oil exports and international sanctions following Russia's actions in Ukraine. The decline is the sharpest for Russia since 2009 when the world economy was hit by the effects of a credit crunch and the global financial crisis. It matched recent predictions from the International Monetary Fund, which forecasts another fall of 1 percent in 2016 before a return to 1 percent growth in 2017. The Russian state statistics service said that 2015 saw a 10 percent drop in retail sales, including a 15.3 percent plunge in December against the year before and a one-third drop in foreign trade. Oil and gas contribute to around half of Russia's state revenues, and the government has said it will have to make cuts to the budget for 2016, which was adopted in October and based on an oil price of $50 per barrel. Brent crude oil traded above $39 a barrel on Wednesday.

The intervention has strengthened Russia's position and helped the Syrian regime strike back at the opposition groups. However, due to the economic cost, the high risks of the intervention and catching the moment to present itself as a peace restorer, Russia decided to withdraw large parts of its military presence. Russia's aim is to have a place in Syria so as to be able to work with any prospective government, which Moscow does not insist on being led by Assad, who has already become illegitimate in the West and in the Arab world.