A faceless skull with a crown of spikes and blood pouring from its wounds, symbolizing a Syrian caught in the horror of civil war, stares out from a painting on the wall in a student theatre in the Lithuanian capital Vilnius.
This is just one image by artist and refugee Majd Kara, now holding his first exhibition in his adopted home, where he arrived just a month ago.
"I can draw anywhere. I was drawing in Homs, in the middle of the war. It's not hard," said Kara, who fled the civil war with his girlfriend just two weeks after they met and fell in love.
Kara, a 29-year-old Christian, and his Muslim girlfriend Farah Mohammed, 27, left their homes last August as the fighting became unbearable, paying $600 each to board an overcrowded lifeboat with a faulty engine to make the crossing to Greece.
"I decided to get out from Syria not just because of the war. Before the war we had difficulties to deal with our society, and of course the war became more reason to just get out," Kara said.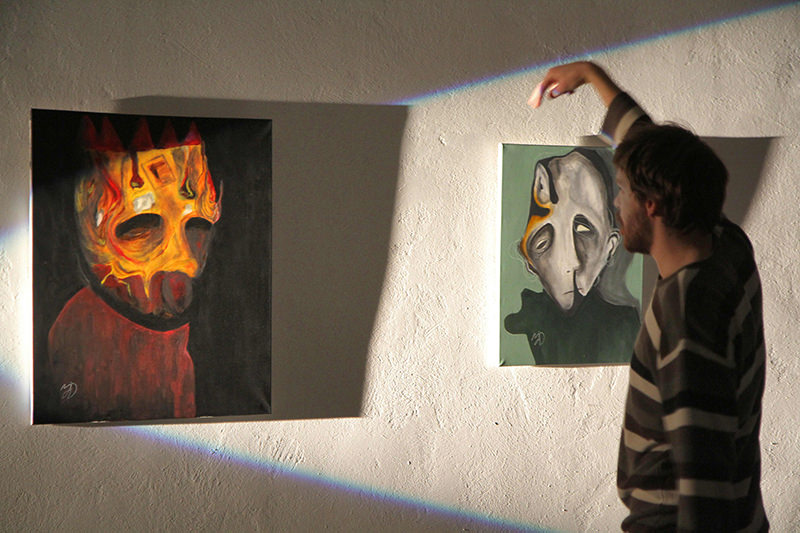 They then submitted themselves to a legal resettlement scheme which sent them to Lithuania, of which they knew nothing but the name. Lithuania has agreed with the European Union to accept 1,105 refugees from Syria and Iraq, although so far only a handful have been willing to settle there.
Painting has since been one of very few ways to fill the time in the refugee centre in a tiny village where Kara lives, in the middle of a wood. Learning languages - Lithuanian, Italian, German and English - and cooking and practicing yoga take up the rest of the time.
In the month since he arrived, he has produced 26 paintings, some on canvases he brought with him from Syria.
"Back home I was very nervous to speak about my art, but after the journey, after living in Istanbul and Athens, I became more open. I can discuss it freely", Kara said.
But after his long journey he said it was hard to adjust to life in such a quiet corner of the country, and the couple are hoping to move on to somewhere else in Lithuania.
"You can't hear any sound, there is just silence. After living in Istanbul and Athens, after all its crowds and traffic, we were a little bit afraid," he said.
"We don't have any plans for now, we want just to discover Lithuania."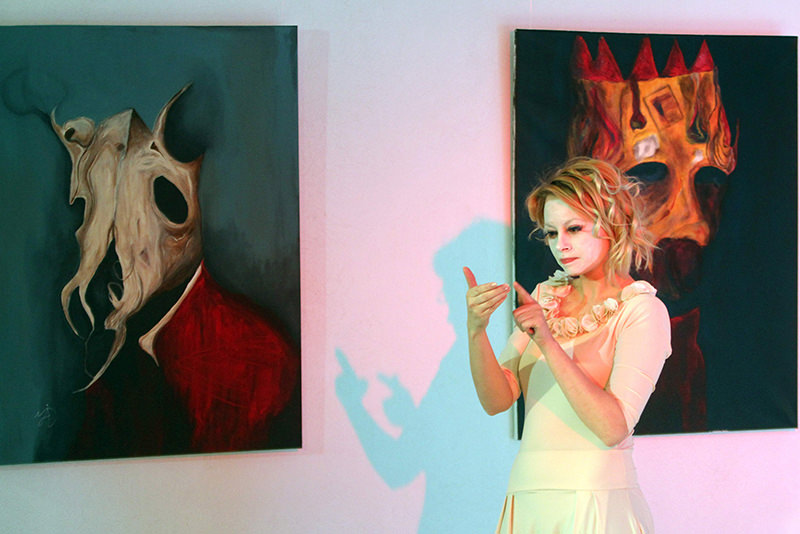 Under Turkey's proposal to the EU, the country wanted the 28-nation bloc to "share the burden" based on a formula of "for every Syrian readmitted by Turkey from the Greek islands, another Syrian will be resettled from Turkey to the EU member states."
Turkey is hosting the largest number of Syrian refugees in the world with 2.7 milion and has spent more than 7 billion euros meeting their needs, according to European Commission figures released last year.
Over the past year, hundreds of thousands of refugees have crossed the Aegean Sea to reach Greece. This has placed a huge strain on the austerity-hit EU member and threatened the EU's internal open border system, as countries to the north of Greece impose frontier restrictions.