After the "humanitarian pause" declared by Russia ended, the battle for control of the north Syrian city of Aleppo intensified on Sunday with airstrikes, ground offensives and shelling. Bashar Assad's forces shelled the strategically important village of Khan Touman, which overlooks the highway connecting Aleppo and regime-held cities in the center of the country. There was fierce fighting between opposition and Assad forces along a strategic frontline in southwest Aleppo. In August, opposition fighters briefly broke through this regime-held strip of land to try to break a siege on opposition-held eastern Aleppo enacted in July.
Syrian or Russian air strikes hit a number of opposition-held areas just west of Aleppo city from dawn on Sunday. Air raids also hit north of Aleppo and deeper into west Aleppo countryside, the Syrian Observatory for Human Rights said.
Three people were wounded by shelling of the opposition-held Salaheddin and Al-Mashhad districts, they said, adding that the first air strikes since the end of the truce hit the opposition-controlled district of Sheikh Saeed where there was also heavy fighting. An AFP correspondent in opposition-held eastern districts also reported sounds of fighting and artillery fire. The pause began on Thursday, and came after Moscow announced a temporary halt to the Assad regime's campaign to recapture the divided city.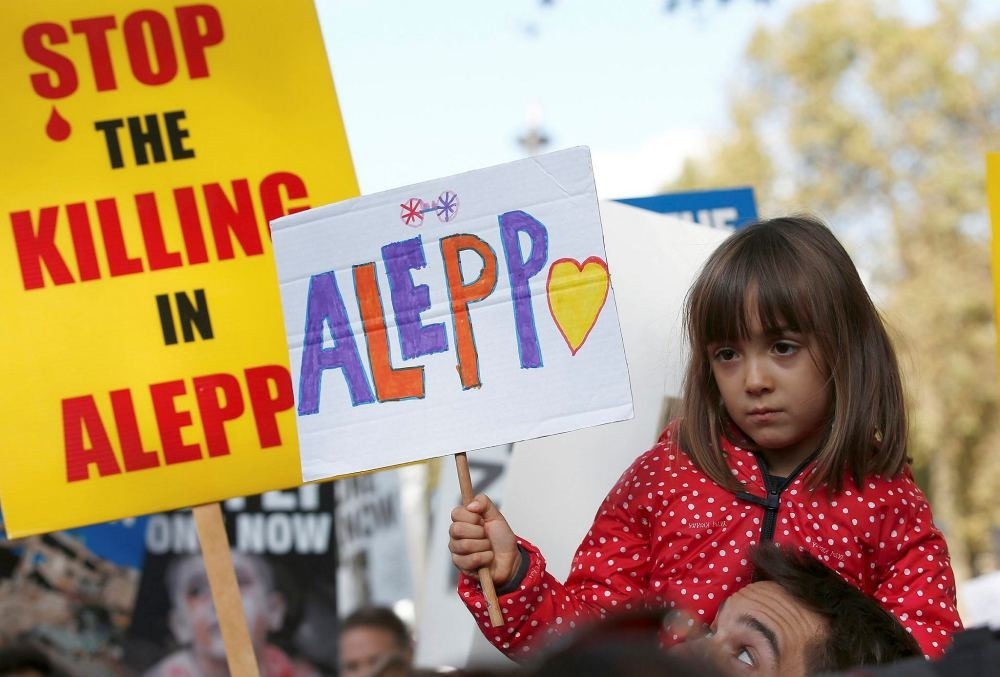 A child holds a placard during a demonstration urging the British government to intervene in the bombing of Aleppo, outside Downing Street, London, Oct. 22.
Aleppo has been a major battleground in the Syrian conflict, now in its sixth year. Assad forces, backed by the Russian military, Iran's Revolutionary Guards and an array of Shi'ite Muslim militias, wants to take full control of the city.
East Aleppo came under siege in early July after its main supply route, the Castello Road, fell under Assad forces' control. Internationally brokered attempts to establish ceasefires to allow in United Nations humanitarian aid have failed, although other international and local aid groups have brought in limited supplies.
Moscow had extended the unilateral "humanitarian pause" into a third day until 1600 GMT Saturday but announced no further renewal, as fierce fighting broke in several areas along the front line dividing the city, the Syrian Observatory for Human Rights reported.
More than 2,000 civilians have been wounded since the Assad forces launched its offensive to drive the rebels out of the eastern districts they have held since 2012. Nearly 500 people have been killed.
The United Nations had hoped to use the ceasefire to evacuate seriously wounded people, and possibly deliver aid. But a UN official said Saturday the requisite security guarantees had not been received.
"You have various parties to the conflict and those with influence and they all have to be on the same page on this and they are not," said David Swanson, a spokesman for the UN humanitarian office.
The UN had drawn up a four-day plan that was to start with two days of medical evacuations to west Aleppo, opposition-held Idlib province, and Turkey, and continue with aid deliveries. No aid has entered Aleppo since July 7 and food rations will run out by the end of the month, UN chief Ban Ki-moon warned Thursday. The UN had asked Moscow to consider extending the pause until Monday evening.