Bombs rained down on opposition-held eastern Aleppo for a second consecutive day Wednesday, pounding a district that houses several medical facilities, including the central blood bank, and forcing Syrian staff and patients in the only remaining pediatric hospital to cower in a basement as buildings collapsed around them. The World Health Organization (WHO) said it has documented attacks on five hospitals in Aleppo and Idlib between Sunday and Tuesday alone. At least 25 civilians were killed yesterday in airstrikes and artillery shelling in east Aleppo, part of a long-anticipated offensive against opposition-held areas announced by Russia, a key ally of Bashar Assad.
The bombardment hit besieged neighborhoods of Aleppo, as well as the surrounding countryside and the nearby opposition-held province of Idlib.
France's U.N. ambassador Francois Delattre strongly condemned renewed airstrikes targeting three hospitals in Syria saying attacks against medical facilities in Syria by the Assad forces and its allies "are war crimes." He told reporters at U.N. headquarters in New York that the situation in Aleppo and elsewhere in Syria is getting worse every day.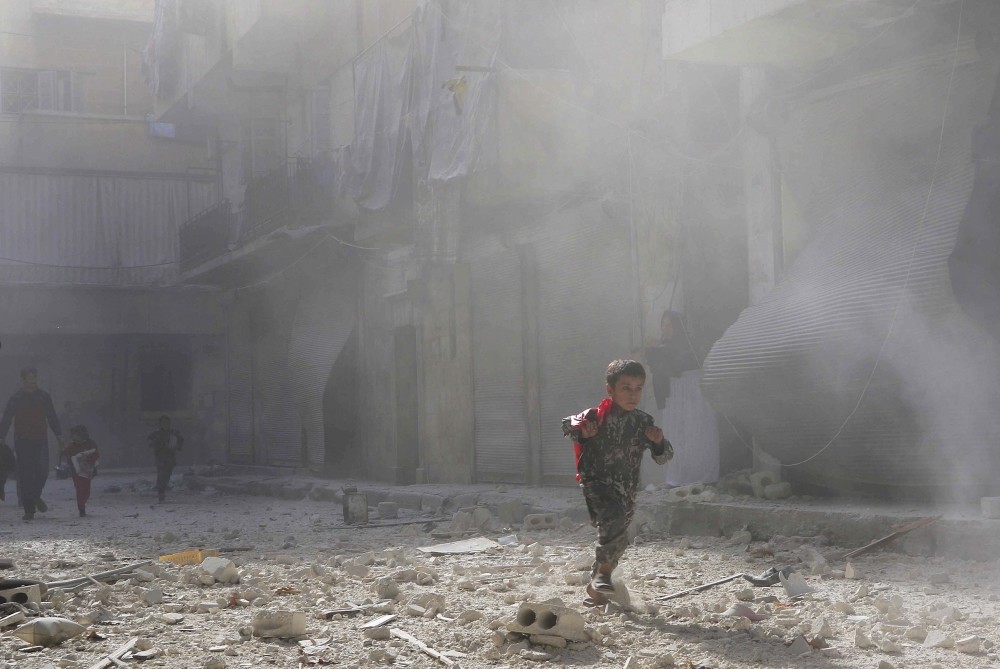 "Make no mistake about it," Delattre said. "Bombing Aleppo and its population is not fighting against terrorism, as the regime pretends. ...What the regime and its allies are doing in Aleppo is actually fueling terrorism, it's fueling radicalization." He urged increased political pressure to send "a clear message to the regime and its allies that they must stop their indiscriminate attacks against Syrian people and be accountable."
Russia said its air raids were only targeting Idlib and the central province of Homs to root out opposition fighters. But Syrian warplanes were pounding opposition-held districts of Aleppo, home to nearly 275,000 people.
Residents said the aerial campaign intensified Wednesday. Syria's Civil Defense, known as the White Helmets, recorded at least 150 raids, more than double the number of attacks on Aleppo on Tuesday.
Resident Modar Shekho said warplanes hadn't left the skies over his neighborhood since 9 a.m. "The helicopters would leave and the jets would arrive," he said by telephone, adding that the helicopters were dropping seven or eight "barrel bombs" at a time "causing a lot of destruction."
The head of the only pediatric hospital still in service in eastern Aleppo described taking shelter in a basement with some 50 young patients and staff for more than two hours as the crude unguided explosive- and shrapnel-laden bombs and other missiles fell around them.
"It was frightening," said Dr. Hatem, who gave only his first name out of fear for the security of family members living in Assad-controlled areas. He said he counted more than 20 missiles falling, and a number of nearby buildings were destroyed.
When he and the others emerged, he said they found missiles had landed in the hospital's courtyard, hit the main door and stairs. The hospital's operating rooms, incubators and other equipment were moved underground four months earlier because of repeated aerial bombings of the city.
"We have no other way to reinforce the hospital. We see barrel bombs bringing down whole buildings," he told The Associated Press by telephone. "We don't really have many options."
Adham Sahloul of the Syrian American Medical Society, which supports several hospitals in opposition areas in Syria, said it appeared the Assad was focusing its fire on Aleppo's medical infrastructure, including the central blood bank, which was also hit. There are only five functioning trauma facilities left in eastern Aleppo, he said.
The Independent Doctors Association, a Syrian group which supports the children's hospital and the blood bank, decried the lack of protection of civilians as the conflict rages.
"Aleppo has been under siege since July and the escalating bombardment on the eastern part of the city has rendered the medical mission nearly impossible," the group said in a statement.
A strict blockade of opposition-held areas of Aleppo has been enforced since July, and talks to allow in food and medical supplies have failed. The U.N. warned last week that food rations inside Aleppo's opposition-held districts could be depleted by the end of this week.