Groups within the opposition Free Syrian Army (FSA) announced late on Monday that they have temporarily frozen all peace talks with the Assad regime due to continuous breaches in the cease-fire by regime forces across Syria.
"As these violations are continuing, the factions announce...that all discussions linked to the Astana negotiations are frozen," the FSA said in a joint statement, referring to talks planned for mid-January to be mediated by Russia and Turkey in the Kazakh capital of Astana.
Ankara and the Kremlin reached an agreement just before New Year's Eve that a cease-fire across Syria would go into effect that would supposedly bring an end to all hostile activities between the Assad regime and opposition forces. The regime's fighter jets pounded the Barada Valley area around Damascus despite the recently established cease-fire agreement that was the result of joint efforts made by Turkey and Russia in a deal that was signed to abruptly end all hostile activities between the Assad regime and opposition forces.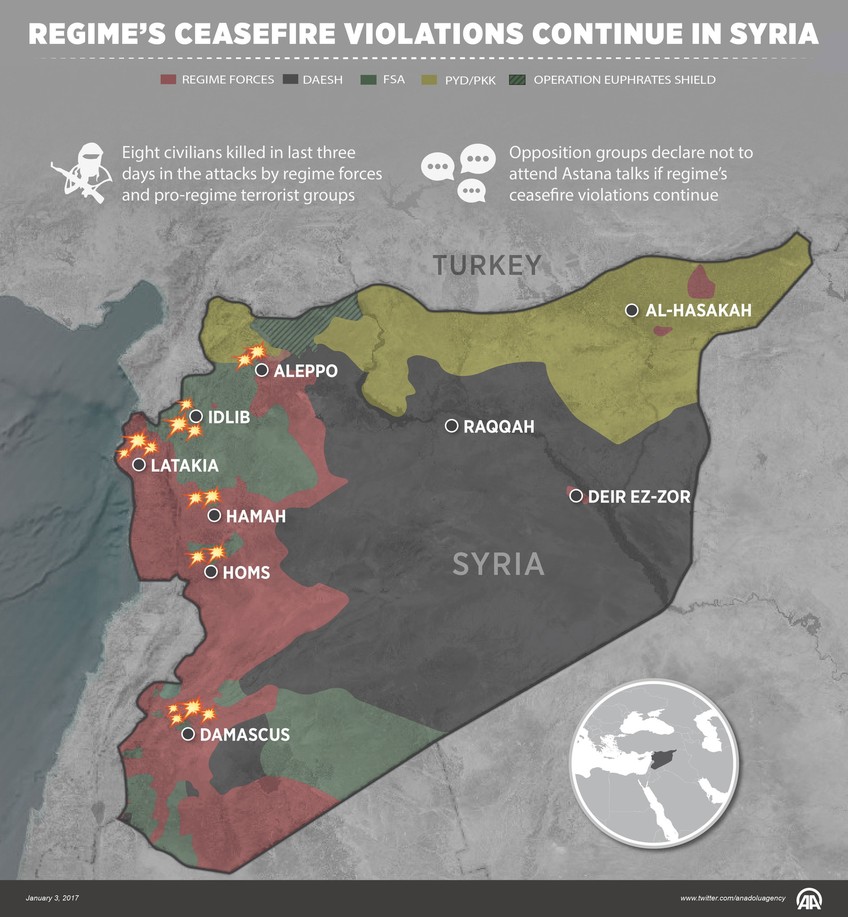 According to the Syrian Network for Human Rights, there were at least 51 breaches of the cease-fire agreement within the first 48 hours of its signing. The human rights group claimed that there were 14 breaches in the suburbs of Damascus, 11 in Homs, 10 in Daraa, nine in Hama and seven in Idlib.
It remains unknown whether Ankara will be able to convince opposition forces to participate in peace talks with the Assad regime slated for later this month. The FSA had previously promised to carry out the political transition process if the Assad regime and Shiite Iranian militias adhered to the cease-fire agreement.
Opposition forces have criticized Russia, which promised to act as a guarantor, for not preventing the Assad regime from attacking opposition-held areas.
The fighting in the Barada Valley continued yesterday, the U.K.-based Syrian Observatory for Human Rights monitor said.