Since his family fled civil war in Syria five years ago, 15-year-old Ali al-Sbehi hasn't set foot in a school.
Instead, he has put in 12-hour shifts in a supermarket, a fast food stand and now a coffee shop, enduring abuse from employers, back-breaking work and low pay because he is the sole breadwinner for his family of eight.
"I have no future," said the lanky teen with narrow shoulders, offering a sober assessment of his prospects.
Ali is among more than half a million Syrian refugee children of school age — or one-third of the total — who are not in school or informal education in overburdened regional host countries Jordan, Lebanon, Turkey, Egypt and Iraq.
They should all have been enrolled by now under a pledge made 18 months ago by donor countries and international organizations at a Syria aid conference in London.
At the time, donors promised hundreds of millions of dollars to meet the education target, as part of a shift from emergency aid to longer-term development to cope with the fallout from Syria's civil war, now in its seventh year.
However, Syria aid has been plagued by persistent funding shortfalls, as donors face competing global crises. A U.N.-led $8 billion aid appeal for 2017 — $3.4 billion for Syria and $4.6 billion for the host countries — was only 25 percent funded by July, according to U.N. figures.
"If we were fully funded ... more children would be back in school," said Juliette Touma, regional spokeswoman for UNICEF, the U.N. child welfare agency.
Money could alleviate both the direct and indirect causes of children not getting an education. Deepening poverty among refugees drives more boys into menial work and more girls into early marriage. Local schools are overcrowded. Parents often lack money for transportation to and from school, or fear for their children's safety.
Progress has been made and many of the donors have stepped up, Touma said. The out-of-school rate in regional host countries dropped from 45 percent to 34 percent between December 2015 and December 2016.
Britain's Department for International Development, when asked about donors missing the target set in London, pointed to the improvement, saying that "for the first time since the start of the crisis there are more children in school than not in school." It added that "the scale of the challenge remains huge."
In Jordan, about 126,000 of 212,000 Syrian refugee children are enrolled in school, with the government supporting the campaign by doubling the number of schools with two shifts to 200 in the fall of 2016.
Another 46,000 children participate in informal education.
This includes new catch-up programs at 60 centers where children who missed more than three years of school can make up for lost time. In the past, such children would not have been able to return to school.
Summer school offers an entry point for those who registered late.
"In Syria, there was war, and planes," said 11-year-old Mohammed Faisal, a first grader in summer school. "But I like being here. They take us out on breaks, they feed us yummy food, and the teachers treat us with kindness."
This leaves about 40,000 Syrian refugee children in Jordan who can't or won't return to school, as well as thousands more at risk of dropping out.
Robert Jenkins, the head of UNICEF in Jordan, said his $96 million education budget for 2017 is only half funded, and that this jeopardizes programs meant to encourage children to stay in school or re-enroll.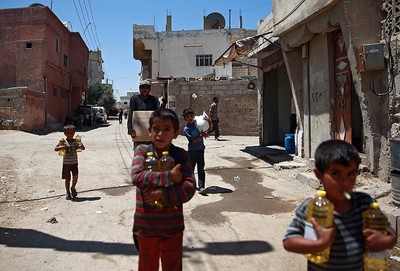 Currently, about 52,000 children get cash grants of 20 dinars ($28) a month to help with school transportation and other costs related to education, or to enable boys to quit their jobs. Jenkins said he had hoped to double the number of participants this year, but instead might have to phase out the program for lack of money.
Jenkins said anecdotal evidence suggests child labor among Syrian refugees is on the rise, but that no statistics are available. "We need to work on both supporting the families and supporting the school system together for this to be successful," he said.
He said refugee parents face tough choices. "If you ask your typical Syrian refugee family, at the top of the list remains (the wish for) continuing education" of their children, he said.
When Ali Sbehi was 10, his family tried unsuccessfully to register him for school in Jordan.
He was told at the time he would need to repeat third grade because his parents lacked documents showing he had already completed it in Syria. He refused to do so. Since then, he has forgotten most of what he learned in Syria.
His father, who had worked in construction, became bedridden with back problems three years ago.
Ali is now responsible for supporting the family. "I cannot let my family starve to death," he said. "I am obliged to work, to take responsibility. I have to handle it so I can bring in money."
During his last job, at a coffee shop, Ali used to wake up at 2 p.m. every day to go to work and return home around dawn. He would sweep floors and serve customers water pipes, with a maximum of five dinars ($7) in his pocket at the end of the shift. His employer often withheld some of that money, and still owes him 63 dinars ($100), Ali said.
Ali's mother, 40-year-old Khalida, is worried about him.
"I am scared when he's walking back home somebody will hit him or say something to him. I am afraid for him, a lot," she said. "Sometimes I just call him and tell him to hell with work, just come home."