A ferocious Assad regime military assault that has succeeded in driving out fighters from the eastern Ghouta opposition holdout on the doorstep of Damascus was launched nearly two months ago.
Since Feb. 18, the Russia-backed onslaught has killed more than 1,700 civilians, according to the U.K.-based Syrian Observatory for Human Rights monitor, and left much of the area in ruins.
Here is a recap of what has happened:
'Hell on Earth'
The regime forces open their campaign with intense air raids and a barrage of more than 260 rockets fired into several areas of eastern Ghouta, under siege since 2013.
The strikes continue Feb. 19, when 127 civilians are killed.
On Feb. 20, Russian air strikes reportedly target the enclave for the first time in three months. The following day raids batter several areas and aircraft drop crude barrel bombs.
U.N. chief Antonio Guterres says the region's residents are living in "hell on Earth".
Another Aleppo
On Feb. 22, Syria's U.N. representative Bashar al-Jaafari confirms the plan is for opposition fighters and their families to withdraw from the region to allow the regime to take control, as in the war-shattered second city of Aleppo in December 2016.
Two days later, the U.N. Security Council unanimously adopts a resolution demanding a 30-day ceasefire to allow for aid deliveries and medical evacuations.
But air strikes and shelling continue, including with claims of a chlorine gas attack.
Daily 'pause'
On Feb. 26, Moscow announces a daily five-hour "humanitarian pause" and the opening of protected corridors to allow people to leave.
There is more fighting, making relief operations impossible.
A first attempt to deliver aid is made on March 5 but is cut short by heavy shelling. On March 9, food aid is distributed in the enclave's largest town, Douma, despite the bombardment.
The following day, the regime splinters the shrinking opposition territory into three isolated pockets, each held by a different group.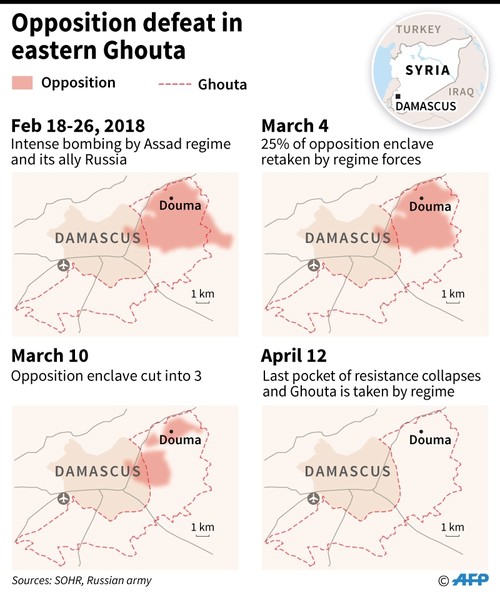 Assad visits
On March 13, the first medical evacuations take place from Douma, with about 150 people including sick and wounded bussed out.
On March 15, Russia indicates it will continue to back Assad's offensive. "Russia is morally complicit and responsible for Assad's atrocities," the Pentagon replies.
Assad visits troops in Ghouta on March 18 and praises them for having "saved the capital." The bombings continue.
State media says around 150,000 people have fled to regime-held territory in a month.
Opposition forces evacuate
To drain out the shrinking opposition-held zones, Moscow begins negotiations for the fighters to leave.
On March 22, fighters and their families begin quitting the devastated town of Harasta under a first deal with the Ahrar al-Sham group.
Nearly 4,000 people are bussed to the opposition-dominated province of Idlib.
On March 25, Russia brokers an agreement with Faylaq al-Rahman, another faction. More than 42,000 fighters and civilians are evacuated to Idlib.
Moscow pursues talks with the Jaish al-Islam group that holds the last pocket around Douma.
Bombing subsides and military operations appear to be on hold as a preliminary accord on April 1 sees nearly 3,000 evacuations.
But talks for the rest to quit flounder and, after a 10-day lull, the military resumes its bombing blitz on Douma on April 6.
'Poisonous chlorine gas'
On April 7, the Syrian American Medical Society and Syria's White Helmets jointly say more than 40 people have been killed in a "poisonous chlorine gas" in Douma.
Syria and its allies Russia and Iran deny any involvement. The alleged chemical attack sparks global outrage with the United States and France threatening retaliatory strikes.
On April 12, the Observatory announces that Jaish al-Islam fighters still in Douma had surrendered their heavy weapons and their leader had boarded a convoy out.
Assad regime forces were poised to take full control, bringing to an end one of the bloodiest conflicts in the seven-year war.