Professionals and entrepreneurs heading digital transitions at the corporate level will have to improve their "technology muscles." Nearly 32,000 people convened in Las Vegas for Amazon Web Services re:Invent 2016, taking place from Nov. 28 to Dec. 2, where Amazon announced new updates to the cloud provider's portfolio of services. Amazon Web Services (AWS) CEO Andy Jassy, who introduced their new services and products, said institutions and entrepreneurs using them will feel like "superheroes with superpowers." He explained the superhero powers thusly: "All companies that use our products and solutions will pick up momentum while engaging digital business. This increase in speed will be enabled by our global infrastructure investments. Companies will acquire new talent by making fast inquires via huge data. They will easily be able to integrate Amazon's products and services such as artificial intelligence and voice recognition."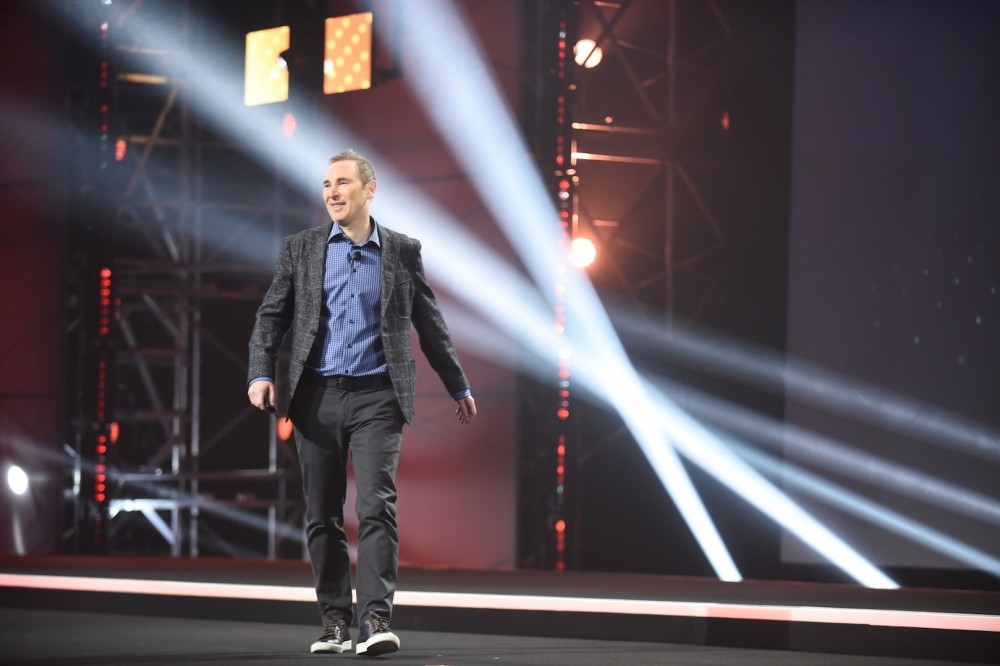 Amazon Web Services (AWS) CEO Andy Jassy at the Las Vegas event convening thousands of professionals.
Focus on your business
According to Jassy, these solutions will give "superpowers" to corporate employees and entrepreneurs and enable them to have "speed, fly and do the impossible, just like super heroes." Further explaining the new solutions, he said: "We developed the latest technology tool that will help professionals who have ideas about digital transition and entrepreneurs to focus their own business. We have invested in the infrastructure of 14 different centers around the world in efforts to quicken the way corporates and entrepreneurs do business. This number will soon increase to 18. We have to continue new investments for developing trustworthy, uninterrupted and immediate business talent."
Know digital customers
To get to know the digital client, one has to possess the talent of the language of the client. Amazon has announced that there are solutions that have artificial intelligence and make complicated inquiries that understand 27 languages and recognize faces among the new opportunities that Amazon Web Services offer to its clients. Thanks to these new talents, entrepreneurs will be able to create an online photo service that understands the mother tongues of the clients. These new talents will increase the speed and capacity of R&D activities and product development.
Virtual server for $5 per month
The cost or payment terms of virtual servers are very crucial for digital entrepreneurs who work for the most-visited Internet pages, not for the store, in your neighborhood. Amazon Web Services continues its initiatives that cut the cost of digital entrepreneurship with Lightsail, a virtual server service. With its Lightsail service, it is possible to get a virtual server service for prices starting from $5 a month. Open source virtual servers enable their users to have 512 MB memory, 1 virtual CPU, 20 GB of SSD storage and 1 TB of data transfer.

4.5G consumes all internet packages

The transition to 4.5G mobile internet led to an increase in mobile internet usage just like the increase in petrol that happened when there was a switch to the eight cylinder automobile from the double cylinder motorcycle. In fact, the cost for each megabyte (MB) has decreased; however, the internet consumption grows apace accordingly.
Recently, everybody is complaining about how fast their internet packages are draining away. If you ask whether the transition to 4.5G affected the increase in internet consumption, the answer is yes. Now, we are driving an eight cylinder automobile instead of a two cylinder motorcycle. The cost per MB decreases; yet, if you fail to choose the right internet package, an increase in your bill is inevitable as your internet usage increases. If you benefit from the automatic internet stopper, which limits your mobile internet usage, you use up your entire quota. There are three main reasons for all these issues. The first two reasons are related to videos. The video and photo quality that we share or send has increased enormously. Moreover, as the number of applications and the amount of data they use rises up, they soak up their internet quota more quickly.
We keep on watching HD videos
Most users watch HD quality videos on Facebook and YouTube without realizing it. As the internet we use has speeded up, the applications we use have begun to support videos with better quality. In other words, the internet consumption grows as the internet connection gets faster. Since faster internet allows us to watch higher quality videos, we are using video applications more than ever.
Constantly sharing videos
Smartphone cameras are now shooting 4K and high definition videos. We share high quality images on social media or via messaging applications such as WhatsApp and Bip. Even though apps optimize the images and reduce their quality, the images are still in high definition. Moreover, everybody has been sending videos to one another every since sending videos became easy.

Coping strategies

Make sure to check how much data the apps on your smartphone consume. It is recommended to download data usage information that the phone operator provides on your phone. Another advisable strategy can be using a lower resolution while taking photos or recording.