All jokes aside, the standard 6-inch screen of your smartphone now only takes up 5.5 inches in your hand. More specifically, although the phone does not take up more width in your palm, the screen has continued to grow vertically. As a result, the length of the phone is getting longer instead of wider to maintain its ergonomics and grip.

The 18X9 aspect ratio on the new LG G6 has already been accepted as the new standard for smartphone displays. The slimmer bezels have been designed to give the illusion of an edgeless display and have also been picked up by Samsung's latest flagship phones, Galaxy S8 and Galaxy S8+.

Likewise, water and dust resistance have also become standard features, making the newest models — ranging from TL 3,000 ($824) to TL 5,000 — safe from daily mishaps, like accidental spills.

TALENTED VOICE ASSISTANT
Along with the growing screen sizes and more sensors, intelligent voice assistants have also come into play. Apple's Siri, Google Now on Android, Microsoft's Cortana, and Bixby on Samsung's Galaxy S8 and Galaxy S8+ are now all using intelligent voice assistant features.

While Siri and Google Now have made significant advances in terms of their Turkish language capabilities, Samsung's Bixby still has a long way to go, currently only supporting English and Korean.

By studying daily habits, these intelligent voice assistants can show you faster traffic-free routes by learning your commute and guessing where you are going. They can also step in when you need a map or help with translation, place calls and open music or videos — all through simple voice commands.

NEW FRAMES FOR VIDEOS
As the size of the screens change, the size of the video screen also increases, and when you turn the phone horizontally to watch a video, a widescreen appears. To push the limits even further, the LG G6 has ambitiously introduced its new 18x9 cinematic display. As a result, we may see a change in aspects ratios on popular apps and websites, like YouTube and Netflix.

After Apple purchased Beats, the Samsung-Harmon Kardon co-operation brought the search for a quality smartphone audio system to the agenda.
Movies and TV series on large smart screens
Every day, more and more people are watching movies and TV series on mobile devices. In fact, the growing screen size will increase this demand exponentially.
On the Poltio digital questionnaire platform, out of a total of 1000 people questioned regarding their viewing preferences, desktop and laptop computers were overwhelmingly preferred, while only 25 percent liked TV screens. These interesting statistics clearly show where the general trend is heading.
Competition shifts to internet services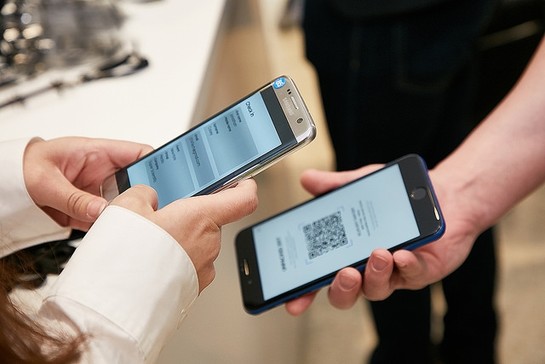 The fact that future competition between mobile operators in Turkey will be centered on internet-based services is clearly reflected in the year-end figures, as operators are now turning to app development. So, they use their infrastructure and mobile device financing power to meet their ends.
Considering the distribution of total income according to the Information and Communication Technologies Authority (ICTA) in comparison to the fourth quarter of 2016, it is not hard to see that the future lies with data and internet services.
According to the fourth quarter of 2016, revenues from talk time accounted for 20.5 percent of Turkcell's revenues, 34.3 percent of Vodafone's revenues and 41 percent of Türk Telekom's Avea revenues. Meanwhile, SMS and MMS represented 3.7 percent of Turkcell's, 10.1 percent of Vodafone's and 4.7 percent of Avea's revenues. However, in terms of data traffic income, Turkcell had 65.1 percent, followed by Vodafone with 52.7 percent and Avea with 48.7 percent. The rising percentages point toward a strong trend for the mobile operators.
All files on the cloud are on your phone


Your personal data is at your fingertips with internet access to cloud accounts. Keeping your files in a cloud account offers flexibility and makes the data available on all of your devices. In fact, cloud data is not just limited to photos, you can even access typed text with your smartphone from a cloud account.
Getting into the habit of using a cloud reaps countless benefits. Security and access from different devices are two of the most valuable features. Additionally, you can access every file you have ever uploaded to the cloud from any device using your user ID and password.
Cloud services like Apple iCloud, Google Drive, Box and Lifebox can also be used to share files and to create backups.