In the age of internet shopping, more and more consumers want to keep constant track of their payments. They want transactions to be safe and valid everywhere, processed anytime and anywhere. But all of this has to go through an easy, user-friendly system.
As user lifestyles change, payment systems have begun to change accordingly. Since people spend more time on social networks, instant messaging and video screens, payment systems also have to invest in these platforms but that has to be fast and involved.
Financial technologies, the internet of things (IoT) and artificial intelligence (AI) are also contributing to the development of new and secure digital payment systems. For instance, global payment giant Visa has invested in 17 different ventures in the U.S., China, Europe and South America, is aiming to develop new payment systems that are secure and compatible with the new lifestyle.
Visa draws attention to venture programs
Visa's Startup program that began in 2015 has picked 14 ventures for investments from among some 1,500 entries.
With more leading venture funds investing in Turkish startups, it would not be unexpected if Visa Ventures followed suit. It has recently taken steps to become more involved in different platforms through investments in ventures like Square, Stripe, Klarna, Marqeta and Chain.
TT Ventures, a venture capital established by Türk Telekom, is now trying to expand its domain by making investments in the entrepreneurial ecosystem for digital transformation.
Street vendorsuse credit cards
Square, one of the most popular payment solutions Visa invested on, allows street vendors the opportunity to accept credit cards. It brings the convenience of payment for consumers, who can shop safely anywhere in the world.
Payment points for 70,000 vendors
Klarna is another venture that has received Visa investments. It is one of Europe's leading payment providers, aiming to make the payment process simple, smooth and secure for customers and trading partners. Klarna offers payment solutions for over 60 million users in Europe and North America.
WRITE LESS CODE, GET MORE DONE
Kuika stands out as a technology venture that focuses on the global market, enabling corporations to act more quickly in digital transformation projects with less code.
It is one of the applications that best reflect the soul of the digital business era. Kuika is highly productive and reduces the technology barrier in digitalization and allows businesses to get more done in a short time.
Founder of Kuika said developing solutions that help institutions to get more done in less time and with less code during high-tech transformation studies brings down the duration of the project. Anık, who has more than 25 years' experience in the software sector, runs Kuika's marketing and sales activities as well as a software technology and product development.
He began his career as a research engineer at the HP Laboratories in Palo Alto. He later came together with Sureyya Ciliv and Murat Ihlamur, his co-workers at Microsoft and Netsis, to found their current venture.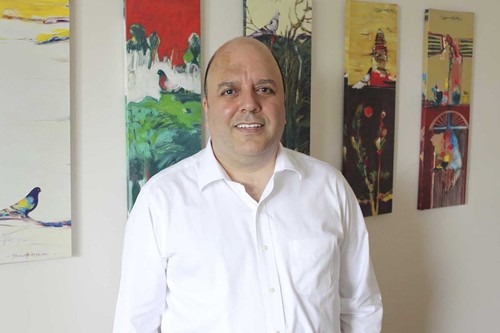 Sadun Anık is a founder at Kuika, an advanced "low-code platform" to build mobile and progressive web applications.
Highly efficient solution
Sadun Anık pointed out that Kuika's research company Forrester calls the software category they work with a "low-code platform."
"Research companies categorize understandings of the way we do business differently. It can be defined in two different ways because we develop a solution that requires a less coding but can be highly efficient," Anık said, stressing that "hpaPaas: High-Productivity Application Platform as a Service" category describes the benefits their solutions offer.
Easy to prepare catalogs
Turkish textile giant the Sun Group has opted for Kuika to speed up its digitalization process and offer its employees and customers with digital applications that can make their jobs easier.
With the Digital Catalog Project developed by Kuika's Low-Code Platform, the process of preparing collections and presenting them to Sun Tekstil's global customers is being transferred to digital media in a short period of time. Following the Digital Catalog project, the development of mobile projects to accelerate business processes and increase productivity has begun.
Sun Group IT Manager Murat Yılgınç aims to address the changing needs of their fast and dynamically growing group of companies with its own software team working on a reliable, flexible and easy to implement technology platform.
With Kuika, it will be possible to meet the technology updates and the emerging needs with a correct and sustainable solution approach while maintaining the current operation.
Strategic partnership for growth
According to the KPMG Business Leaders survey conducted in 51 countries, CEOs believe that growth will continue despite geopolitical fluctuations, demographic changes and cyber crimes.
KPMG's CEO Survey sheds light on the global business leaders' 2018 agenda. KPMG's CEO Survey 2018, involved 300,000 business leaders in 51 countries including Turkey. It reveals the persistence of the CEOs, who said "demolish and grow" last year, on growth.
According to the results of the survey, CEOs regard protectionist and populist understanding, which is becoming increasingly common in the global economy, as the number one threat to growth. They believe that strategic partnerships will drive growth over the next three years.
The CEO ratio, which is ready to lead a radical transformation, is at 71 percent. More than 59 percent regard protecting customer data as a personal responsibility. Around 62 percent of CEOs expect artificial intelligence (AI) to create more jobs than it destroys, while 38 percent defend the exact opposite.
According to 51 percent of the CEOs, the boards of directors of the companies have an unreasonable expectation about the return of investments related to digital transformation. Some 59 percent of CEOs describe the business world's most valuable competence as "agility."
Emerging Obstacles
Cybercrime: At least 49 percent of the CEOs think that a cyberattack was inevitable. They say it is not a matter of "possibility" but of "timing." Cybersecurity, which came fifth last year in the ranking of the risks preventing growth, is in the second place this year.
Geopolitical risks: Rapidly changing geopolitical environment is pushing the boards. The ever-expanding territoriality in the global economy is seen as the number one threat to growth.
Generation change: Around 38 percent of CEOs think they need to reposition their companies to meet the expectations of the Y generation.
Changing customer expectations: Only 23 percent of CEOs say they have surpassed customer expectations in terms of "personalized customer experience," the magic word of this age.
Engineers meet with color, poetry
Some ventures are working on projects that give messages that are colorful in order to change the way people look at life. Emre Şahiner, a third-year Computer Engineering student at the Faculty of Engineering and Natural Sciences at Sabancı University, designed an application involving emotion-color matching for poetry lovers.
The application named, "Laf" is to cleanse poetry from stereotypes and put it into people's daily life. In addition to reading the poems that exist in the application, it also allows users to write their own poems. In "Laf" each poem and poet are depicted with their unique color. With a color parameter, the application offers a poem/poet proposal that suits you according to the color you feel yourself in that day.
In the application which depicts each poem and poet with the color parameter added to the basic structure, you can select a color from the profile according to your current emotional state and transform the whole application into that color.
Laf follows the color selection and poetry reading movements of the users and gradually begins to get meaningful data about the user. User's next choice and daily poem suggestions are also shaped by these analyzes.
Laf app, which was released in January in App Store and Google Apps, quickly reached became 24th in its category.