The entrepreneurial ecosystem has succeeded again. Istanbul-based mobile gaming company Gram Games, founded in 2012, was bought by world-famous game developer Zynga for $250 million in cash and additional payments. Gram Games, which reached its highest value after Yemeksepeti sales, is one of the most successful ventures in Turkey.Successful technology ventures are of great importance, especially when exchange rate activity is on the rise. The most noteworthy feature of all ventures worth more than $100 million is their success in creating corporate culture. Unlike traditional working environments, Gram Games, where employees have unlimited holiday rights throughout the year, does not have the concept of working hours and pecking order. With such an unusual working culture, Gram Games is the dream job for many young people thanks to its team building and management.
Zynga's second investment
Gram Games, an innovative mobile gaming venture operating in Istanbul and London with 77 employees, has joined world-famous game developer Zynga for $250 million in cash and additional payments. Having incorporated popular games played by 1 billion people like FarmVille, Zynga Poker, Words with Friends, Hit it Rich!, Slots and CSR Racing, Zynga had already bought Okey and card games from Peak Games for $100 million -- two successful examples of ventures that stand out when it comes to game purchases in Turkey. This encourages ventures and is an important example for investors with regard to the emergence of successful ventures in Turkey.
170 million players
Gram Games, the developer of famous puzzle games such as "1010! And Six!" with more than 170 million players in the world, has succeeded in moving many games to first place on both American and European mobile platforms.
Commenting on the purchase, Mehmet Ecevit, the founding partner and CEO of Gram Games, which entered the top 50 best-selling games with "Merge Dragons!" last year, said, "We are proud to combine the Gram Games culture we have successfully developed since 2012, our talented team working in studios in Istanbul and London and our numerous successful players with Zynga's world-class organization. We deeply believe Zynga's mission to connect the world with games, and we are excited to start working with their teams."
Gram Games co-founder and Chairman Kaan Karamancı is happy to combine Gram Games' original and effective approach in game development with Zynga's expertise.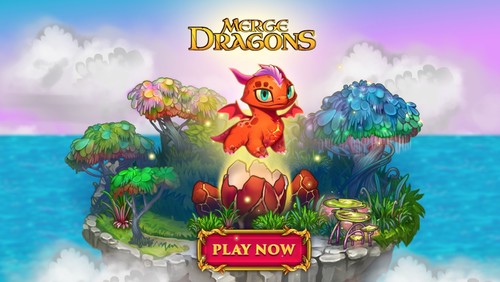 Poster of the game "Merge Dragons" by Gram Games.
"We are among the producers of the world's most successful puzzle games with games such as 1010! And Six! Last year Merge Dragons! made a name for itself in the mobile game market. We want to reach millions of people with the games we develop. This sharing is an invaluable source of joy and motivation for us," Karamancı added.
Is the sale a success?
The overseas sale of successful ventures from Turkey is an important achievement in terms of both ventures and investors supporting the entrepreneurial ecosystem. However, on the global platform, Turkish ventures' finding sufficient venture capital from Turkey and remaining in the game can be a big success for the country. But, this is more about the country's persistence in finding appropriate capital, growth and working climate, rather than the entrepreneur. The formation of large capital groups, state-run and local mutual funds is a must in Turkey.
Turkish entrepreneurs' London campaign

More ventures from Turkey are getting ready to take the stage in the global ecosystem. Webrazzi Connect, which brought together ventures from Turkey with global venture capital investors and experts, was held in London. The event focused on technologies and ventures that attract investors in the global entrepreneurial ecosystem. In addition, venture ecosystem movements of emerging markets were discussed. İşbank Work-up venture also got to discuss its experiences in the meeting, which was attended by investors and experts from Turkey.
Investment in enterprises
At the meeting, İşbank Deputy General Manager Burak Sezercan provided information about their investments in the entrepreneurial ecosystem and the Workup program. Since it is an advantage for ventures to be agile and fast, Sezercan said the ventures they support in the Workup venture program have undertaken successful projects, stressing that they will continue to invest in the entrepreneurial ecosystem.
"We follow innovations in the world's most important entrepreneurial ecosystem through the Maxitech company we built in Silicon Valley and appreciate opportunities for collaboration. We will soon open innovation centers in China and London after Silicon Valley," Sezercan said.
From groceries to social enterprise
Second period ventures of the Workup entrepreneurship program backed by Işbank as the main supporter made presentations in London. Bakkaldan, a mobile application that enables ordering from grocery stores, revealed changing consumer habits. Clotie, a web application that lets you buy what you like by putting on custom stylists' combinations at home, shared what they learned about changing consumer behaviors. Leafinbox, which provides e-signature-supported electronic document management platform for companies, explained the document management processes they made in accordance with new regulations.

Refugees to re-build the future with entrepreneurs

The Build Your Future (BYF) program developed by the Turkish Entrepreneurship Foundation to help refugees establish their own ventures aims to provide the necessary skills. Refugees participating in the BYF program will have the opportunity to set up their own teams, develop their ideas into concrete projects, acquire entrepreneurial skills and get together with the stakeholder ecosystem.
Two ideathons (idea marathons) are organized in Istanbul on June 21 and in Gaziantep on June 23 as the first stage of the BYF program. Ideathons will be followed by a boot camp in Istanbul in July. The project, realized by the Turkish Entrepreneurship Foundation, is funded by GIZ, and program content is being developed by Impact Hub Istanbul.
Türk Telekom previously prepared an important program about big data. Türk Telekom anonymously opens the source of "big data" to participants in the innovation competition for scientific research to prevent the problems experienced by the refugees and provide solutions to their needs. With this data, project, developers will be able to develop and release applications by creating projects to solve the social problems of refugees, the greatest humanitarian crisis of our time.
Entrepreneurial career
The Entrepreneurship Foundation, which enables refugee youth to build their future with the BYF program, was founded in April 2014 along with Turkey's leading entrepreneurs to help young people become entrepreneurs. The foundation works with young people 17-24 years of age to develop an entrepreneurial culture in Turkey, spread this culture, inspire university students and help young people leave their mark.
"As a foundation, we place great importance on the BYF Program," Turkish Entrepreneurship Foundation General Director Mehran Aygül said. "Through this program, we are trying to provide refugees in our country with the opportunity to realize their potential by bringing them together with the right inspiration and network. We want young people to be able to adopt entrepreneurship as a career path. On the other hand, we know how entrepreneurship has great significance for countries' economies. We continue to increase our international collaborations to achieve this goal."

Mastercard continues to support FinTech

Emerging trends force not just banks, but also payment technology giants to invest in the entrepreneurial ecosystem. This is not a social responsibility anymore, but a necessity for survival. Mastercard's Financial Technology - FinTech, one of the largest institutions in payment technology, continues investing with no letup; thus, MasterCard has announced the Accelerate program to accelerate FinTech in Europe.
Mastercard announced that it is launching a new program to take its efforts in financial technology in Europe one step further. The program to enhance the effectiveness of Start Path to support entrepreneurs in the banking and payments sector is called Accelerate. MasterCard aims to create opportunities for agile entrepreneurs new to the FinTech sector with Accelerate to make full use of their potential and add impetus to their projects. With Accelerate, various tools, ideas, investments and technology support will be provided to the companies to support innovation.
Consultancy for growth
Mastercard provides expert support to ensure that companies grow in their markets and reach new customers. Advisors who make up the professional service network called Mastercard Advisors offer real-time transaction data and analytical consultancy. Mastercard advisors, who help customers grow their businesses with the featured solutions, provides services to Europe and Africa in collaboration with the Turkey office.
MasterCard, renowned for its innovations and support for the FinTech sector, has pioneered the globalization of these companies by partnering with many entrepreneurial companies. Mastercard, which currently supports just 30 new digital banks in Europe, has taken another step to deepen and enrich its efforts with Accelerate, aiming to undertake new innovations to respond to customer expectations and conditions that are changing in the field of digital banking and in the world of payments.