Having achieved the largest export figures for a single item in Turkey in March 2018, and thus gaining the title of Turkey's largest software company, Etiya is trying to occupy the U.S. market by transforming itself into an artificial intelligence-focused company.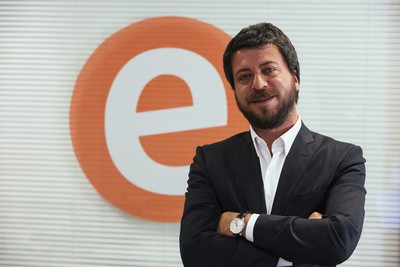 Aslan Doğan, 41, is a graduate of Middle Eastern Technical University's (ODTÜ) Computer Department, and works at Etiya in the fields of telecommunication, energy, media, finance, banking and insurance, He believes that success in the U.S. market can be achieved by turning the Turkish culture's features of "entrepreneurship and fast focusing on opportunities" into an advantage.
He believes that international giants are moving in a cumbersome manner in mobilizing digital transformation, and suggests that Turkish software companies can take advantage of this situation.
"With only one condition, however. Instead of taking artificial intelligence know-how from start-ups and engineering it in-house, institutions should buy the solutions supported by artificial intelligence technologies and allow software companies to grow," Doğan said.
How did Etiya break this record? Just 14 years ago it set out with three people only. Today it has offices in Istanbul, Ankara, İzmir in Turkey, as well as in the U.S., the Netherlands, Ukraine, United Arab Emirates (UAE) and Singapore. Where did Etiya, a Turkish software company that competes with international giants such as Oracle, Huawei and Ericsson in the same tenders, exhibit its difference?
Etiya followed the developments in the world by opening offices, setting up an advisory board for this, including foreigners accepted as references in their own fields, saw which geographical areas it could grow in and allowed data to constantly multiply by keeping pace with the latest global trends and testing its products on an open platform.
A cup of coffee
Growing with its expertise in Customer Relationship Management (CRM) solutions, Etiya has focused on investments in artificial intelligence for the past four years. Aslan Doğan said unlike a software company that offers corporate solutions to every company like a tailor and provides post-sales service, they transformed Etiya into a competitive company that grows by doing its own R&D, develops artificial intelligence projects at its own start-ups and transforms them into international experiences. Doğan stressed that Turkey should be a country that sees artificial intelligence as a strategic area, "produces and processes its own data and creates added value" with a data economy.
"At this moment we are exporting technology abroad. We sell artificial intelligence-supported solutions to a place like North America. They prefer to take it from here, not from Silicon Valley. The first reason is the quality of technology, while the second is the new service concept in technology," Doğan continued. "This is like coffee that cools down in half an hour. Now there is a fast race against time. With this change, corporations now want result-oriented companies that they can strategically work together and produce quick solutions. They do not want to go after a long-term thing. They want more agile structures. We provide them."
Let's not kill know-how
Commenting on the success of winning a tender against Oracle over the past few months, Doğan said the company, which provides a trio of right solutions, best prices and fastest services, wins no matter where in the world, suggesting that many companies in Turkey need to be able to quickly focus on these opportunities and export technology. "It is a straightforward statement, but no technology company that 'does not digitize in itself' can give its customers anything," Doğan noted. "It is very hard for companies such as Oracle, Ericsson and Huawei to achieve this transformation. Because they have a staff of 150,000-200,000 people with an average age of 40-45 years. It is hard to change in these bulky structures. It takes four to five years to start an exchange program. They will not be able to move easily and quickly at a time when the value of everything is measured in time. That is why we are the stars."
Meanwhile, Doğan believes that structural errors must be corrected in the process of "digitalization in institutions" in Turkey. He thinks the wind of investing in artificial intelligence" is blowing in Turkey, regarding the efforts of developing artificial intelligence technology, which demands sustainability in investment, with a small in-house team, as an endeavor that cannot offer a solution "innovatively."
Pointing out that the institutions' strategy to create data within an organization is the biggest threat, Doğan said "These companies say that 'we started the project and you should give us the artificial intelligence.' In that case, you are killing this sector first. You are destroying all the know-how to be commercial and add value to the country," Doğan said. "Do we have hundreds of companies that really do technology? One of the biggest problems I see is that the sector is trying to do is to innovate in-house, rather than purchasing technology by working with start-ups and technology companies. There is nothing to say about developing an artificial intelligence technology related to a very strategic topic, but there is no need to search for the solution of a general problem, in-house."
Investment in health
When I asked Doğan where the digital trend is heading in the world, he responded with "a Google that browses videos." On the question where artificial intelligence will begin to be implemented in Turkey in the coming years, he said "health" because of the large amount of data. According to Doğan, digital simulation applications such as virtual reality will be the biggest technological area to be invested in, in Turkey, other than artificial intelligence.
What does Etiya Do?

Etiya shares all the services it brings out, such as natural language development, emotion analysis and ability comparison, on its open artificial intelligence platform, Form. This platform is now used by 1,500 people to learn and develop artificial intelligence.
Ofisim.com, a kind of "write your software yourself" service, is particularly attractive for small and medium sized enterprises (SMEs). Ofisim.com is a platform that does not require very high coding knowledge, in which you will design processes that will write your own application related to software. An application developed to produce solutions for a business group or business area can be shared by or with members of the same profession group via the cloud.
Etiya has also turned to agriculture in addition to the fields of banking, finance and media where artificial intelligence is used in Turkey. With a start-up named Farmatic.io, the company offers low-cost solutions to the artificial intelligence-supported digitization process in agriculture. This method is currently being used in more than 50 greenhouses in Alanya, Anamur, Gazipaşa and Erdemli.
Finally, one of the largest shopping malls in Turkey has begun applying an image-processing solution supported by artificial intelligence, making the cameras in shopping mall "smarter" and facilitating the detection of anomalies within the mall.