Tech enthusiasts from all ages are coming together at Istanbul's new airport for TEKNOFEST, which opened its gates on Sept. 20. Prior to the event's inauguration, Daily Sabah came together with Turkey Technology Team Foundation (T3 Foundation) Board of Trustees Chairman Selçuk Bayraktar for a live broadcast on social media.
Recalling that they prepared for the aerospace and technology festival TEKNOFEST with close to 30 shareholders, led by Istanbul Metropolitan Municipality (IBB), Bayraktar said the festival area would be the scene of Turkish Stars, SoloTürk, and 80 military and commercial aircraft.
"In other words, those whose heads are in the clouds come together at TEKNOFEST," Bayraktar said, inviting tech enthusiasts to join the festival. He recalled that he was quite impressed by an airshow he watched with his father when he was a kid.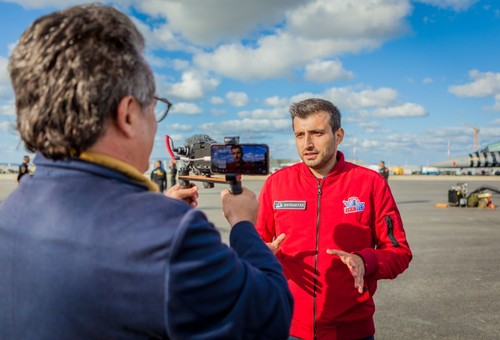 "I got a chance to see the military aircraft in Samandra, in a smaller area than the one where we just watched the show. They were flying citizens. When your feet get off the ground just once, it gets to you," he said.
He stressed that today's unmanned aerial vehicles (UAVs), armed UAVs and the vehicles that successfully operated in Afrin were the result of this passion. "We want to instill the younger generation with this idea. They should want to be pilots and build planes. They should want to be astronauts and build rockets. Last week's rocket contest showed that our youth worked for a year with an incredible passion and developed technologies that would bring our country to the level it deserved when the time came," he said.
Pointing to Turkey's deep-rooted aviation heritage, Bayraktar said, "Our ancestors were one of the first civilizations that fixed their eyes on the sky. We, ourselves, cannoned down the work of Takuyyiddin Mehmet, who established one of the first observatories in the world that we can call the NASA of that time. We launched an incredible independence campaign in aviation during the first years of the republic. In a great breakthrough just like Mustafa Kemal Atatürk said in his quote, 'The future is in the skies.'"This leap was cut short in the 1950s, and Turkey lagged behind, while it could have been one of the top three aerospace giants in the world, according to Bayraktar.
"Here, the unmanned aerial vehicles were the second breakthrough. The new technologies will be an important opportunity for both our youth and our country. This is the festival of those whose heads are in the clouds and who follow their ancestors' footsteps," he added
Turkish Stars at TEKNOFEST
TEKNOFEST will be held at Istanbul's new airport until Sept. 23 under the auspicious of the T3 Foundation and IBB. Everyone from 7 to 70 years old will get the chance to reach the Turkish Stars, SoloTurk planes and pilots that they used to see in the sky.
The world's fastest vehicles, a Red Bull Racing Formula 1 car, Kenan Sofuoğlu's Kawasaki H2R, Tesla P100 DL, Red Bull athlete and Turkey's rally champion Yağız Avcı's Lotus Evora 430 GT, European champion and Red Bull athlete Toprak Razgatlıoğlu's Aston Martin The New Vantage, SoloTurk F-16 fighter jet and private jet Challenger 605 competed together for the first time at the event.
Entrepreneurs at summit
Rocket contests were held last week prior to TEKNOFEST. Aviation shows, aircraft exhibitions, wind tunnel do-it-yourself workshops and venture events are being organized in Istanbul. Tech contests offering the biggest prizes in Turkey's history are waiting for its visitors in 12 categories including rocket, autonomous vehicle and artificial intelligence.
Take-Off International Venture, which brings together tech ventures from our country and the region with investors will also be organized in this period.
A cybersecurity contest will be held within the scope of HackIstanbul that will host world-renowned hackers. TEKNOFEST will also feature Turkish Airlines (THY) Travel Hackaton and the World Drone Cup during which drone champions from 25 countries will compete.

Ventures to grow with efficient cloud technology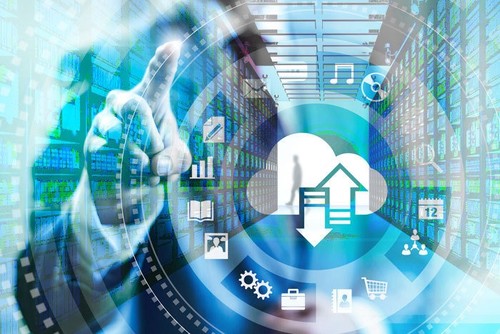 Both the technology ventures and traditional companies are now investing in more efficient information technologies in which they will pay as much as they use by taking advantage of the cloud technology instead of making their own information processing investment. By 2020, some 80 percent of the businesses will be in the cloud.
Technology ventures and all institutions in the world and in Turkey do not need more investment in obese technology than they need. Companies and ventures with limited resources are not able to invest generously in technology. Cloud technology allows institutions and ventures to invest in information as much as they need. In other words, as the need increases when sales and marketing activities increase with intense customer applications, the capacity increases. This flexibility and cost advantage enhance the need for cloud technology.
Rent as much as you use
Today, institutions are increasingly turning to software as a service (SaaS). The ventures provided a faster adaptation to this approach, which offered ease of rent instead of software licensing, compared to traditional software companies. Some 73 percent of these organizations say 80 percent of their companies will move to the cloud by 2020. Business units, functional departments, teams and individuals are buying SaaS to build their own technological groups and do it without IT.
With Lenovo AirStack, a technology group management solution, organizations will be able to monitor, manage, and optimize software investments and control all groups across the enterprise. Traditional telecom companies such as Türk Telekom are now offering their services to their individual and corporate customers through the cloud.
Smart transformation project
At the Transform 2.0 event, Lenovo announced solutions designed for a number of new products, partnerships and corporate customers that demonstrate the company's ongoing "Smart Transformation" strategy. This transformation feeds on emerging technologies such as artificial intelligence, augmented reality, Internet of Things (IoT), Blockchain and 5G connectivity. Lenovo continues its advance in cloud technologies deployed through infrastructure, including network systems, and delivered by devices.
"Today, we are sharing our partnership and new products with you as the sector leader by strengthening our commitment to realize the unlimited potential of Smart Transformation," Lenovo CEO Yang Yuanqing said in his speech in the event. "From the largest portfolio of devices in the world to the leadership position in data centers, to smart vertical solutions running on algorithms, and even to strong partnerships that Lenovo has been building for many years, we have all the content needed for Smart Conversion. Lenovo is a future-ready company as well as a business partner that helps companies run intelligent transformations."
China on target
Encouraging its customers and business partners to adapt, evolve, and advance in today's economic conditions and transform their business, Lenovo's business decisions and business partnerships help to improve society and prepare for the future. In the event, Lenovo announced that it had established a new partnership with NetApp, the data authority in the hybrid cloud world (NASDAQ: NTAP). Thanks to the $1 billion global strategic partnership, customers will be able to modernize their IT structures and accelerate their digital transformation. Lenovo and NetApp will develop and market high-performance and next-generation flash storage products and solutions that scale from the very edge to the center of the cloud, revealing the strengths of both companies. The partnership also includes a new joint venture that will provide localized solutions in China, the world's fastest growing market for storage and data.
Touch screen for performance
The performance requirements are increasing on laptops. Recently, the performance requirement of the digital generation and entrepreneurs has increased in graphics and video business. Lenovo introduced its latest product, the ThinkPad X1 Extreme, at the Transform event. The thin and light laptop running on the Windows 10 operating system is designed for those engaged in high-performance video, virtual and augmented reality projects. In addition, the ThinkPad X1 Extreme is the first product to feature NVIDIA standalone graphics. It is an ideal product for data-intensive workloads, such as video and image editing, graphics rendering and virtual and hybrid reality applications.
Christian Teismann, senior vice president and general manager of the Enterprise Business Segment for Lenovo's PCs and smart devices, said entrepreneurs are used to using advanced technology in their homes with state-of-the-art phones, tablets, personal computers and smart devices, adding that these users want to have the same technology in their workplaces.
"Users want to have smart interoperability with better display, touch screen and voice capabilities like the new ThinkPad X1 Extreme, better collaboration tools like ThinkSmart Hub, and more powerful security solutions that protect their devices, IDs and data like ThinkShield. No other company has any comprehensive hardware, software and solution experience or options to meet these demands," Teismann added.