Naomi Osaka of Japan defeated Serena Williams at the US Open Saturday, robbing the American of a 24th grand slam title in a dramatic final that saw Williams come unhinged as she argued with the chair umpire over accusations that she received coaching from her box.
The first grand slam title for the 20-year-old Osaka - and the first by a Japanese player - turned into a Williams meltdown halfway through the second set when the American disputed that her coach Patrick Mouratoglou, seated in her box over a corner of the court, had used hand signals to coach her.
Chair umpire Carlos Ramos warned Williams about the coaching midway through the first set and she was never able to let the accusation go.
The match started out badly for Williams even before the warning as she appeared out-matched by the younger Osaka, who broke her to go up 2-1 in the first set.
Osaka, who played solidly throughout the match despite having to play against the crowd, went on to take the set 6-2. Then came the fireworks in the second set as Williams was penalized after she slammed her racket into the court when Osaka broke her a third time to make it 3-2.
The 36-year-old Williams, who returned to tennis early this year after having her first baby, continued discussing the coaching warning with chair umpire Ramos and eventually began ranting.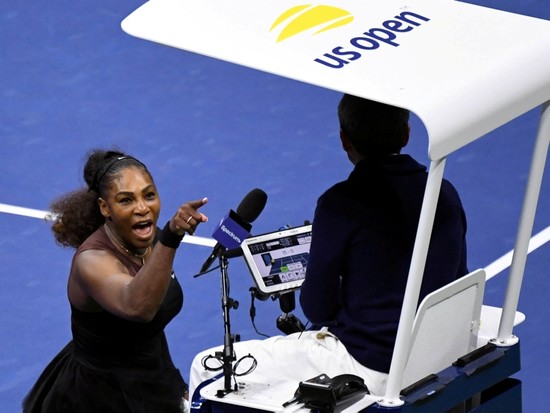 "You owe me an apology," Williams thundered. "I have never cheated in my life," adding she would rather lose that have to cheat to win.
She then accused him of attacking her character, fuming, "You will never ever, ever be on a court of mine as long as I live."
When Williams called Ramos a "thief" for taking a point away over the racket abuse, he assessed the game violation and Williams became even more furious, shouting and pointing at Ramos as boos and whistles rained down from the estimated 23,000 spectators.
The overwhelmingly pro-Williams crowd then witnessed a rare event in tennis as Williams demanded to speak with tournament officials, who raced onto the court to try to defuse the situation.
Williams pleaded with the officials to be treated "fairly" as she fought back tears. She insisted male players had called chair umpires worse names and not been assessed penalties. She said she was being treated differently because she was a woman.
The penalties, however, stood and Williams found herself down 5-4 with no fight left. She lost the final game to love.
Osaka kept her cool on court throughout the ordeal, but when she won, tears flowed and she raced to her box, where she hugged her mother. She then returned to her court chair and placed a towel over her head.
Williams saved some face when she quelled the booing during the trophy presentation so that the tearful and somewhat bewildered-looking Osaka could enjoy the moment.
In her post-match press conference Williams was asked what she would change about the match if she could and she showed no remorse.
"I can't sit here and say I wouldn't say he's a thief because I thought he took a game away from me," she said.
She repeated her claim that men have called umpires "several things," and not been penalized. For the umpire to penalize her a game "made me feel like it was a sexist remark," she said. "He's never taken a game from a man because they said 'thief.'"
"She was so focused," the 36-year-old Williams said. "I think, you know, whenever I had a break point, she came up with some great serve. Honestly, there's a lot I can learn from her from this match. I hope to learn a lot from that."
It was that way throughout the tournament for Osaka, who won the second title of her career. She was mostly dominant, dropping only one set in her seven matches, and she saved 5 of 6 break points against Williams after erasing all 13 in the semifinals against Madison Keys.
The Japanese's stats showed that to be true. She hit six aces to just three for the big-serving Williams, who also hit 21 unforced errors. Her fastest serve was 191 kilometers per hour, better than any Williams put up. She has now has defeated Williams twice although the first time was shortly after Williams returned from after having her baby.
That's the kind of toughness Williams has so often shown in winning 23 Grand Slam singles titles, one shy of the record.
Osaka said during her press conference that she had her back turned during the on-court confrontation and didn't really know what was going on. When she was asked why she felt the need to apologize at the end of the match, she teared up again and indicated she was overwhelmed by the defeat of her idol, who missed her second try this year to win her 24th grand slam.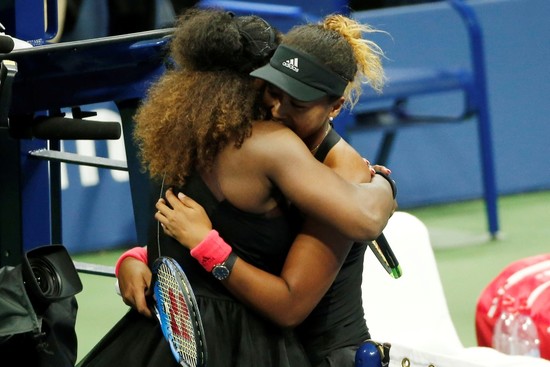 "Because I know that, like, she really wanted to have the 24th Grand Slam, right?" Osaka said. "Everyone knows this. It's on the commercials, it's everywhere.
"When I step onto the court, I feel like a different person, right? I'm not a Serena fan. I'm just a tennis player playing another tennis player," she said, putting her hand over her face as she fought back tears. "But then when I hugged her at the net, I felt like a little kid again."
Osaka teared up as she was finishing her answer, still overwhelmed as she juggled the idea of her winning and Williams losing.
Though her nerves on the tennis court don't show it, it was a reminder of just how youthful the 20-year-old Osaka is. Not since Maria Sharapova was 19 in 2006 has the U.S. Open had a younger women's champion.