ISTANBUL
— Once the long-prepared- for huge or modest wedding celebration is over and the last guest leaves, all couples want to take time-out for a few days or maybe a week or more for a deep breath of fresh air, relaxing at a serene destination to mark the beginning of the rest of their lives as a couple. With a spectrum of greens, exotic hotels hidden in the countryside, its seas in various shades of vivid blue, surrounding three sides of the country, Turkey embraces you and your better half in all its beauty. When they realize you are on a honeymoon, people you meet at your holiday destination - or at villages you may visit - from hotel receptionist to a villager, will show you the best of hospitality. A honeymoon does not always need to mean a traditional holiday, it can come in different shapes and sizes such as cave houses, mountain houses and, of course, fascinating beaches. Read on for the top 4 honeymoon destination picks that promise to start your happily ever after off on the right foot.

>> Istanbul in northwestern Turkey

Being one of the most romantic and sensual cities in the world, Istanbul, praised in songs, poems and stories throughout history, will welcome honeymooners with all of its treasures from the Maiden Tower, situated in the middle of the sea as a symbol of Istanbul's beauty, to the islands in the sea of Marmara. As a mix of modern and historic, Asia and Europe, mosques and churches, Istanbul is the most romantic gateway for your honeymoon. Everything that you look for in a honeymoon is actually in Istanbul and ready to embrace you.
Where to stay:
Les Ottomans Luxury Hotel right beside the Bosporus, is a high-quality hotel that includes everything you need for your honeymoon. Naming its rooms after Ottoman sultans, the hotel is ready to make you feel like a sultan in an Ottoman palace. During your honeymoon, you can rent a yacht or boat to tour the Bosporus and watch the magnificent landscape of
Istanbul.
Website:
lesottomans.com
>> Antalya in southern Turkey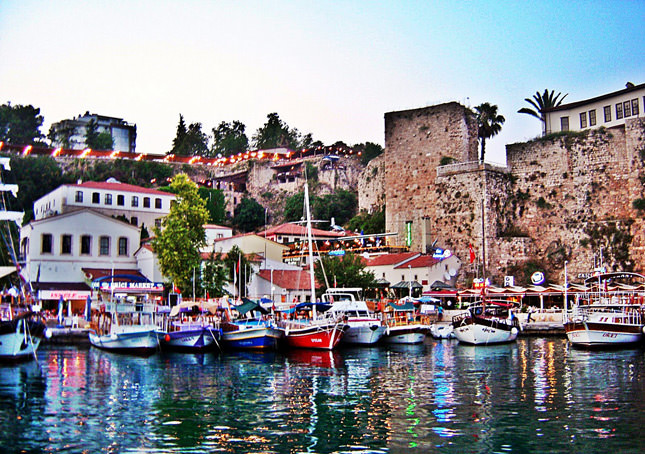 Known for its vivid blue sea, the promise of sunny skies and a famously warm welcome, Antalya is one of the most popular beach destinations in Turkey. When you arrive in Antalya, you will be greeted with a breathtaking view of the city surrounded by massive, snow-capped blue mountains. With its palm-lined streets, attractive marina, cosmopolitan nightlife and traces of Lycian, Roman and Ottoman architecture and cultures, Antalya is the best Mediterranean destination when love is in the air for honeymooners.
Where to stay:
A century after the Titanic sank, its legacy still lives on the coast of Antalya in a high-quality hotel. The Titanic Hotel is the most modern, spacious hotel for honeymooners looking for high quality and luxury. Located along Turkey's longest beach, Lara, the hotel invites those who want to feel as if they are on a cruise ship without sailing in sea. The hotel is 20 meters away from Lara's magnificent beach, offering a quiet, romantic place to take in the entire beauty of the Mediterranean Sea.
Website:
titanic.com.tr/titanicAntalya
>> Cappadocia in Central Anatolia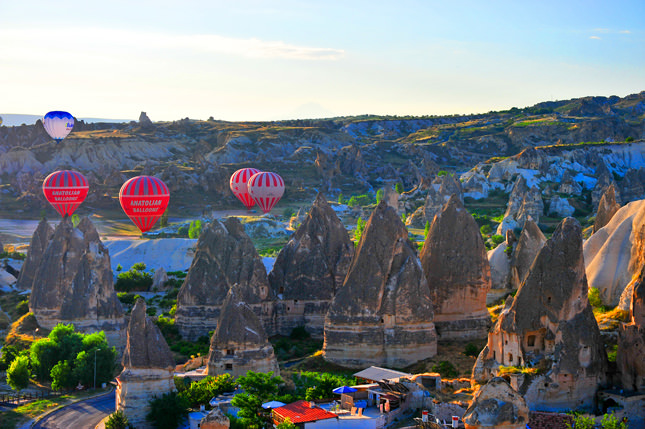 Standing proof of ancient times, Cappadocia offers you an amazing honeymoon destination with its ancient natural beauties, hot air balloon rides and cave suites. Unlike any honeymoon by a blue seacoast, Cappadocia invites you to lift your soul and vision with hot air ballooning. Through wind and melting snow, the region has been carved out of the volcanic rock over centuries and displays amazing colors, shapes that are unique to Cappadocia, such as fairy chimneys (also known as hoodoos), and the chance to sit on a camel in Love Valley, which includes natural and historic phallic protrusions. Cappadocia will allow you to relax by sitting on the stone terraces of your suite while watching the romantic hot air balloons gliding over centuries-old masterpieces created from the combination of rock, lava and rain.
Where to stay:
Situated among fairy chimneys, Cappadocia cave suites offer honeymooners a stay in a ravishing suite in a cave that lets you experience how life would be with your better half in ancient times. During your stay in a cave room that comes straight out of the "Flintstones," you will feel like one of the loveliest characters of this generation's cartoons, Fred and Wilma.
Website:
cappadociacavesuites.com
>> Cunda Island in Aegean Sea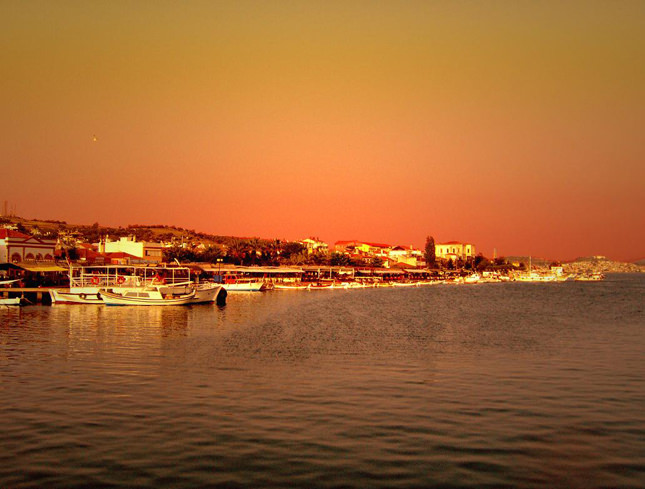 If your idea of a honeymoon is a quiet island with a romantic atmosphere, Cunda Island, which means "Fragrant Island" in Romaic thanks to the silverberry fragrance surrounding the entire island, is the perfect option for you. While most tourists visiting Turkey are too busy visiting crowded destinations, you and your spouse can discover the hidden blue dream of the country, which is Cunda Island, also known as Alibey Island. Staying at the once predominantly Greek island enables you to experience a mixed culture, as some islanders still speak Greek. You can taste the fine foods of Turkish cuisine in the friendly environment of little restaurants, filled with the warmth of the smiling faces of both locals and tourists. Streets covered with colorful flowers and typical island houses will help honeymooners escape the hustle and bustle of daily life.
Where to stay:
Moshinos Hotel, a white swan on the island, is a pure white hotel that enables you to purify your soul and heart during your stay. All-white rooms, which are embellished with Hellenic paintings on the walls, offer honeymooners a minimalist and heartwarming breathing space.
Website:
moshinos.com