Getting lost and discovering hidden little cafes, extravagant restaurants, and hotels is half the fun, but can be a total waste of time. When you are travelling, the last thing you want to do is trial and error. Learn from the mistakes of others and utilize your time on travel by visiting places that have gained the approval of travelers alike. Numerous applications have been made to assist you in making the most of your holidays. From informing you of the must-see sites, with historical information included, to cafés serving the best coffee and hotels where you can finally slump yourself in exhaustion in the hope of recovering in time for the next day's adventure.


1- Culinary backstreets: Istanbul - an eater's guide to the city (by culinary backstreets)
Fee: $4.99

Istanbul, and Turkey, is known for its kebabs, but if you have had enough and wish to go beyond that and want to eat locally and authentically with traces of Balkan, Caucasian and Middle Eastern cooking, this particular handy application can be of use.
This application partners up with some of the most knowledgeable and passionate food writers and bloggers across the globe.


Application features include:
- Content provided by the awardwinning IstanbulEats.com, Istanbul's top food blog.
- More than 120 opinionated reviews of restaurants, street food carts, bakeries, dessert shops and more.
- Integrated maps and search functions that make finding the meal you want easy.
- Vivid photos of food and the people who make it.
- Content available in off-line mode always.


2- Istanbul offline map and city guide
Fee: free


One of the greatest challenges when travelling is getting internet connection. This application saves you from that hassle as it can be used without data roaming or wi-fi connection, and there are no hidden costs. The application is supported in 10 languages: English, German, French, Russian, Korean, Portuguese, Spanish, Japanese, Italian and Chinese. It has a wide range of tourist attractions, monuments and landmarks along with sightseeing tours, attractions, excursions and things to do.
Features include:
-Offline map with gps location
-Attractions list with description and photo
-Information about transport, food, history, airports and eatieris while you are offline
-Currency converter
-Hotel deals
-Phrase book of most popular phrases
-Compass


3- Istanbul City Guide
Fee: free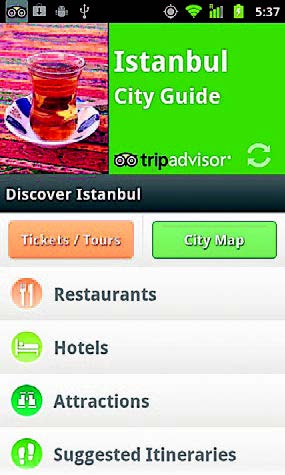 This is a personal advisor in the palm of your hands, listing restaurants, attractions and hotels. Reviews are from Tripadvisor members and destination experts. The application enables you to create your own trip journal and once you have visited the destination you can record it in your journal and store the photo in your travel album. Once you've selected a restaurant or attraction this app will guide you there using the fun & useful "Point Me There" screen, which uses the phone's GPS and Compass.


4- Time out Istanbul by Ajans Medya
Fee: free


This application will have you informed on all the current events in Istanbul. Reviewed and updated by local experts to give you the most useful information a traveller will need.
Features include:
-Daily cultural events including, musical events, evening functions.
-Bars, restaurants and nightlife venues
-Easy to use maps that will locate you as to where you are on the map.
-Pin your favorite spots to easily locate for future use.
-Ability to share your pinned locations with friends to assist them in locating you.