The Samsun Tourism Association has initiated a project to introduce water-crowfoot flower (Ranunculus Tricophyllus), a flower that grows on the surface of the water in the Kızılırmak Delta, to the Arab world.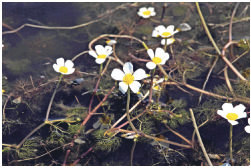 The Kızılırmak Delta, which stands out with its bio-diversity and natural beauty in every season, draws photographers and nature lovers to the area thanks to the beautiful views created by the water-crowfoot flowers that blossom in April and May. The Samsun Tourism Association, which carries out projects to draw the attention of both local and international tourists to the region, will begin new projects to increase the recognition of the water-crowfoot flower that charms Arab tourists and promote this natural beauty to other countries, especially ones in the Gulf.
In her statement to Anadolu Agency, Dilek Genç, the president of the association, said the association considers the poisonous flower, which enriches the flora of the Kızılırmak Delta as well as the touristic activities in the region, as new, alternative tourism.
Stating that they want to increase the number of tourists visiting the area by promoting water-crowfoot flowers growing in the wetlands of the delta, Genç claimed the flower has become a tourist attraction in the region. Known as the "poisonous beauty" due to its poisonous and caustic roots especially attracts Arab tourists.
Located within 19 Mayıs, Bafra and Alaçam district borders, the Kızılırmak Delta, which is one of the most popular visiting areas for nature photographers in the Black Sea Region, the water-crowfoot flower, will be introduced to the masses. "We are in contact with other tourism agencies both in Turkey and abroad. We want to promote these poisonous beauties to countries such as Tunisia, Algeria, Lebanon, Egypt, Iran and Morocco. We want to highlight these flowers while promoting our region," Genç concluded.