Last week when I visited Tarsus in the southern province of Mersin, a place where religions and flavors meet, prominent families and non-governmental organizations (NGOs) arranged a program to help us learn more about this beautiful district. The program was organized by Merve Hıdıroğlu, an heir of the Hıdıroğlu Flour factories, in a stunning example of hospitality. A successful woman whose career began at a young age, Hıdıroğlu is completely in love with Tarsus. İbrahim Hıdıroğlu, the other heir of the company, also accompanied us during the entire program. Both of them make many sacrifices so that Tarsus gains the promotion it deserves in the world, and I congratulate them.
We stayed in the Elif Hatun mansion during our trip, which is a breathtaking work of art. Built 220 years ago, the mansion is a stone building with ceilings that are eight meters in height. Though Mersin is known for its hot weather, the mansion stays cool due to stonewalls and high ceilings. The fountain and wooden table in the courtyard create a wonderful atmosphere for enjoying breakfasts and dinners. Even though the mansion has seen its share of renovations, most of its artifacts are in their original form. Yeşim Sancaklar İçgören owns the mansion and the Efsus Mansion, another hotel in the region. While Efsus is in a more central location, the Elif Hatun mansion is bigger and more aesthetically appealing. I congratulate Ms. Yeşim and her family for preserving the history of Tarsus through these mansions.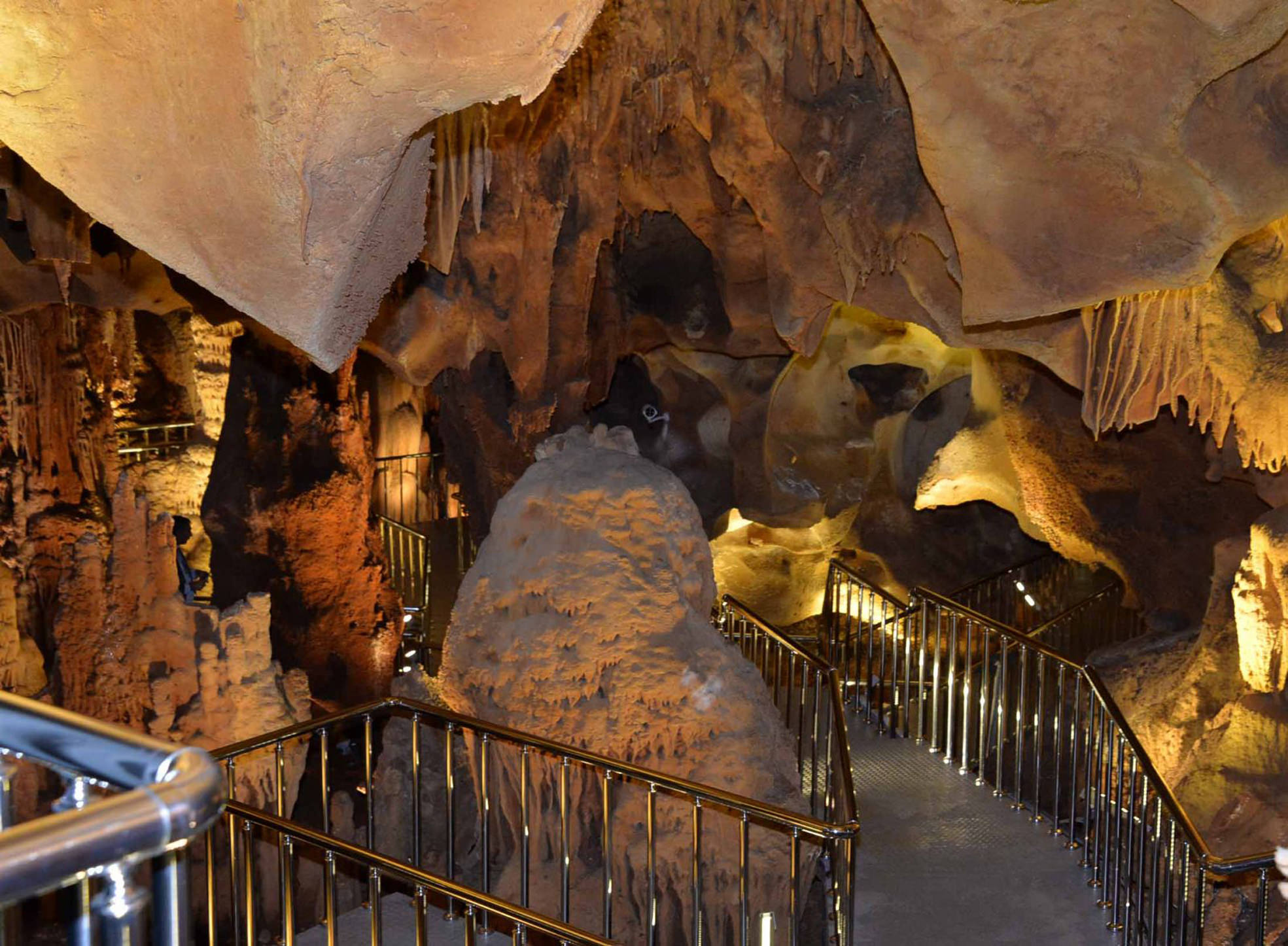 Our first visit is to a cave known as Ashab-ı Kehf, believed to be the "Cave of Seven Youths," where monks known as the "Seven Sleepers" stayed. It is believed that these monks will stay in the cave forever. This cave, which is considered a holy place, is believed to be where the first six Christians took shelter, along with a dog, to escape religious persecution. Since these events are also mentioned in the Kehf chapter of the Quran, thousands of people visit the spot every year. In the nearby bazaar, be sure to buy carob powder, which cannot be found in big cities. Carob powder is high in protein, ideal for athletes, and centaury oil mixed with olive oil can also be found, which is known for its healing powers.
Paul, one of the authors of the New Testament, was born in Tarsus, making the city a place of pilgrimage for Christians. St. Paul's Church, the second holiest church after the Church of the Resurrection in Jerusalem, is located in Tarsus, along with the Well of St. Paul. In addition, the Historic Roman Road, home to the world's first Roman Bathhouse, is in Tarsus. The Cleopatra Door is also among the oldest ruins in the city. The district offers wonderful history and natural beauties, and its waterfall is a heaven for photographers. The recently discovered Taşkuyu Cave is a mystical place with big stalactites that is known to heal people with asthma. See it as soon as you can. The Şahmaran, a half-human, half-snake woman figure, on the other hand, is a mythological character in the region. I recommend that history lovers investigate these sites. As you can see, there are many legends in Tarsus.
What surprised me the most during my time in Tarsus was the Donuktaş Sanctuary, believed to be a Mitra Temple. The sanctuary, which is seven meters high and 300 meters long, is thought provoking. In the sanctuary, albeit in ruins, we see a giant pedestal with nothing on top. What used to be on top is a mystery. Perhaps the finger-shaped, one-and-a-half-meter-high piece found recently near the temple belonged to a statue that was hundreds of meters high on top of that pedestal. I have a question that no one can answer: What happened to the sanctuary? See if you can answer this question about this place, which can't be found anywhere else in the world.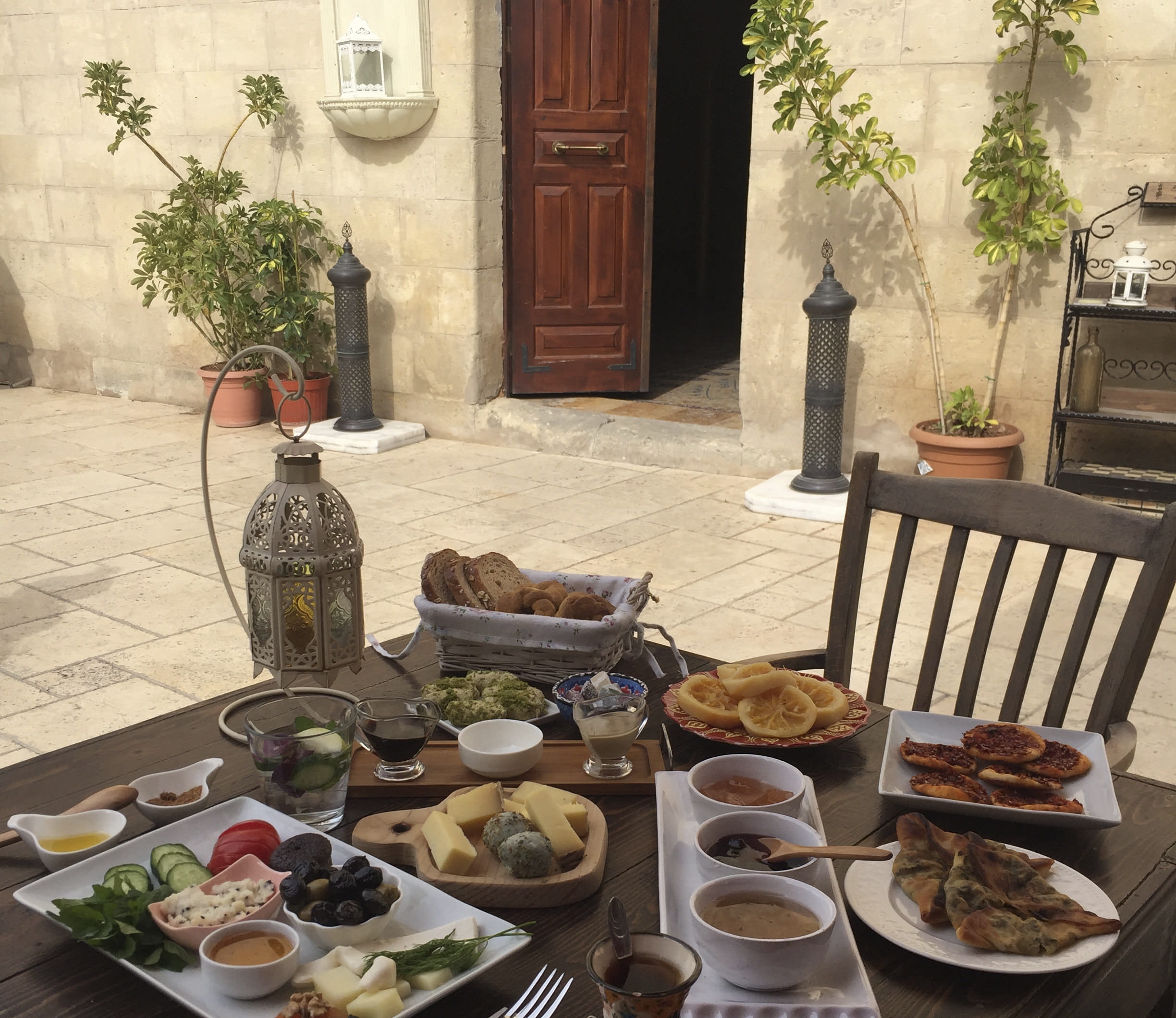 If we mention the local tastes of Tarsus, we have a lot to write about. For lunch, we went to the famous Kervan Humus, which has only served humus for 50 years. There are selections with pastrami, pepperoni and olive oil. Cooked in a caldron, you can eat humus that has been mashed using special pestles. For dessert, I suggest cookies, known as Mamul, that are made from dates, walnuts and pistachios. In particular, liked the ones with semolina and lots of pistachios. Unlike the heavy flour taste of regular cookies, these have a nuttier flavor. After lunch we returned to the Elif Hatun mansion and drank tea from colorful porcelain tea glasses. Then, we toured the market. We bought Boğaç brand olive oil and soap made from the olives grown in the region. We also bought a spice called Zahter, which gives a wonderful taste to breakfast dishes and is mixed with olive oil. After our market tour, we spoiled ourselves in one of the historical Turkish bath houses in the district.
Then, we relaxed for a bit in Efsus Mansion and had a gourmet dinner. At a reception prepared by Nuray Okyay, a famous food writer, we tried local flavors that I had never tried before. We ate our dinner at a long table in a room with high ceilings decorated with candles. Pepper bread, cabbage dolma with tahini, cezerye and karakuş dessert were wonderful. Sini Köfte -- the pan version of İçli Köfte - was unique. The flavor I liked most was onion bread made from tail fat. We also tasted locally made wines. We thank the Hıdıroğlu family and all our Tarsus friends for their hospitality. I suggest you discover Tarsus for its religious and cultural significance.
Top 3 Restaurants of the Week
Grey / Nişantaşı
Cecconi's / Beyoğlu
Çiya / Kadıköy

Top 3 Hotels of the Week
CVK Park Bosporus / Taksim
Les Ottomans / Kuruçeşme
Hilton / Moda

Top 3 People to Follow this Week
Derviş Abidin / Businessman
Mehmet Ali Hatemi / Curator
Tarık Fidan / Actor