For those who want to explore activities that are more off the beaten track, Turkey has much to offer with the holiday season approaching. Known for its vivid blue waters and verdant mountains, Turkey is not just for swimming in turquoise waters, there are also adventure sports such as paragliding, rafting, diving, hot air balloon rides and more. Extreme sports are among the numerous attractions to entice you out of the routine and monotony that holds you captive year-round:
Diving
One of the most untouched tourist spots, Kaş, on the warm, southern Mediterranean coast, is very suitable for diving and one of the world's top 100 diving destinations. Kaş is a haven for divers and boasts more than 25 sites to discover amazing under-water remains, such as shipwrecks, caves, landscapes, ancient amphorae, underwater canyons and drop-offs into turquoise waters. When you dive, you will see history cradled in the arms of the sea.
Antalya's other hot spot for diving, Kalkan, is suitable for advanced divers looking for a more serious diving experience. Underwater streams, harsh winds and rare fish species are among there to amaze while watching hundreds of fish and marine animals riding the currents such as sea turtles, tuna and stingrays.
In western Turkey, Muğla is popular for its vivid daily life in holiday centers, tranquil little villages and the city of Bodrum, which attracts more tourists every year. There are many diving spots in Muğla province's Datça, Bodrum and Marmaris. To experience its underwater beauty along with those on land and get acquainted with this mesmerizing holiday spot in all its diversity. As the renowned ancient Greek geographer Strabo said: "If the gods love someone, they send them to Datça for a longer life." The town of Datça has natural beauty and deep seas. On the little islands around Datça, you can find many fascinating diving spots where you can see dolphins, sharks and Mediterranean seals. Marmaris has approximately 50 diving spots, many with ancient ruins. You will definitely be amazed by the sights during your diving adventure in places like Rhodes, Cennet Island and Kargı Island. A quick tip about diving around Cennet Island, however: Be mindful of the depth of the water.
Rafting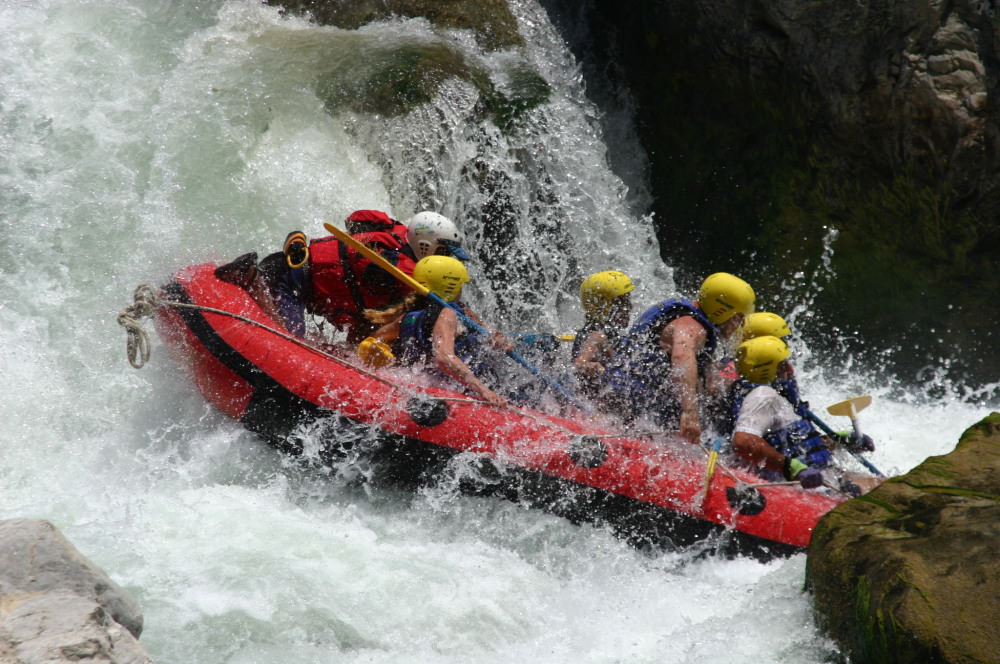 Rafting in Dalaman river
Turkey welcomes those with a taste for an unforgettable rafting experience on white-water rivers, particularlyo the Dalaman and on the Çoruh Rivers. Dalaman, in the province of Muğla, is considered one of the best rafting destinations. Visitors can enjoy grade-three and four rapids while seeing traditional villages, ancient ruins and natural wonders. The river offers two courses on its 229 kilometers. Amid eight waterfalls and huge rocks lining the river, you will experience intensity and adrenaline. Rafting on the Dalaman River takes nearly three strenuous but fun hours. For rafting newbies, three hours may sound long, but the time flies on the river.
Another alternative for rafting is the Çoruh River in the northeast. It is recognized as one of the top-10 white-water destinations in the world with grade-five rapids fed by snow melt from mountains along the Black Sea in spring. Flowing through canyons, narrow valleys and ancient ruins, Çthe oruh River is ready to fill you with adrenaline.
Paragliding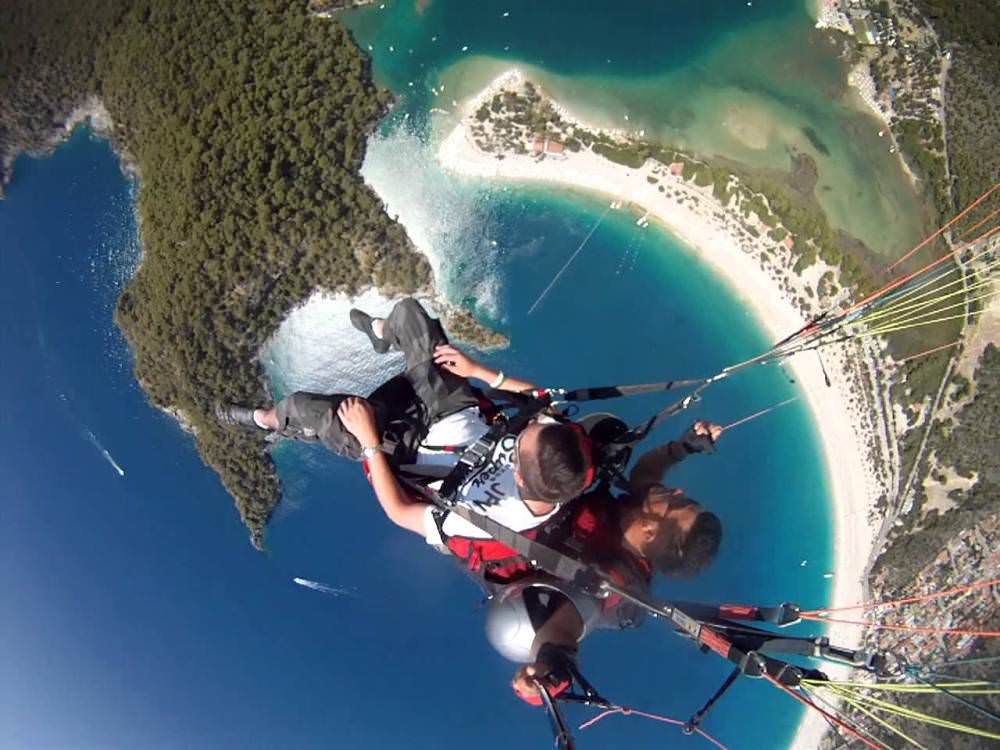 Paragliding in Ölüdeniz
Turkey is perfect for experienced and beginner paragliders due to its weather conditions, mountainous terrain and turquoise coasts, enabling you to feel like a bird gliding over turquoise waters with endless freedom. Ölüdeniz in Fethiye is one of the best spots in Europe for solo and tandem paragliders. To paraglide, you first drive for about an hour in a jeep to the top of Babadağ Mountain, which towers over Ölüdeniz, to view the extraordinarily beautiful mountainside and the stunning flora and fauna. When you leap from the mountain to the turquoise waters, you feel the breeze on your face while taking in the picturesque bird's eye view of magical Ölüdeniz.
Apart from Ölüdeniz, there are other zones for paragliding such as Eğirdir, Pamukkale, Gölbaşı and the Abant Mountains. The second favorite spot to paraglide is Kaş between April and October with fantastic natural beauty and a suitable atmosphere. You must be at least 16 to paraglide in Kaş and no older than 55.
Spelunking
With over 40,000 caves and caverns, Turkey is a paradise for potholing and spelunking with hidden churches, underground lakes, cisterns, stalactites and stalagmites. But never enter a cave alone. Spelunking is a team activity, not an individual sport. You require a helmet, carbide lamp, an SRT kit, a set of ropes, thermal underwear, a sleeping bag and mat and a pair of rubber boots along with special strength and a minimal degree of physical conditioning. If you are not professional, there are many caves you can visit such as the Damlataş Cave in the southern province, the İnsuyu Cave in the southern city of Burdur, but for professionals the caves in Turkey are more challenging and adventurous. The Altınbeşik Cave in Antalya has the world's third and Turkey's largest underwater lake. The length of the cave spans more than 2,200 meters and its lake is 125-meters long with a depth of over 15 meters in some places. There is a natural bridge formation of rocks in the center of the lake and at the end of the lake there is a 44-meter-high travertine. Due to the heavy inflow of water in winter and spring, this cave is best visited in summer and autumn. The Gürlevik Cave in Karaman contains a large stream that flows within, and according to research conducted on the 2,500-meter cave, there are areas that have of two levels connected to one another by geologic formations. The Kızılelma Cave in Zonguldak is 6,630-meters long and 114-meters deep. This cave has side entrances and a main gallery that consists of a wide variety of stalactites and stalagmites. There are also bats located in the fossil section near the entrance of the cave.
Windsurfing
As tourists rushed in in past years, water sports enthusiasts discovered that Alaçatı is a one of the best spots for windsurfing and kite surfing in the world. An exhilarating activity for all ages, I definitely recommend trying windsurfing. For a family, it is a great opportunity to try kite surfing with your children. Schools have opened along the sandy coastline to teach kids, adults or elderly learners kite-surfing and windsurfing. Foça, Akkum and Bodrum are other destinations for windsurfing. Locations along the Aegean coast have the perfect atmosphere for windsurfing due to the configuration of bays and islands. Windsurfing in Turkey is increasing by the day with high quality facilities. For kite surfing, you can try this sport in Gökova, Akyaka in the western province of Muğla. However, before trying these sports that you should first take beginner lessons to enjoy it more.