The best way to discover hidden beauties, greenery and a refreshing atmosphere is an intimate walk in nature. Recognized as a great way to get off the beaten track and feel the diversity of the country, walking in Turkey will lead you to the core of history in rural villages and cozy backstreets. This wonderful country invites you to go trekking with its fascinating scenery, different trails and predictable weather. It does not matter whether you want to see green places on land or find the turquoise sea at the end of your walking journey, because Turkey has something to offer each type of traveler, especially to those who rather love trekking and hiking. Hikers and trekkers can find a growing array of walking routes and hiking hotspots in Turkey, ranging from a few hours to treks spanning more than 1,000 kilometers.
As with all countries, you have three main options: Join an organized trip, use a specialized company to organize everything or program everything yourself. There are many European and Turkish trekking companies that organize trips to Turkey and these can be excellent alternatives to organizing everything yourself or with friends and family. These companies will meet you at the airport, provide transport, arrange your accommodation and food as well as guide you all the way throughout your trek.
For the first time visitor to Turkey or for the visitor who wants an easy, hassle-free trip, these can be very enjoyable and provide excellent value for money. The vacation will include the best sights and the guides will do their best to make sure you have a fabulous time. Some good news too is that to go trekking in Turkey does not require you to fork up as much money as you would need to for other trekking destinations. If you are a novice or are visiting Turkey for the first time, an organized trip may be a good option for you. From the most touristic spots to rural villages, every traveler will find something to mark their holidays as one of the best.
Cappadocia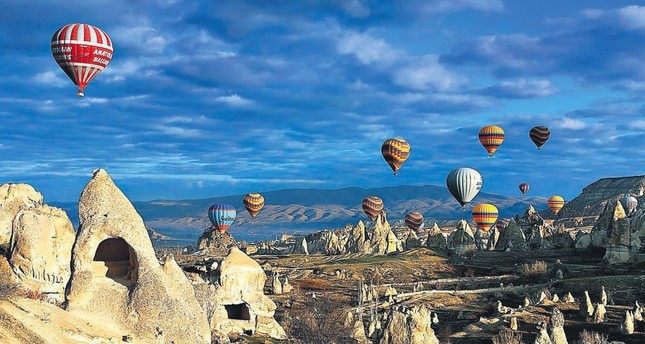 With fairy chimneys and a secret valley, Cappadocia is a great place to discover Anatolian history through hiking. Central Anatolia's historical region of Cappadocia is an amazing destination offering breathtaking experiences and views with its ancient and natural treasures. Cappadocia is a trail paradise with a volcanic landscape offering challenging, slick rocks with lush, green tracks, caves, tunnels and canyons waiting to be explored. This magical region with its historic ruins, which are some of the most renowned ancient natural wonders, invites you to ride to the heart of Anatolia. Through wind and melting snow, the region has been carved out of volcanic rock over millennia and displays amazing colors and shapes unique to Cappadocia such as fairy chimneys, also known as hoodoos. When you walk in Cappadocia, you will see one of the most fascinating hidden trails ever, not to mention traditional Anatolian culture as well. Hiking in Cappadocia takes you to the heart of Anatolia due to numerous hidden treasures and historic places. It does not matter which route you choose while in Cappadocia since it will take you to an amazing finishing point just like the beginning.
The Lycian Way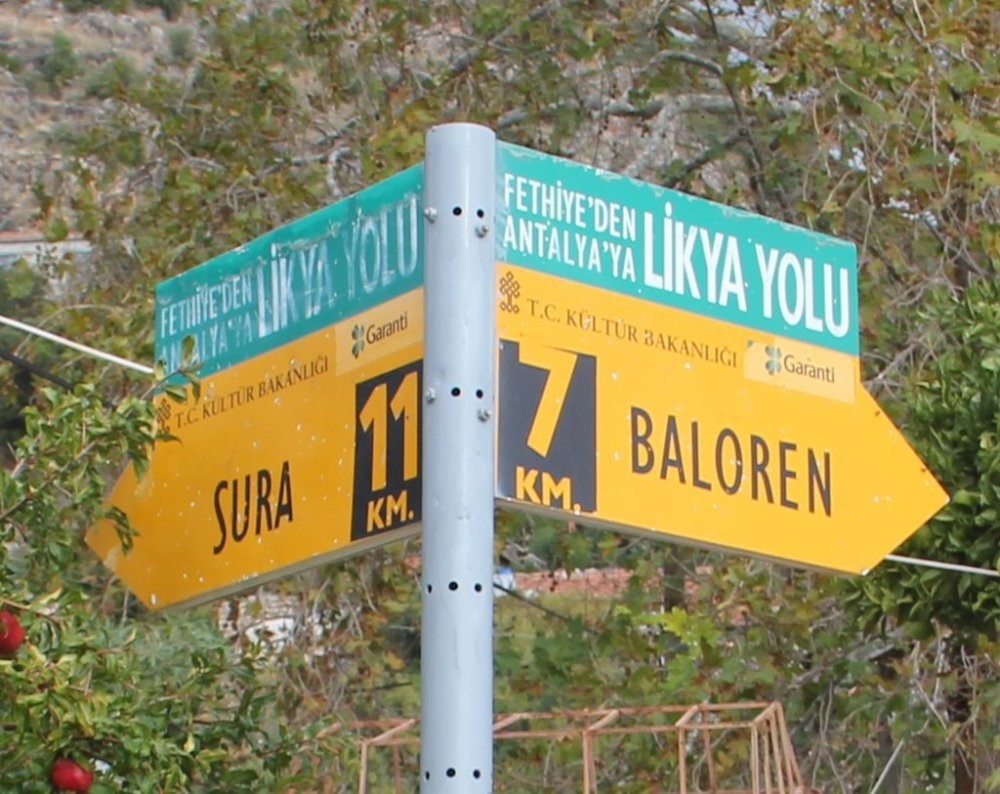 The 509-kilometer Lycian Way is one the country's first way-marked trails. Located between the tourist destinations of Fethiye and Antalya along the southern Tekke Peninsula - historically known as Lycia - you can discover spectacular coastal views and archaeological treasures dating back to the eighth century B.C. On the way you can also see interesting villages with their Lycian traditions. The Lycian Way is not only a trekking activity, but also a social, cultural and historical discovery for travelers. You can hike for a day, a weekend or a full week according to your schedule and want for discovery. Lastly, this route is definitely the best way to get to know the real Turkey behind the tourist facade. The route includes the ruins of Greek and Roman cities, and the vivid blue sea of the Mediterranean will be your main friend along way. The route is rated medium to hard and is not level walking with it has many ascents and descents as it approaches and veers away from the sea. You can hire a guide for the hike in this fascinating spot or participate in a trekking group. The route includes coastal paths, remote highlands and villages, so you can also meet villagers who may even invite you to their homes for lunch or dinner to show you Turkish hospitality.
The Evliya Çelebi Way
The renowned Ottoman traveler Evliya Çelebi's way to Mecca for hajj, or pilgrimage, in 1671 turned into a historic route for hiking, horseback riding and cycling. In 2011, the 400th anniversary of Çelebi's birthday, UNESCO inaugurated the route. Çelebi traveled for 40 years to different lands in the Ottoman Empire and collected his travels in his book titled "Seyahatname" (Book of Travels). The Evliya Çelebi Way is the only trekking destination in Turkey with separate routes for hiking, biking and horse riding, and it gathers both history and nature together. As a route that takes a couple days, you can visit hidden villages that Çelebi passed through. The route is different due to both its natural beauties and the historic Ottoman spots located along the way. If you would like to see how the Ottoman Empire was born and grew, the route is perfect for you. The horseback route is nearly 650 kilometers long and takes about 25 days to reach the end. There are many places to visit and accommodation opportunities along the route. The Evliya Çelebi Way begins at a village located on the south coast of the İzmit gulf and heads toward districts in the Marmara and Aegean regions such as İznik, Yenişehir, İnegöl, Kütahya, Afyonkarahisar, Uşak, Eski Gediz and Simav. If you would like to experience the travels of Çelebi in an atmosphere reminiscent of his time 400 years ago, you must hit the trail of the Evliya Çelebi Way. For a better understanding of Çelebi's love of humanity, you can first read his book and then begin your journey along the way of a famous Ottoman wanderer.
St. Paul's Trail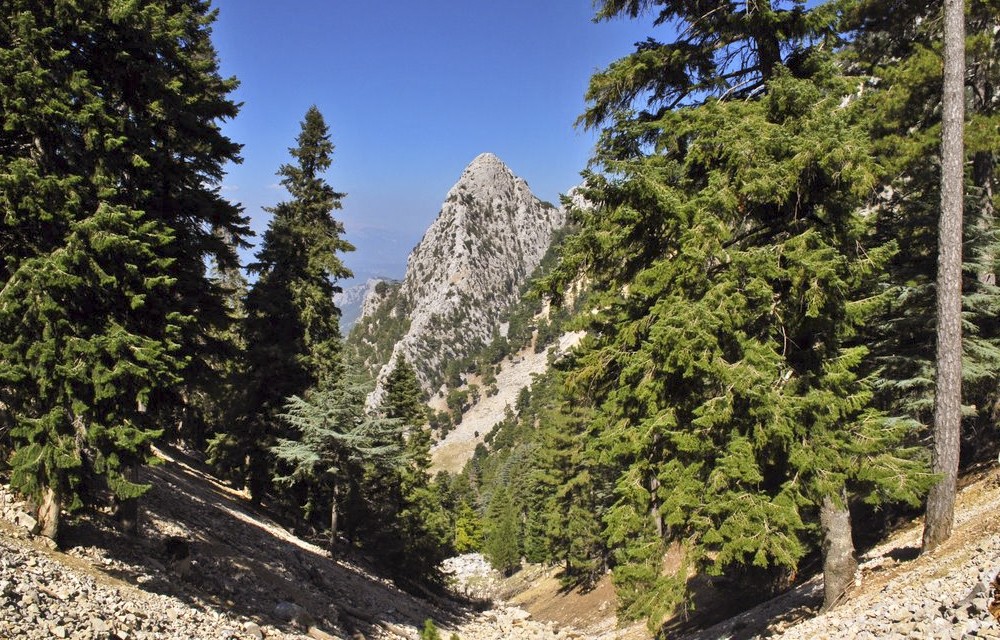 Being one of the top walks in Turkey, St. Paul's Trail is a way-marked trail of around 500 kilometers from the start to the ruins of Perge in eastern Antalya and runs through Yazılı Canyon National Park. Owing its name to the path St. Paul supposedly took on one of his journeys to spread Christianity throughout Anatolia, St. Paul's Trail will let you engage with nature and rural villages where you can discover the life of the inhabitants of picturesque old stone and timber villages along the way. You can stop off in small villages and discover the daily life of villagers by seeing local handicrafts, watching cheese and yogurt being made and experiencing Turkish hospitality. The route starts at sea level and climbs up to 2,200 meters and up to an optional 2,800 meters. In Perge, where the route starts, you will find historic Greek and Roman ruins as well as natural wonders, including canyons and forests, but it will get wilder as you climb. Compared to the Lycian Way, St. Paul's Trail is slightly wilder but it is what turns the way into an adventure.
Carian Trail
Taking its name from the Carian civilizations on the Mediterranean and Aegean coasts, the Carian Trail may be one of the few unspoiled trekking routes on the country's coasts. An 820-kilometer-long coastal route beginning from the Mediterranean to the Aegean, the Carian Trail is rich with ancient ruins, caravan roads, mountain slopes, almond groves and olive trees, so it is not only a historic destination but also a natural beauty. This way-marked trail is suitable for both independent and group hikers. If you would like to enjoy the scenic route and cultural treasures along the way, this trail is perfect. Compared to other destinations, the Carian Trail is less known but it is the feature that makes it unspoiled for those who prefer serene, beautiful destinations to walk kilometers and kilometers.
Aladağ Mountains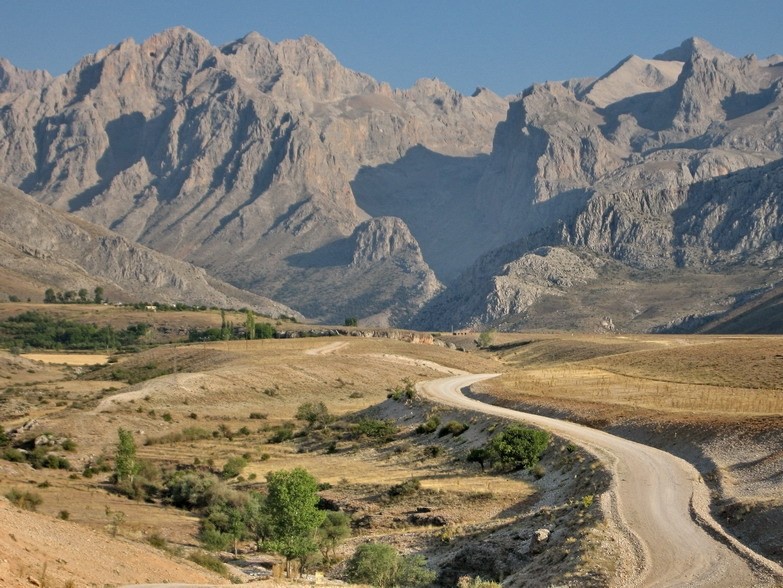 Aladağlar is the central and southeastern part of the Taurus Mountains following the Mediterranean coast. With its highest peak being 3,756 meters high, the whole area is within national park grounds. Some great trekking locations are Yedigöller, Sokulupınar, Maden Boğazı, Kapızbaşı Şelaleleri, Sarımadenler and Akşampınarı. Only 60 kilometers away from Niğde, there are minibuses that depart daily to head to Aladağlar. A 90-minute ride later, the bus arrives at Çukurbağ and Demirkazık, villages with hotels providing quality accommodation. If you want to be closer to nature, there is a campsite in Sokulupına an hour walk from the village. A two-hour hike from the village and you will also find Emli Valley. From here it is possible to climb up to various summits, including Kaldı, Güzeller and Alaca. The best time for trekking in Aladağlar is the summer months when the weather is not too chilly as you can reach the mountain tops.
Köprülü Canyon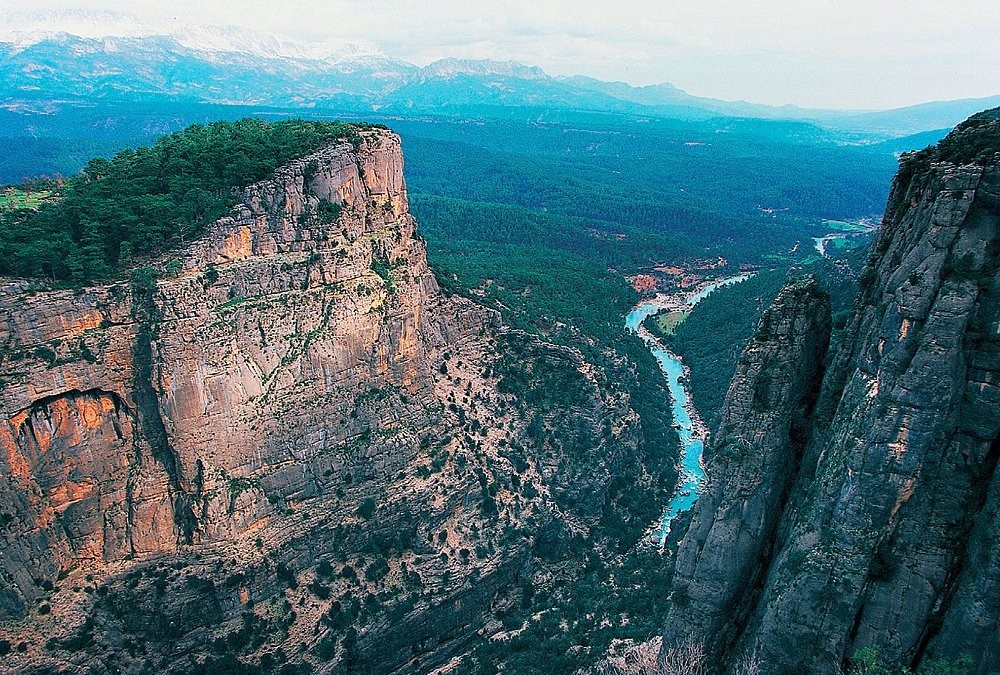 Nestled among cedar trees and the Köprü River, the canyon embraces adventurous spirits looking to explore an unsoiled place in Antalya, one of the top tourist destinations in Turkey. After passing through mountains where green streams flow and virgin forests grow, Köprülü Canyon shows all its beauty to visitors. Resembling another natural wonder of Turkey, the fairy chimneys, Köprülü Canyon one-ups this thanks to its river. When you arrive at the canyon to hike, you will be mesmerized by the spectacular view of the Taurus Mountain and the surrounding national park. Marked as the longest canyon in Turkey at 14 kilometers, Köprülü Canyon's wall are up to 100 meters high.