As the nine-day holiday, Eid- al Fitr, or Ramazan Bayramı, marking the end of the holy fasting month of Ramadan has arrived, many Turks are heading to their hometowns to visit relatives (a Turkish tradition) or to the southern provinces or abroad to enjoy the holiday.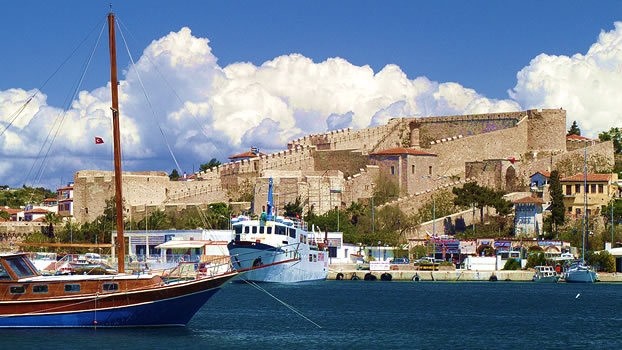 Çeşme
With its three seas, Turkey consists of three regions where you can enjoy the different beauties of the country and many alternatives await those who arrive to the country during eid as well as the country's expats.
Aegean Sea calls visitors this holiday
Featuring traditional houses, quiet streets and friendly locals, Turkey's western towns offer a relaxing holiday with vivid summer nights. Nestled between the crystal clear waters, spectacular protected mountain forests, and olive groves of the Aegean and Mediterranean Seas, the town of Didim is a perfect spot for a getaway. With its Akbük Koyu, or "White Bay," and its status as a specially protected environmental area, Didim offers you perfect tranquility. Akbük Bay may arguably be the most well preserved bay in Turkey as there are no buildings here in accordance with Turkish law. Selimiye, a picturesque harbor in Turkey's western city of Muğla, casts a spell on its visitors. Even though it is nearly 30 minutes away from Marmaris, which is one of the most renowned tourist cities in the country, Selimiye is a small tourist resort strung out along a stunning bay. Most of its visitors arrive by yacht or boat to Selimiye, which features mesmerizing turquoise waters that charm visitors. One of the most tourist-friendly cities in Turkey, Çeşme is also renowned for its thermal springs, mostly in the Ilıca and Şifne districts.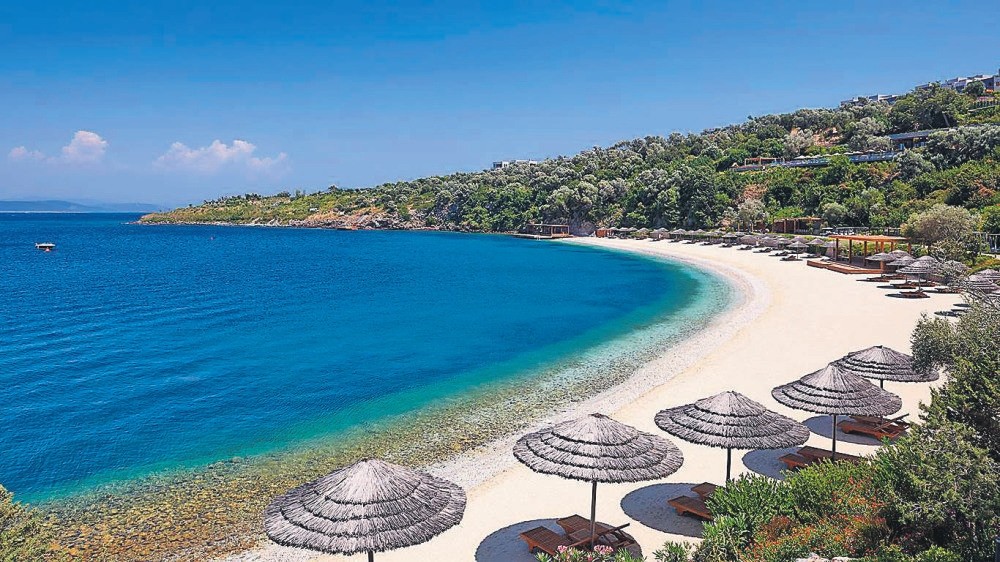 Bodrum
The town is easily reachable and offers thermal springs, deep blue Aegean waters and a mild climate. The thermal springs are said to heal rheumatism, joint diseases, psoriasis, acne, eczema, varicose veins, genital infections and high or low blood pressure. The newly established Boyalık Beach & Thermal Spa is a perfect destination to experience an end-of-summer and thermal spring vacation at the same time. Located 20 kilometers northeast of İzmir's hotspot Çeşme, the İldır village is one of the best kept secrets of İzmir's alternative holiday destinations. Known as Erythrai during the ancient era, the village's name comes from the term "erythrostan," which means red. The reason why the village is called this is due to the red soil that surrounds its lands. During your stay, you can visit the ancient city of Erythrai where excavations still continue. On the list of must-haves in Ildır, artichokes and fish top the list. Ildır is known as a little fishing town, which is home to one the most mouth-watering fish you can try on the Aegean coast. Known as Hierapolis in Greek, Pamukkale - cotton castle in Turkish - is seen as a gift of nature by those who visit. Pamukkale was added to UNESCO's World Heritage List in 1988 for its natural and cultural wonders. Famous for its hot springs and travertines - terraces of carbonate minerals left by flowing waters - Pamukkale is for those looking for a relaxing experience and has three different thermal regions, Sarayköy, Karahayıt and Gölemezli, that contain hot springs and mud baths. Richmond Pamukkale Thermal Hotel is a perfect choice for those who want to experience thermal springs and luxury at the same time.
Discover Mediterranean coasts this holiday
If you are on the road to Antalya or are planning a nice vacation for Eid al-Fitr, here are some fascinating activities for you: from diving to rafting to historical tours, the Mediterranean region offers many unique experiences for your holiday. Patara Beach has been voted one of the top beaches in the world by Times Online, Best of 2005, and is known as the "widest beach of the northern Mediterranean." Considering its 12-kilometer stretch of white sands, it is not difficult to understand why this beach is the best. Located on the southern tourist spots of Kalkan and Kaş, Patara Beach offers the vivid blue waters of the Mediterranean and the ancient site of Patara. The beach is believed to be the birthplace of Apollo and includes the ruins of western Mediterranean harbors that host ships from all over the world. The beach is also one of the few that loggerhead sea turtles visit to lay their eggs between May and October. Thus, visitors will see caution signs to protect the eggs.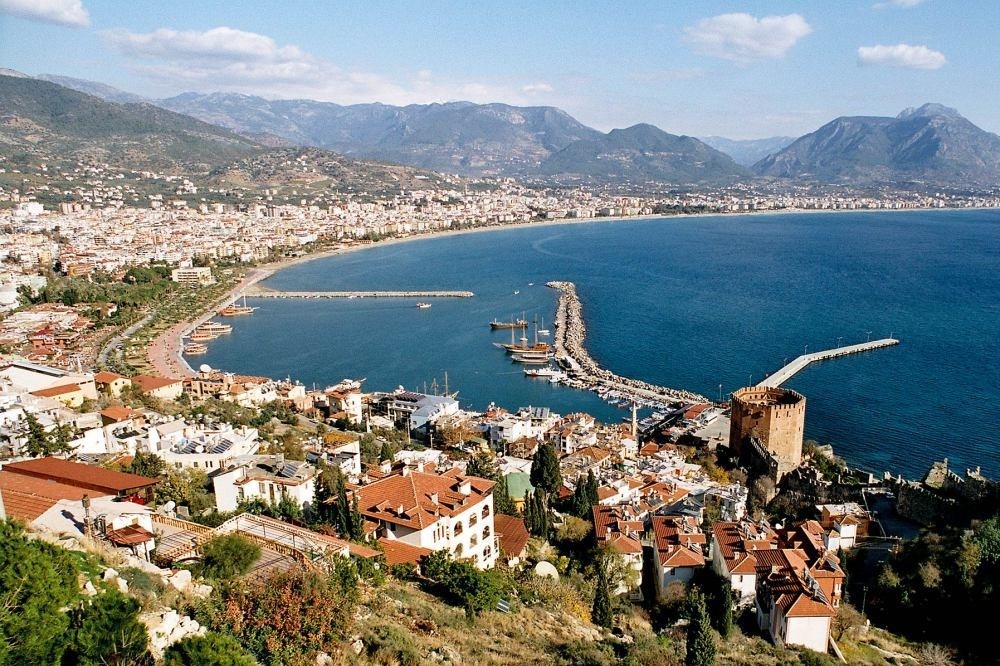 Alanya
Kekova, in the southern city of Antalya, boasts mesmerizing islands. A nominated site on the UNESCO Tentative List, Kekova has historic remnants of Lycian settlements, including Teimioussa and the sunken city of Simena, bays and islands. Kekova was declared a specially protected area in 1990 to protect the region's nature, culture and geography. In ancient times, Kekova was a small fishing village. Today, hosting different civilizations, Kekova is one of the top tourist destinations in the country. As a result of geological movements of the island, the city is interesting, as half of the city is under water, while half of it is above. A year-round destination located in the southern province of Antalya, Alanya is worth a visit in any season, but it has a completely different atmosphere in spring. Since the sun shines throughout the day, the weather never feels too cold in spring. For those who want a holiday before the high season, Alanya should top your travel list. Alanya is 138 kilometers from Antalya and is one of the most iconic ports in Turkey. Known for its beautiful beaches and naval structures from Seljuk and Ottoman times, Alanya houses many historic sites, such as the Church of St. George, the Red Tower and the Castle of Alanya. Alanya offers guests top-tier recreational activities, including parasailing, windsurfing and boating. Villa Augusto is one of the best boutique hotels in the district with beautiful, cozy rooms, friendly staff and neat, clean services. Since it is a boutique hotel, you will not face the crowds of huge five-star hotels in Alanya.
Northern greenery beckons you this holiday
Apart from the western and southern coasts, Turkey's northern coast is another holiday destination that draws many tourists with its greenery and proximity to the Black Sea. If you are interested in nature instead of lying on a sunbed, northern Turkey is a perfect option for this bayram holiday to fill your lungs with fresh air and feast your eyes on natural beauty. Many tours to northern Turkey visit Safronbolu where old, traditional Ottoman houses are located, Uzungöl, which has a picturesque lake, Sümela Monastery in the province of Trabzon or highlands around the northern cities of Rize, Trabzon, Artvin and Giresun. The characteristics of northern Turkey are completely different from those of southern Turkey. Each region has its own lifestyle, but the difference and originality is at its best when it comes to northern Turkey. To see how the greenery meets the Black Sea and how natural beauty has been preserved, a tour of the Black Sea coast is a must. Apart from all those beauties, there are many other destinations around Turkey that are filled with history and natural beauty. To enjoy a nice, long vacation, book your holiday before it is too late.
Istanbul's
family-friendly activities for the Ramadan holiday
For those who will be in Istanbul for the long Ramadan holiday, many family-friendly places, including museums and theme parks, are ready to make your holiday an unforgettable one.
KidZania
A global chain of educational theme parks called KidZania, allows children to take on an adult role and be introduced to the adult business world. It is a win-win concept for children, as they have the opportunity to explore occupations they are interested in while having fun at the same time. Located in the Akasya Shopping Mall in the district of Üsküdar on Istanbul's Anatolian side, KidZania is like a planet managed by children. Every building, as well as the streets in KidZania, are designed for your children. For first-time visitors, a boarding pass is given to children who then visit a huge Turkish Airlines (THY) plane. Once your family has received their boarding pass, the signs show you the way to the Kidzania planet. For children who are visiting KidZania for the first time, it is recommended that parents accompany them. Children between the ages of four and 14 are allowed to try out their dream jobs in KidZania. From being a policeman to a radio programmer, endless vocational options are available for children. Upon entering, kids are given radio frequency tags that do not allow them to exit the premises without setting an alarm off or without paying 50 kidzos - KidZania's currency. They can withdraw their money from the KidZania bank, which is also staffed by children. Kids can either spend their money on souvenirs or snacks. Children also earn money for their 25-minute shifts during their jobs. To help prepare your children for adult life and expose them to the basics of business life, KidZania in Istanbul awaits your children in Istanbul.

Miniatürk
To see the miniature version of Turkey, Istanbul's "Miniatürk" along the coast of the Golden Horn is a must-see for visitors. All of Turkey can be seen in this miniature park, which is built over a 56-hectare area. The park includes the miniature versions of historical Ottoman architecture, buildings, palaces and mosques from all over the country. If you want to see all of Turkey in a short amount of time and without traveling thousands of miles, Miniaturk can be an enjoyable option for you. There are nearly 105 models of architectural structures in the park. While 45 of them are historical structures from Istanbul, 45 of them belong to other cities around Turkey. Also, nearly 15 structures made by Turks are on the borders of other countries. All miniature versions are 1/25th their original sizes. The park is open from 9 a.m. to 7 p.m. on the weekdays and 9 a.m. to 9 p.m. on the weekends during the summer. The miniature park offers a unique experience where you can learn about Turkey in detail.