Istanbul's lounge culture is becoming more popular by the day with brands that combine a cozy atmosphere with an amazing Istanbul view and chilled beverages during the day and at night. Hundreds of rooftops in Istanbul have been turned into lounges and bars recently, and most of them are generally located on the European side. For those who would like to spend quality time relaxing, here are some of the best lounges in Istanbul.
Leb-i Derya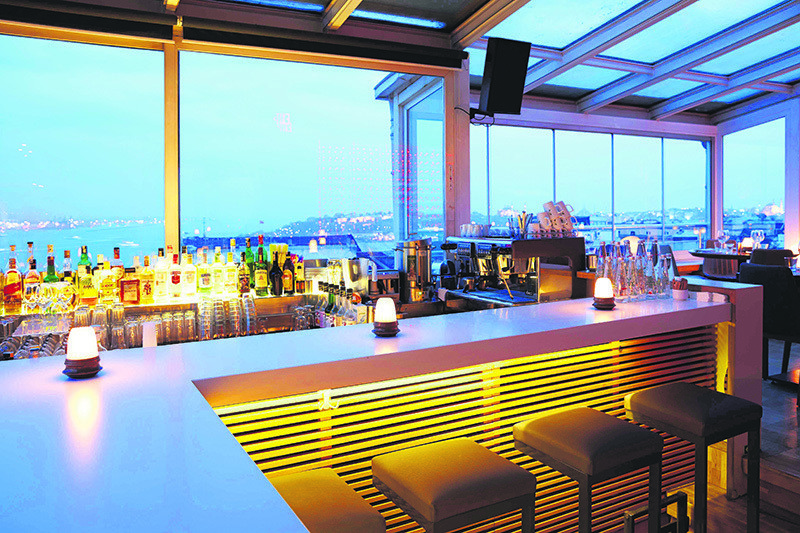 Located in the Tomtom neighborhood, a top tourist location in Istanbul, Leb-i Derya is an exquisite lounge with an amazing view of the Golden Horn from its terrace. In the lounge, you can have a drink in a cozy atmosphere while watching the sun set over the Bosporus. Leb-i Derya is located at the top of an old building on İstiklal Avenue and it is one of the best restaurants. A combination of beautiful moonlight and the old Istanbul spirit, its rooftop has the perfect atmosphere for relaxing and enjoying a drink on a hot summer day. There is also an indoor area for eating where visitors can enjoy the Istanbul landscape at the same time. On weekends, a reservation is a must but on weekdays you can easily find a place to sit. Leb-i Derya is a perfect place for a regular night out. It is open from 4:00 p.m. to 2:00 a.m. on weekdays and 4:00 p.m. to 3:00 a.m. on weekends.
The 360
Among the most well-known rooftops bars in Istanbul, 360 has been in business for the last 10 years and is located on the top floor of the Mısır Apartments in the Tomtom neighborhood. Its rooftop is not the only reason to visit the Mısır Apartments. Famous among Istanbulites for its art galleries, 360 offers diners a 360-degree view of the city, all the way from the steeple of St. Anthony's Church to Hagia Sophia and even further to the Bosporus. Many famous DJs such as Boy George, Roger Sanchez and Felix da Housecat can be seen at 360. The rooftop is renowned for its award-winning drinks, including cocktails and fresh fruit mixes. The desserts are also the most preferred dishes at 360 with their eye-catching names, such as Chocolate Orgazm and Death by Chocolate.
Spago by Wolfgang Puck
Located on the top of the St. Regis Istanbul in the Maçka neighborhood, the Spago Istanbul rooftop restaurant and lounge combines stunning views of Maçka Park and the Bosporus with contemporary design and signature details that enhance the glamour of the setting. With portraits by Andy Warhol inside the cozy restaurant, visitors can sip a drink while enjoying a Bosphorus view from the terrace. Spago is one of the best terraces with its easily accessible location. The menu features Puck's famous wood-oven baked pizzas, appetizers, handmade pastas, a wide selection of entrees and seasonal cuisine with influences from all around the world.
Mikla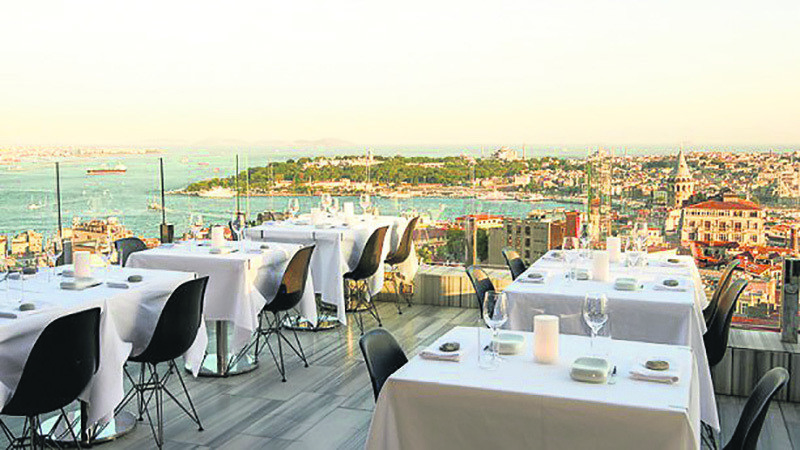 One of the most visited rooftops in Istanbul, Mikla was opened in 2005 by Turkish-Finn, Mehmet Gürs. With its breathtaking views along with one of the finest dinners in Istanbul, what more could a visitor ask for? Mikla is a refined Istanbul restaurant for those who want to dine while being charmed by magical views of Hagia Sophia and Topkapı Palace. You are sure to be taken for a gastronomic and historic ride through old Istanbul. Located on the top of the Marmara Pera Hotel, Mikla is funky and retro with chrome 1970s and 1950s furniture and a stunning wooden rail sleeper bar. Serving a tantalizing menu suitable for a variety of palates, Mikla opened a new Anatolian kitchen, updating traditional dishes with contemporary techniques.