Just water is never enough when it comes to having fun! Turkey's water parks, complete with facilities and activities for the entire family, are like a dream wonderland for you to enjoy.
From water coasters to loop slides, all are available at the country's water parks. The culture of water parks is developing more each day, as Turkey's western coast is being frequented by many tourists each year. Apart from nightlife, the water parks offer you an enjoying and fun atmosphere during the day and double your holiday fun. Most of the parks are located on the western and southern coasts of top holiday destinations in Turkey, including Istanbul, with hotels even offering aqua lands and spa facilities together.
With different options such as family packages and full day packages, water parks in Turkey have everything needed to satisfy your expectations. Most of the water parks do not charge for children under four years of age, making them very affordable. Bear in mind that most of the water parks fill to capacity on the weekends since both locals and tourists go during that time.
Water Planet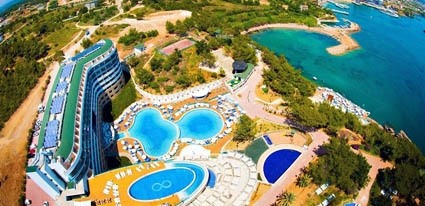 Water Planet Hotel and Aquapark located in the Okurcalar district in Antalya's Alanya is among one of the most commonly visited water parks in the region. Combining hotel and water park facilities in one, Water Planet lives up to its name, with many activities including beaches and swimming pools at the hotel. Alanya is one of the biggest tourist destinations in Turkey and its water parks are like a haven for water lovers. Going down Water Planet's slides, rafting on the river and bungee jumping offer you an adrenaline rush during the daytime. Artificial waves on a 300-meter rafting course are an incredible adventure at the water planet. While there are many rivers around Antalya, Water Planet combines both fun activities and rafting in one. There are also wave pools at Water Planet for you to cool and refresh yourself. The biggest adrenaline facility at Water Planet is actually the bungee jumping facility, which stretches 70 meters high. If you come with your family, there are kids' pools with many fun toys to make your child's day a remarkable one. Twenty-four slides are located at Water Planet, including the Family Slide, high-speed slide Kamikaze, the Multi-Slide that allows you to slide with four people side-by-side, the Black Hole that takes you to another dimension with its special design, and the Slope Slide that goes up and down again and again. To spend a day at Water Planet, you should make a reservation at the hotel as it is only open to hotel guests.
Location: Okurcalar Mevkii, Alanya, Antalya
Sultans' Aqua City
Established in 2002, Sultans' Aqua City located in one of the most widely visited holiday spots in Turkey, Fethiye, is a destination for many locals and tourists at the weekends because of its affordable prices and fun activities. The Aqua City is on one of the most well-known beaches in Fethiye, Çalış Beach. On 6,200-meters-square of land, the aqua city has 10 different types of slides, including one that allows you to slide in groups of eight people side by side. Apart from the slides, there are four different swimming pools with different facilities such as a sliding pool and a kids' pool. The aqua city has a 750-person capacity and is not as crowded as other water parks. There are also swimming courses at Aqua City that you can attend during your holiday. Another cheerful activity is wet foosball. The price at Aqua City is also affordable. For children under four years of age, entrance is free. Children ages five to 15 years can expect to pay about TL 30. Children over 16 years of age will pay TL 45 for a day at Aqua City.
Location: Çalış Plajı, Fethiye
Nashira Resort
Nashira in the Side district of Antalya is a holiday complex that combines hotel facilities with a water park and spa combined. Nashira is surrounded by the sea, a lake, a river and peanut forests, and is as well-known for its natural beauty as much as its water parks. The water park at Nashira has a total area of 6,000 square meters, and eight of the pools at Nashira are for children while 10 are for adults. The water park has a jacuzzi-type pool as well. There are 27 waterslides at the water park with 12 for children and 15 for adults. To use the water parks, you need to be a guest at the hotel. Nashira is only 9 kilometers away from Side and 4 kilometers away from Manavgat.
Location: Side Mevkii, Antalya
Aqua Fantasy Aquapark
Founded in 1994, Aqua Fantasy Aquapark is one of the unique water parks in Turkey in terms of both design and capacity. Aqua Fantasy has a 5,000 person-capacity per day, and it is one of the most high capacity water parks in Turkey. The aqua fantasy has more than 30 different slides and pools that pump you full of adrenaline. Among those slides, the most outstanding one is the Super Combo, that has four rides in one slide with extreme speeds that allows you to reach up to 80 kilometers per hour in a few seconds. Aqua Fantasy Aquapark is in the tourist destination of İzmir and it is one of the most widely visited water parks in Turkey. In terms of activities, the water park is classified as the richest one in Turkey and will surely satisfy all your expectations for a day full of fun.
Location: Ephesus district, İzmir
Ölüdeniz Water World
Ölüdeniz Water World is one of the biggest water parks in the Ölüdeniz region with its 19,000 square-meter park and many different slides and pools. Known as having the best concentration of beaches, Fethiye is an incredible spot for a summer holiday and Water World is another good reason for you to visit. Located on Ocakkoy, the water park has nine slides as tall as a five-story building. There is also one main pool with a slow river and one wave pool to make you feel as if you were on the beach. For children, there are kids' pools and entertainment during the day. What makes Water World different is the cashless system inside the complex as you once load money to the card from your credit card you can use the Water World card at bars and markets and all facilities at the water park.
Location: Ölüdeniz, Fethiye, Muğla
Adaland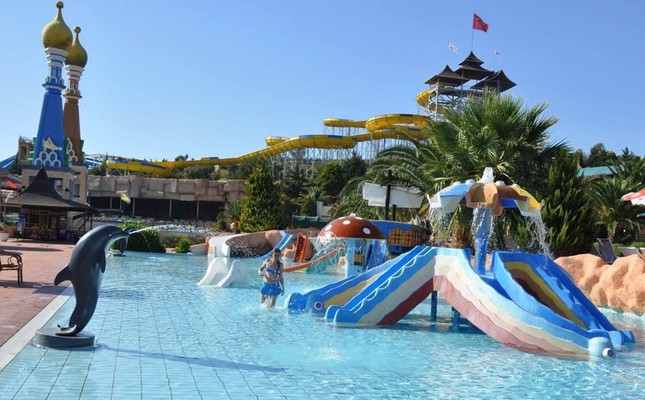 Founded in 1999, Adaland in the Kuşadası district has many water slides, a children's pool and slides, a jacuzzi, wave pool, activity pool, ocean pool, lazy river, rafting river, jumping towers, trampolines, all-day animations and food to suit your taste. Known by many water park lovers, Adaland is the most widely visited destination for a day full of entertainment. There are more than 10 different types of slides at Adaland and each one of them will definitely make you feel the adrenaline rush in your veins. Slide and Fly, Head Down and Free Fall, fast slides, tube slides and amazon slides are only some of the entertaining facilities at the water park. The place is not only renowned for its slides but also its activities such as jacuzzis, Kremlin towers, a river and many more. The price at Adaland is a little bit high compared to other water parks as children under three years of age are free, and it costs 17 euros for four to nine year olds get and children 10 years of age and up get in for 24 euros. You can also get a seasonal membership for Adaland for TL 350 per person.
Location: Çamlimanı Mevkii, Kuşadası
AtlantIs Marmaris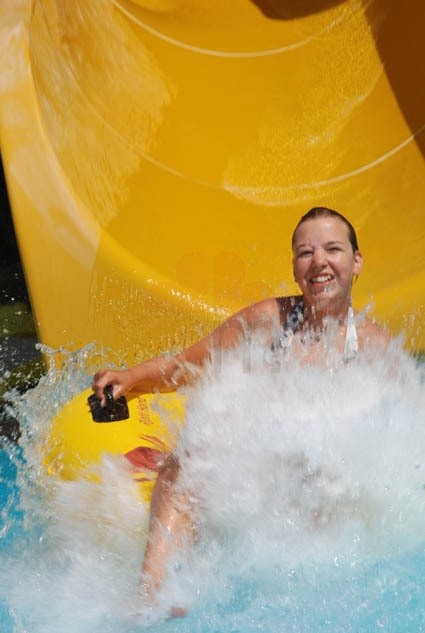 Atlantis Marmaris Waterpark offers a day full of attractions for fun lovers in the tourist region of Marmaris on the western coast. With dozens of slides, kids pools and wave pools, Atlantis Marmaris Waterpark is right on the seafront and has a private beach. This place offers you the chance to enjoy both the sea and entertainment at the pool. From the Space Bowl to the Kamikaze, Atlantis Marmaris Waterpark has many different slides as it has the biggest area allocated for kids compared to other water parks. Entrance is free for children under six years and six-to-12 year olds pay TL 21.50. The price for those who are older than 12 is around TL 31.50.
Location: Uzunyalı, Siteler, Marmaris