Istanbul's entertainment culture has become increasingly centered around theme parks in recent years, with many of these fun-filled parks popping up around town offering a wide range of facilities and entertainment venues. Families from all over the city flock to these parks on the weekends, looking to make fun memories with their loved ones.
At Vialand Theme and Amusement Park located in the beautiful district of Golden Horn in Istanbul's Eyüp district, local and foreign tourists will discover main attractions as well as shopping malls and festivals. Having attracted 22 million local and foreign visitors since the opening of Vialand Palace Hotel and Performance Center, this entertainment venue includes three main venues including the Game World, Legends World and Adventure World, with 50 different amusement parks built on 120,000 square meters of park grounds.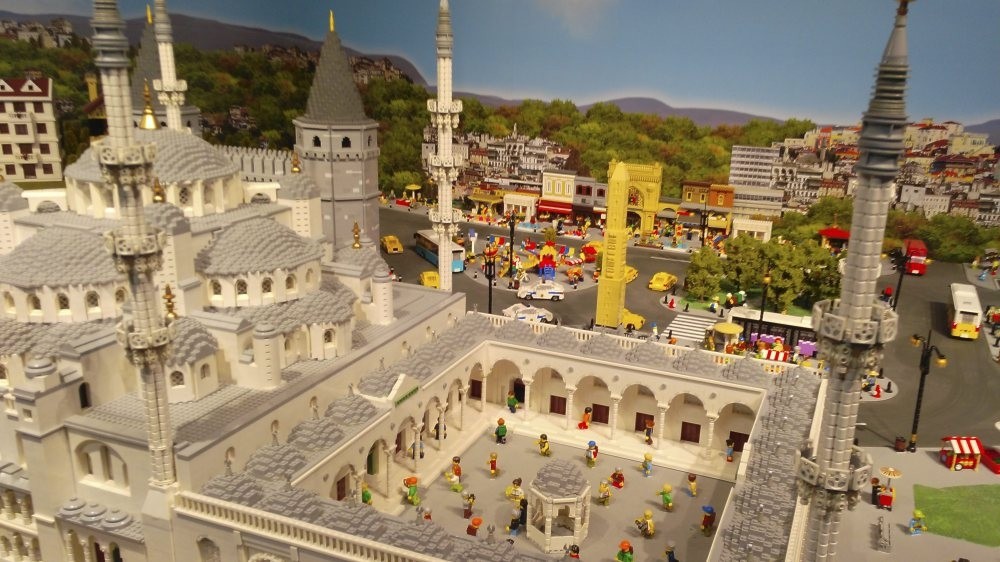 For the daredevils looking for the ride of their lives, the bucket-list-worthy "Nefes Kesen" (The Breathtaker) rollercoaster at Vialand is ranked as the fourth best roller coaster in the world, taking thrill-seekers on a joyride at speeds of up to 110 kilometers per hour in just three seconds. Vialand continues to be the center of attraction with more than 30 entertainment venues including the "Dream of Mehmed the Conqueror," a sprawling 4,000-meter entertainment venue which cost $20 million to construct, as well as the popular "Viking" amusement ride. Vialand Theme and Amusement Park is open daily from 10:00 a.m. to 7:00 p.m. Monday through Thursday and 10:00 a.m. to 9:00 p.m. Friday through Sunday. Vialand is the perfect place to spend a day, a night or even a weekend with your children and loved ones.
If you're looking for an underwater adventure, Istanbul Sea Life Aquarium (formerly known as the Turkuazoo Aquarium) is more than just a daytime outing for you and your kids. Hailed as Europe's largest aquarium, Istanbul Sea Life gives visitors get a view of the underwater world and opportunities to view thematic galleries including the Rainforests, Coastal Cliffs, the Black Sea, Touch Pool, the Deep Mediterranean, the Dangerous and Weird, Docks and Piers, Caves, the Underwater Tunnel, the Great Barrier and Indo-Pacific Reefs and Discovery Zone galleries. Opened in 2009 at Forum Istanbul shopping mall, the aquarium features an underwater Ocean Tunnel spanning 83 meters in length and offers a 270-degree, panoramic view of the ocean's seabed. There are 21 themed zones that include 47 display tanks holding more than 15,000 sea creatures. One of the largest sea creatures among them, the tiger shark measures 2.5 meters in length and is sure to startle you from behind the glass. For the more adventurous visitors, diving and swimming is also available for a first-hand experience with one of these sea mammals. Sea Life Aquarium that is filled with the waters of the Marmara Sea is located just 5 kilometers from Atatürk Airport in Kocatepe and is easily accessible by railway or car.
On the other hand, one classic toy we all knew as children growing up is the center of a fun-filled venue that is sure to please parents as much as their children. Legoland Discovery Center offers a modern experience for lego-lovers and brings a decades-old tradition to life with its modern facility that resembles the toyland of your dreams. Legoland has something for everyone, and it may come to the disappointment of some parents that the facility is not for adults. Parents who want to enjoy the venue can do so with their children. One of the best features at Legoland is the Professor Bric-a-Branch, a venue which includes a tour through the Lego Factory and shares the secrets of how legos are made from plastic materials. This venue is perfect for children and is sure to please parents who are young at heart.
Istanbul's Asian side also offers fun for the entire family. For an out-of-this-world experience, take your children to KidZania, located in Akasya Shopping Mall in Istanbul's Üsküdar district where they will find themselves on an entirely different planet, managed by children. The buildings and streets inside KidZania are designed with kids in mind, and are perfect for young children. For first-time visitors, a boarding pass is given to children who can visit a huge replica of a Turkish Airlines plane. Once your family has received their boarding pass, the signs show you the way to the Kidzania planet. For children visiting KidZania for the first time, it is recommended that parents accompany them. Children between the ages of 4 and 14 can even explore their dream jobs at the many booths inside of KidZania. From being a policeman to a radio programmer, endless vocational options are available for children at KidZania. Upon entering, kids are given radio frequency tags which do not allow them to exit the premises without setting an alarm off and without paying 50 kidzos - KidZania's currency. They can withdraw their money from the KidZania bank which is also staffed by children. Kids can either spend their money on souvenirs or snacks. Children also earn money for working 25-minute shifts during their jobs. To help prepare you children for adult life and expose them to the basics of business life, KidZania in Istanbul awaits your children.