For thousands of years, Anatolia, where many Turkish provinces are located, is believed to have been a sacred destination for civilizations around the region. The ground in this area is rich with the history of past civilizations, which is why many archaeological excavations can be found and observed there. In this article, you will find some of the best cultural and historic beauties on the Anatolian Plateau.

Çatalhöyük in Konya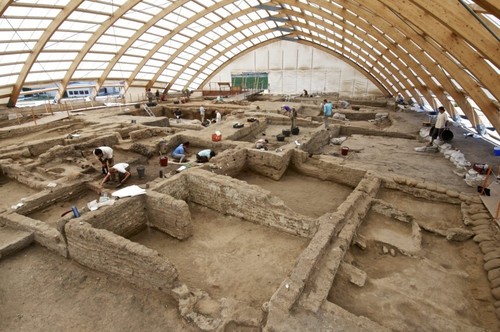 Located in the Cumra district of Turkey's central-Anatolian city of Konya, Çatalhöyük is among the oldest settlements of the Neolithic Age, dating back to 7400-5200 B.C. Çatalhöyük is considered the largest and best preserved ancient site in existence and was included in UNESCO's World Heritage Sites in 2012, and since then, work to protect the ancient remains has intensified. Standing as proof of the development of civilizations and social life, the place includes houses, which are decorated with wall paintings, sculptures and other features of the Neolithic Age's housing culture.Those who want to discover life in ancient times can see the site and houses' interior and exterior designs. An understanding of ancient social life, culture, religion, agriculture and domestic life can be found in Çatalhöyük which embraces all of the history embedded in it. You can also spend a day exploring the houses, and later visit the Konya city center, which is one of the largest provinces in the country and known for Rumi's doctrines.

Cappadocia in Nevşehir

Located in the middle of the country, Cappadocia represents the finest work of Mother Nature and is a great way to witness the region's history. A place of natural beauty, Cappadocia has such a charming atmosphere that a day trip will not suffice to enjoy all of its attractions. With its volcanic landscape offering gorgeous scenery, slick rocks with lush, green trails and caves as well as tunnels and canyons waiting to be explored, Cappadocia is a paradise. The region has been carved out of volcanic rock over many centuries withstanding wind and melting snow, which created its unique colors and shapes, and most notably, its fairy chimneys. This magical region invites you to explore the heart of Anatolia with its historic remains, standing as some of the most renowned ancient-natural wonders. Cappadocia is one of the most highly visited destinations in Turkey and is packed with locals and foreign tourists year-round. The only way to understand its popularity is to take a trip to this magical land. It is also one of the best places for a honeymoon, with foreign tourists coming here specifically to have their wedding photos taken. All the leaves and natural beauty seem to keep pace with the colors of the area in every season, and Cappadocia is especially enchanting in the winter. Cappadocia Cave Suites, located in the city of Göreme, is a perfect destination to immerse yourself in your own fairy tale featuring natural beauty and cozy cave suites. A Turkish bath, sauna and rooftops provide amazing views of Cappadocia's landscape and will make you feel like you are living in a dream.

Odunpazarı in Eskişehir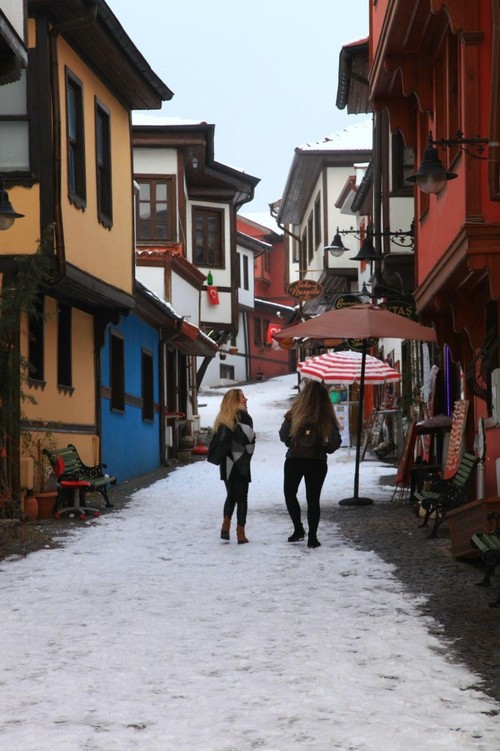 Included on the UNESCO World Heritage list, the town of Odunpazarı in the Eskişehir province is one of the first residential districts established in the region and represents a more modern-Ottoman style. While walking down the narrow-winding roads of Odunpazarı, you will quickly become mesmerized by the intricate-wooden design of local homes and beautiful bay windows. Take the tramline from downtown Eskişehir to the Atatürk High School bus stop, walk two minutes down the street and you will find the houses of Odunpazarı.

Hattusa in Çorum

Hattusa, the capital city of the Hittites and a historical national park, serves as an open-air museum with 6-kilometer-long (3-mile-long) city walls, monumental city gates, 71-meter-long (233-foot-long) underground passage, the Hittites palace in Büyükkale, 31 unearthed temples, ancient wheat silos and an open-air temple in Yazılıkaya.

Hattusa was added to UNESCO's World Heritage List in 1986 thanks to its well-protected architectural structures and excavation site. Since 2001, the city has been on UNESCO's Memory of World List with its cuneiform scripts representing the oldest known form of Indo-European languages. To promote this site and increase the number of tourists regional authorities have launched a series of plans.