Professional mountaineers are quite familiar with the phrase "Seven Summits," a challenging and exciting adventure which involves climbing the world's top seven peaks, often taking several years to complete. Although conquered by very few, many professional mountaineers dream of scaling the Seven Summits, which include Mount Everest in Nepal, Mount Kilimanjaro in Tanzania, Mount Elbrus in Russia, Vinson Massif in Antarctica Peninsula, Denali in North America, Aconcagua in South America and the Carstensz Pyramid in Indonesia.
A group of lecturers and students from Turkey's Abant İzzet Baysal University (AİBÜ), located in western Bursa province, is ambitious enough to reach the world's highest summits. Assistant Professor Güçlü Özen became a professional mountaineer after starting to climb in college. He later continued his projects in Turkey and other countries with a mountaineering club he formed with his students. Özen has climbed some of the highest peaks in Africa, South America and Europe since he began. Also working as lecturer in the university's physical education and sports department, Özen has also climbed in various countries, including Turkey.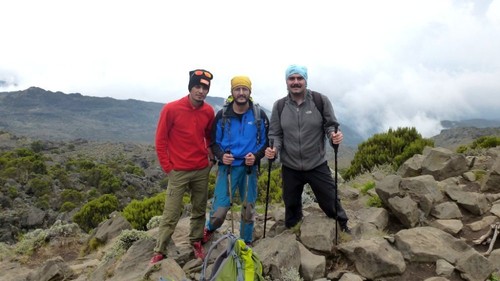 Güçlü Özen (C), the founder of "3 Continent, 3 Summits" (Courtesty of AİBÜ)
Özen went after his passion of mountaineering and continued improving his climbing skills after starting at the university. He said although climbing was initially a hobby for him, he has fallen under the spell of the nature in African countries and began to encourage his students and colleagues to arrange trips.
The group has launched the "3 Continents, 3 Summits" project to help support the social development of the students. Özen said that the group took its name from the phrase "7 Continents, 7 Summits." With his students, the group has limited this challenge to three for now because of limited time and budget. The group's challenging destinations have included Mount Kilimanjaro in Tanzania at 5,900 meters (19,357 feet), which was completed with three students, then Mount Aconcagua in South America at 6,900 meters and finally Mount Elbrus - the summit of Europe. Özen said: "From now on, we set both individual and collective challenges with the students. I personally dream about climbing an 8000-meter mountain. I want achieve this dream in the next couple of years."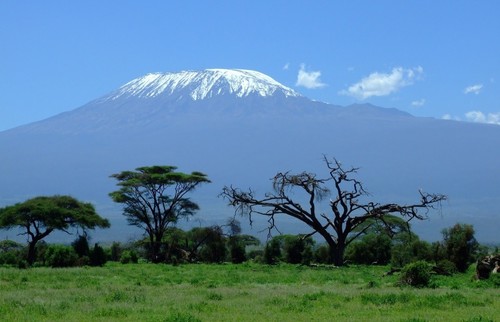 Mt. Kilimanjaro, Tanzania
Being the highest mountain in Africa, Mount Kilimanjaro is also the tallest freestanding mountain on earth. An extinct volcano, the mountain's volcanoes - whose lava fields overlapped and have partially obliterated each other - began erupting approximately 2 million years ago. Featuring an impressive snowcap, Mount Kilimanjaro has five climbing routes leading to the summit - including the Marangu Route, Machame Route, Rongai Route Lemosho Route and Mweka Route. The easiest route to use is the busy Marangu, but this route often proves difficult in its final ascent. Also called the "Coca Cola route," the Marangu Route is also the most popular one leading to the summit. The Macheme and Lemosho routes are said to be the most scenic. The mountain is located inside Kilimanjaro National Park.
Each year around 30,000 climb Mount Kilimanjaro, one-third of which are able to reach the summit. For climbers, there are two popular trekking seasons, between January and March or from June to October. The latter season is hectic on the mountain as it coincides with the summer holiday period in Europe and North America. April, May and November are the rainiest months and not ideal for trekking.An average Kilimanjaro trek - excluding flights and off-mountain expenses - costs $2,000-$2,500. It is also possible to find treks for $1,500.
Özen was also hoping to climb the world's highest peak, Mount Everest. "Climbing Mount Everest is a very expensive experience. That's why I will choose other affordable places for myself instead of Mount Everest," Özen said.
He explained that mountain climbing continues to develop in Turkey, gaining great momentum over the past 15 years and has become a popular activity. "The number of licensed mountaineers has increased, but new projects are needed in order to increase the quality because many different branches have been added to the practice of mountaineering around the world," he continued. Highlighting the need to form more mountaineering groups for youth, Özen said the numbers of young amateur climbers are also on the rise.