Situated in the expanding central area of Turkey, the ancient fairytale land that is Cappadocia has more to offer than a journey into history alone. Although you might need three-to-four days to thoroughly tour the region, a weekend getaway is perfect for couples after a romantic escape, especially with Valentine's Day around the corner.
With several flights available daily from Istanbul to Nevşehir, one of the major cities in the Cappadocia region, you can get there in as short as an hour-and-a-half. Travel by bus is another option for those who have more time as it takes about 12 hours from Istanbul. Ürgüp, Göreme and Uçhisar are three of the more popular cities chosen for accommodation. Although there is no right or wrong choice here, historically a tourist center, Ürgüp is more modern and busy compared to the other two. Uçhisar offers superb views, but is less touristy, less developed, giving you a better taste of authentic Cappadocia. Göreme, although touristy, the quaint city built around the fairy chimneys and caves is pretty quiet outside the peak season in summer, giving you the sense of immersion in another world. Being a central point to visiting the whole area whether by vehicle or on foot, visitors can find everything they need in Göreme, including good bus connections. If you have not booked your hotel in advance, you should not have too much trouble finding one once you get to your location, since there are more hotels than you need, ranging from cave houses to the standard hotels.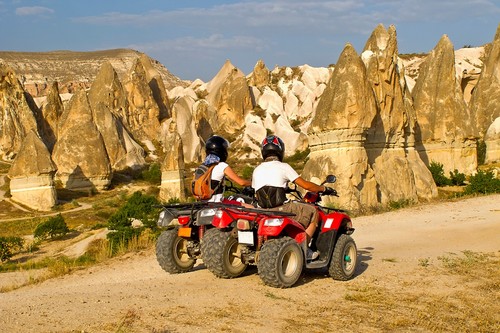 Once you have settled in your hotel you can begin to explore the region. Whether you want to unwind and simply enjoy the atmosphere or tour as much as you can, you are surely spoiled for options in Cappadocia. There are an array of travel agencies in city centers offering a vast range of tours whether you want the extensive full-day tours or shorter tours like the two-hour ATV or horseback tours around Göreme and surrounding valleys.The full-day tours will take you to Derinkuyu Underground City, one of the most interesting assets among the cultural heritage of the region. Consisting of eight floors at a depth of about 85 meters, the city was built to provide refuge to the town's people during the recurring threat by the invading armies. It contains living quarters, stables, cellars, storage rooms, churches, wine cellars, basically everything to make life underground easier, all connected through a labyrinth of tunnels. The tunnels are quite narrow and short with steep steps, so if you are claustrophobic or your health is not in tip-top condition, you might want to reconsider. Alternatively, there is a shorter route that you can choose to take if you change your mind once underground.
The hot-air balloon rides, now also available in winter due to demand, offering spectacular views of Cappadocia, may be too expensive for some, as prices usually range between $150-$250 per person, while some might just be afraid of heights. Bargaining is highly recommended, because during the quieter seasons, you might just get lucky and score a ride for under $100.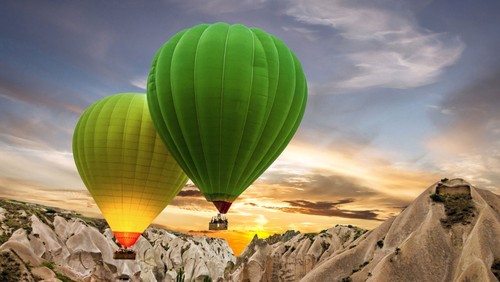 An alternative, just as memorable - or even magical - would be the two-hour horseback rides in Göreme, available at 10:00 a.m. in the morning or at sunset, usually between 5:00 p.m. to 7:00 p.m. The two-hour trail ride will take you through sweeping valleys, giving you a breathtaking view of the "land of the beautiful horses" as the trail takes you through volcanic stone hills, with unique landscapes whichever direction you turn.
The two-hour ATV quad bike ride, available both in the morning and afternoon during sunset, is perfect for the thrill-seeker as your guide will perform tricks on their bike throughout the way.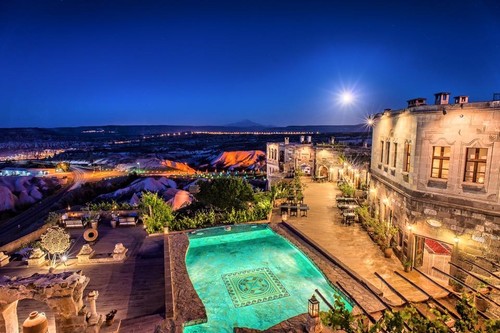 To end the day on a romantic note, book the Turkish Night Show in a cave restaurant to unwind and have some fun. The show, lasting about three hours, includes dinner with unlimited drinks and folk dance performances from different parts of the country. The highlight of the show is the belly dance performance toward the end of the night, offering guests the chance to join for some belly dancing experience.