Almost every single one of Turkey's 81 provinces has a particular quality for which it becomes famous. Like for example, Istanbul's Blue Mosque among many others, Amasya's apples, Gaziantep's cuisine, Kars's cheese. The list is endless. As for Denizli, an industrial city in the country's Aegean region, it is well-known around the world for its natural hot water travertines in Pamukkale (the Cotton Castle) and thermal water spa hotels in its Karahayıt district, quite popular with both local and foreign tourists. Yet, across Turkey, "Its women, dust and roosters are famous," is a common saying when talking about Denizli.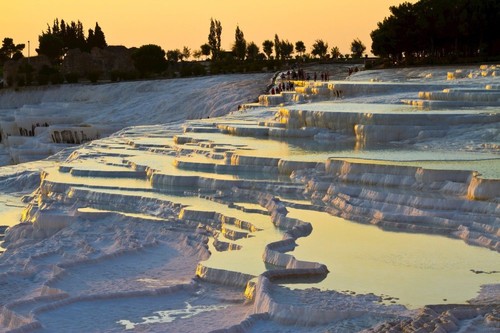 This Aegean city is singled out for the beauty of its local women, but, women are beautiful, whatever their origin. As for the dust, it is true, you might have to wipe your shoes every two minutes, only for it to be covered in a thick blanket of dust all over again.
Arriving at Denizli's city center, you are greeted by the massive glass statue of a Denizli rooster standing tall in the middle of the roundabout, recently installed to replace the former colorful statue. An iconic symbol of the Aegean province for at least 900 years, the Denizli rooster is a breed specific to the region and characterized by its long crowing ability.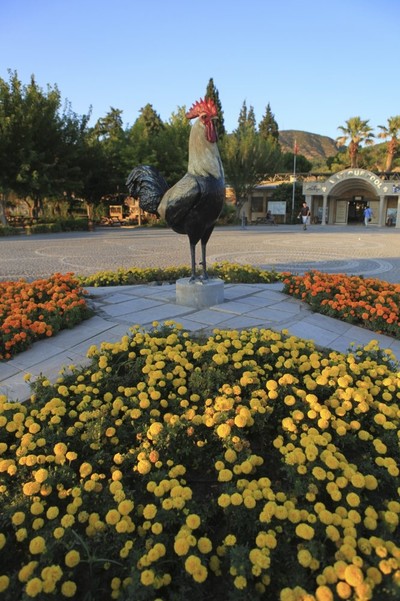 Denizli might not be a very large city, yet there is so much to see and experience, including the ancient ruined city of Hierapolis in Pamukkale, the ruins of the ancient city of Laodicea on the Lycus, a major religious attraction for Christians, and the ancient city of Phrygia.
Known as the country's textile hub, shopping for clothing, haberdashery, linens, basically anything textile is a must as the prices are generally more reasonable than you will find anywhere else. So a trip to Denizli requires a stopover at the historical Kaleiçi, one of the major bazaars in the city center. When tired from all the shopping, take a break for a nice filling meal to recharge your energy. Although the most popular dishes in Aegean cuisine are made using the vast range of greens that grow in the region, olive oil and vegetables, it does have a namesake kebab, "Denizli kebabı," worth trying. Also, home to the traditional grape festival held in July every year, if you are there in season, don't only try the grapes, make sure you take a whole heap back with you – you will not regret it.
If you have the time and chance to do so, pick up a conversation with the locals, who are generally curious and friendly. If you are accustomed to hearing Turkish, you will notice that the people of Denizli have a distinct accent – specific to the Aegean region – that gives them away anywhere they go.
There are a large number of options to travel to Denizli by bus, which will take you all the way to the city center. But the bus ride lasting between nine to 12 hours, you might want to take one of the few direct flights taking approximately 40 minutes from both of Istanbul's Sabiha Gökçen and Atatürk airports every day.