It's spring. Time to pop your head out from between the crusted-over blankets, the fortress of pillows and the potato chip crumbs. I know you haven't finished "Stranger Things" or "Westworld" yet - there will be time for the next episode later. I'm sorry. Take a Claritin (allergy medicine), take a deep breath, and put your essentials in a day pack. Springtime in Istanbul means braving the hordes of other springtime frolickers and getting on a boat to the islands.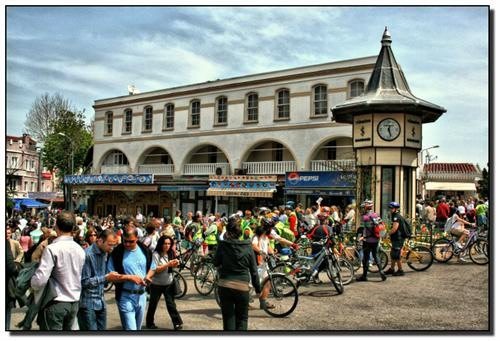 For the Istanbul novices reading this article, the Princes' Islands is an archipelago of nine sitting in the Marmara Sea, and the most picturesque (and least populated) of Istanbul's 39 districts. From Eminönü or Kadıköy, you can take a "Şehir Hatları" public ferry and visit four of them - Kınalıada, Burgazada, Heybeliada, and Büyükada. (The other five islands are privately owned and mostly uninhabited.) Büyükada is the "capital" and has considerably more civilization, as well as many kilometers more of bike path. Heybeliada has the Naval Academy, and is only about half the size of Büyükada. Burgazada and Kınalıada are the smallest and least-populated of the four visitable islands, which make them my favorite to visit.




Undoubtedly the Istanbul of decades past resembled what you'll see on any of the four islands - lots of greenery, stately houses, horse-drawn carriages. Motor vehicles are forbidden, meaning it's quiet and clean - you'll only fear for your life on the streets when a jangling bell sounds behind you, and that alerts you that a carriage is about to come rocketing past. The Islands smell of fresh pine and saltwater, rather than coal smoke and wet concrete, and they offer magnificent views of the glittering water. It's a chance to escape the city and look on it from afar - and at TL 5 for ferry fare, it's the cheapest vacation you'll find.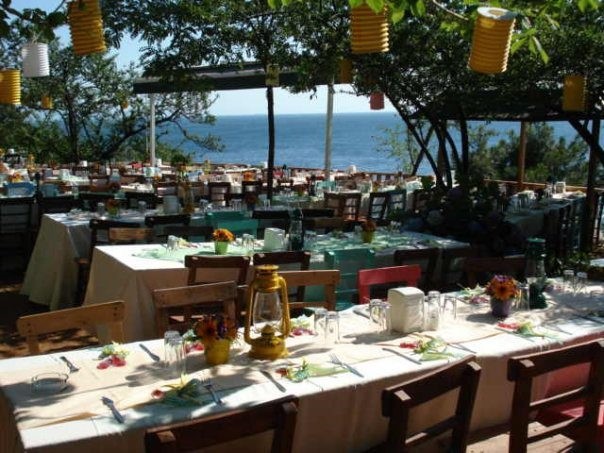 But what to do and where to go? I visited all four islands in researching this article and for a day trip, and after much deliberation, I believe it almost does not matter where you go. It is perhaps controversial, but I believe most people visiting the Islands, whether they're Istanbul locals or out-of-town tourists, are going for the same reasons. Rather than a list of what to see on which island, I've compiled a variety of activities integral to every island day trip. A bingo chart, if you will. Spending a day on one of the Prince's Islands can have a lot of different flavors - a nature walk, playtime with animals, a county-fair atmosphere - and I recommend that any Island trip hits all the highlights. Once in awhile, one of the Islands will be better than the others for a certain kind of activity, and I'll make sure to indicate which that is below.
The boat ride
If you get on the boat on the European side at Eminönü, and I recommend this, you will have a seat. If you live on the Asian side and board at Kadıköy, you will either stand or sit in the stairwell. Especially at about 10 a.m. on Sunday morning to midday, the boats can be packed. If you're lucky enough to not work during the week, that's the best time to go - but if you are burdened by a 9-to-5 like most of us, then make sure to catch an early boat. Many of the friendly salespeople of times past are gone, but a few licensed musicians still ply their trade on the Şehir Hatları lines.
Fair food
In the town center of each of the islands, a gaggle of happy restaurateurs will beckon you, wanting you to buy "lokma" (a kind of sweet pastry) or ice cream or waffles. Embrace this. They are happy. You are happy. Eat the fair food. Get fat. In the afternoon, come back for a "balık ekmek" (grilled fish sandwich) or some "meze"(appetizers), and watch the sun go down.
Rent a bike
This is by far the cheaper and more fun way to tour the islands at speed. Right off the docks, in every one of the islands' village squares, you'll be inundated with friendly requests to rent a bike. Bike rental places charge between TL 5 to TL 20 for a bike for an hour. The bikes can be between falling apart and brand-new in terms of functionality, and it's worth the few extra lira to get a better bike. The rental guys will ask for ID as collateral, so make sure to bring it with you. They also frequently have maps and can easily indicate the best routes. Büyükada of course is the largest and you'll get more exercise going up and down all those hills, but curiously, it has the worst views - I found the water and city frequently obscured by cedar branches. Kınalıada has the best views from the bike paths.
Carriage ride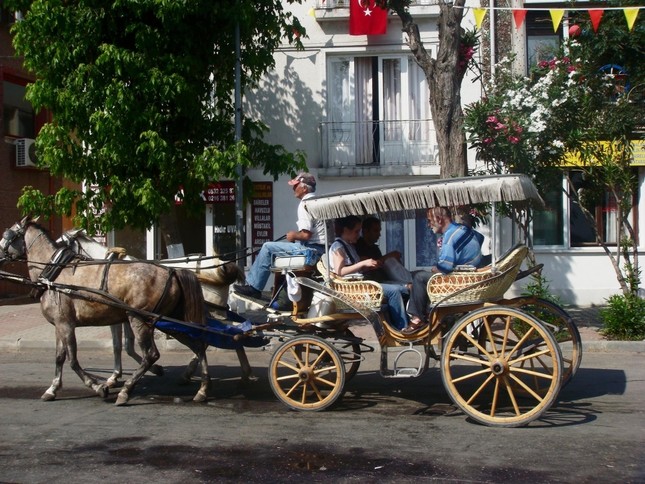 A battery of horse carriages draped with colorful decorations await every island traveler at the docks. Though they have one of the best jobs in Istanbul, the drivers always seem to be in the sourest of moods. If you've never been on a horse taxi, it's worth the TL 30 or so to go around the track, but otherwise I'd advise skipping it. Often the horses are a little sickly-looking, so make sure to support a driver with healthy steeds. Heybeliada's back half is a park full of horses, so I like it best for equine activities.
Animal cuddles
Back in the day (and by "the day" I mean 1911), the Islands acquired a dour reputation when the city authorities had all the street dogs rounded up and abandoned on Sivriada, a.k.a Hayırsızada, a.k.a "Cursed Island." Today, fortunately, animals live in abundance on the islands. The cats breed like fanatics. By employing the famous Istanbul Cat Call - "psspsspsspsspss" - they will flock to you, literally flock, drawn by the implied promise of snacks. Wild horses roam most of the Islands, especially Heybeliada and Büyükada, and it's fairly easy to sneak up on a rambling herd for a photoshoot. The current doggy inhabitants of the islands are mostly slow-moving, spoiled mutts happy to follow you around the city center for the promise of fish guts.
Some peace and quiet
Though it seems strange, tall organic things called "trees" grow on the Islands. They're distinguishable by their flat abundant "leaves," or their spiky "needles." No, they don't pop out of the concrete! Weirdly enough, the ground is made of a grainy brown substance the locals call "dirt."
Perhaps I'm being a little facetious, ok, but living in a concrete jungle like Istanbul makes you feel like you are starving for an actual jungle. It's okay to wander randomly in the dusty pine-and-brush forests on the islands, because even if you do get lost, you're on an island. It's also great for views. Last time I was on Heybeliada, we hiked up a path the color of cedar wood and saw the whole of Istanbul, and then watched a horse dig through a dumpster near the huge gypsy settlement near the back of the island. I tried to find the windmill but got horribly lost.
Hit the beach
A perfect day: The sun, a bag of picnic food and the beach. Most of my readers might politely decline to take a dip under the weak spring sun. Personally, I think it's high time for a swim. I recommend Kınalıada and Burgazada for their beaches, because one, nobody's there and two, you don't have to pay. Who pays for a beach? If you beachcomb, try to find water-worn tiles and the most interesting trash you can.
To board a boat for the islands, check the Şehir Hatları timetables at http://en.sehirhatlari.istanbul/en.
Hike to the monastery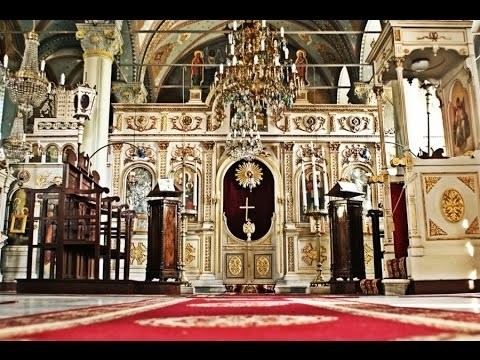 Each of the islands have a monastery perched at the top of a forested hill. Orthodox Christians of every stripe - Armenians and Greeks, mostly - formed strong communities here a few hundred years ago, and many still trek out to the monastery on important days. If you go to Büyükada on Orthodox Easter for instance (this year, it's April 16), you might want to participate in a curious annual custom. Visitors and locals tie a string to a tree near a market in the woods, make a wish, and then hike up the hill to the monastery. This creates a huge amount of garbage so the island's municipality outlawed the practice, but it's also silly and fun, and it happens anyways. If you're lucky you'll be invited to try some Easter bread or smack some dyed hardboiled eggs together in Orthodox Easter Mortal Kombat.