Travel is not always about discovering new places, trying out new tastes or meeting new people and cultures. Sometimes you simply need to get away from everything and everyone - including yourself.

Lake Abant, a freshwater lake, nestled among dense woodlands covered in pine trees, oaks, hornbeams, willows, junipers, tamarisks, hazels and strawberry trees among others, is a national park in Turkey's northwest Bolu province. About a three-hour drive from Istanbul, the lake, formed as a result of a landslide, offers spectacular views every season of the year.

Unlike most sites across Turkey, there isn't too much to do or see in Abant, nonetheless, a journey to this heavenly corner, accommodating about 350,000 guests per year, is sure to be a memorable adventure, regardless of your reason to visit.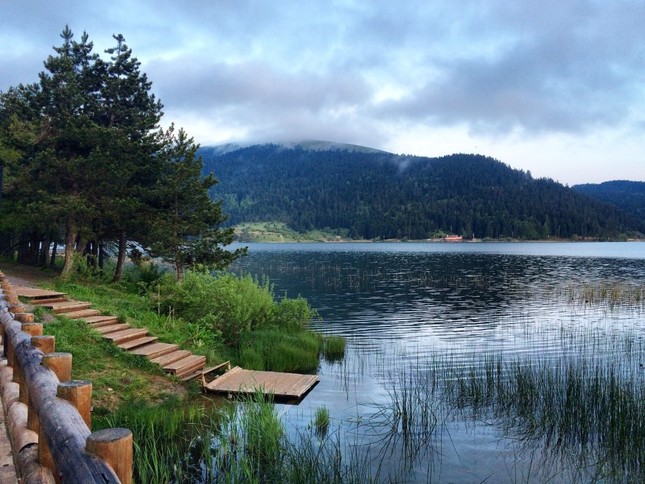 Generally a favorite location of couples to rekindle the romance, celebrate their anniversary or simply get away for the day, expect a calm, peaceful and refreshing break.

If you have the chance and option to stay the night, you will wake up to the chirping of birds, with the fresh air filling your lungs.

The very few number of hotels and restaurants around the lake all boast mind-clearing, spectacular views of the lake. So, starting the day off with a filling breakfast, Turkish style, will have you all ready and alert with enough energy to get you through the day.

The highlight of a visit to this freshwater lake - besides the fresh air and dining by the gorgeous view - would be the tour around it. The approximately 900-meter-long Lake Abant has a circumference of 7 kilometers. There are various options for those wanting to tour the lake; you can either walk, which will take between two to three hours depending on your speed, cycle, go on horseback or sit back in a horse carriage and enjoy the ride. Bicycles are available for hire at TL 15 ($3.50) per hour and a horse carriage will cost you between TL 75 and TL 100 - make sure to bargain. With the forest on one side and the lake on the other, by the end of your tour, accompanied by the cheery chirping of birds, you are sure to be charged up and ready to tackle the mundane and everyday problems of the real life once again.

The surrounding forests are home to a variety of deer, wild boars, wolves, foxes, bears, jackals, birds of prey, making the location a hot spot for hunters during hunting season. However, it is not possible to see these wild animals around the lake.

Make sure to pay a visit to the adorable wooden guest introduction center right next to the entrance of Lake Abant Nature Park. It has a spectacular terrace where you can relax after your tour of the lake. There is also a small village bazaar a little further ahead from the guest introduction center. You can buy local food products from the surrounding mountains and villages such as tarhana powder for soup, beans, cheese, yogurt, butter, honey and various fresh fruits, dried fruits and vegetables, medicinal herbs, pumpkins, wooden items, et cetera.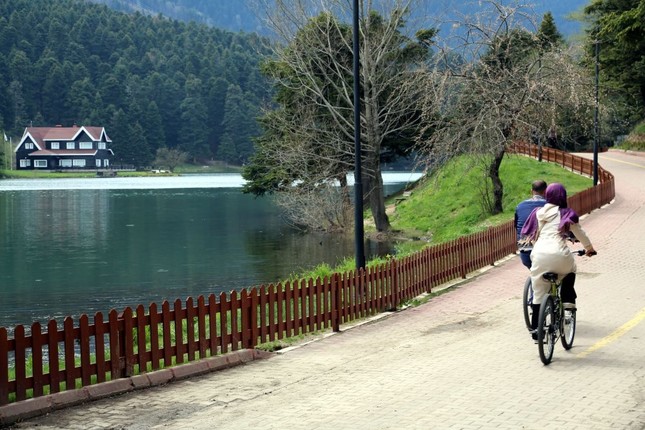 Don't get your hopes up about food though, as there aren't too many options around the lake. There are a small number of restaurants around the lake and your other option is to dine at one of the hotels whether you choose to stay the night or not. However, if you are in Abant on a Friday or Saturday night, head over to Büyük Abant Hotel for an amazing music feast by husband-and-wife band, Grup Nilüfer. She's not Adele, but Nilüfer's soothing voice and impressive performance is sure to sweep you off your feet. Music teachers by day, the duo has amazing energy and seeks only to please their audience from 9:00 p.m. through to 12:00 a.m. - a lovely was to close the night.

Abant and its surroundings are governed under the National Parks Directorate, hence there is an entry fee of TL 12 for automobiles to the lake area. Fees vary for larger vehicles.

Top 7 Abant hotels
1) Abant Palace Hotel
Situated on the shores of Lake Abant, Abant Palace is a five-star hotel featuring an indoor pool, tennis courts and a spa with a Turkish bath. Guest rooms overlook the lake and surrounding forest. The Abant Palace restaurant overlooks the lake and serves Turkish and international cuisine with both open buffet and à la carte options. There is also a winter garden with seating areas. Relaxation amenities at the hotel include a hot tub and sauna. The child-friendly hotel also has a kids club, children's pool and a gaming room with a PlayStation console. Free wireless internet is also available throughout the hotel with free private parking also available on site.
2) Büyük Abant Hotel
Situated on the shores of Lake Abant, this hotel offers spectacular lakeside views and offers live music in the evenings on the weekends. Guests can relax with onsite wellness facilities as well. Each room has free Wi-Fi access, satellite LCD TV and a private bathroom. The hotel restaurant serves a full breakfast buffet in the morning ,with à la carte options for dinner. Hotel amenities include a sauna, gym and massage services. Ping pong, tennis and billiards are among the facilities available for children. Free parking is available on site.
3) Abant Lake Houses
Situated in a secluded area, Abant Lake Houses are 100 meters from the lake. The property offers rooms with a private fireplace and partial or full lake views and Wi-Fi access. An open buffet breakfast is available daily.
4) Aden Boutique Hotel & Spa
Surrounded by lush forest, the Abant Aden Hotel & Spa offers a terrace with natural views and spa facilities including a sauna, Turkish bath and massage rooms. Free Wi-Fi is accessible throughout the hotel. The rooms at this hotel feature a hot tub, fireplace and a balcony with mountain views, with air conditioning, a flat-screen TV, minibar and a safety deposit box in every room. A traditional Turkish breakfast with fresh and local products is available every morning. Free on site parking is available.
5) Abant Köşk Hotel
Decorated with warm colours and carpeted floors, all rooms at Abant Köşk Hotel feature a satellite TV, minibar, Wi-Fi access and panoramic views of the lake. The hotel also has a playground for children to enjoy. The indoor and outdoor restaurant at Abant Köşk Hotel offers both local and international tastes.
6) Abant Kartal Yuvası Hotel
Abant Kartal Yuvası Hotel is situated in a secluded area of the Abant district situated among the mountains and pine forests. The hotel offers modern rooms and a terrace with mountain and forest views. Each room has a private balcony, with some rooms also featuring a fireplace. Guests at Kartal Yuvası Hotel have the option of enjoying an open buffet breakfast in the cozy dining room with a fireplace. There is also an a la carte and a terrace restaurant at the hotel where you can enjoy your meals with mesmerizing views of the mountains and forest.
7) Binbir Yeşil Abant Houses
Binbir Yeşil Abant Houses, located 16 kilometers from Abant, offer a garden and sauna. The accommodation boasts a spa bath and a sauna. Featuring a terrace, all units have a dining and a seating area with a flat-screen TV and free Wi-Fi is offered throughout the premises. Some houses have a balcony or patio - or both - with mountain or garden views. Free private parking is available on site.
You can also unwind at the Turkish bath available at the property. Tennis, table tennis and cycling are some of the activities you can enjoy free of charge at Binbir Yeşil Abant Houses.