A Turkish citizen from Rize, Ahmet Oflu, has combined objects that reflect traits of Ottoman and Turkish-Islamic culture in his boutique hotel Kaf Dağı. Oflu, one of two historical artifact collectors in the city, bought 3,000-square-meters of land six years ago at the site of Kaf Dağı in the Derepazarı district to establish a hotel that reflects Ottoman culture rather than a classical one. Thus, he decorated his hotel with antiques, collecting materials from different cities in Turkey.

The construction of the hotel was completed last month. Oflu took the Hansaray Palace in Crimea as an example in terms of architecture and decoration.

With its extraordinary architecture and distinctive objects, the hotel will open in the coming weeks.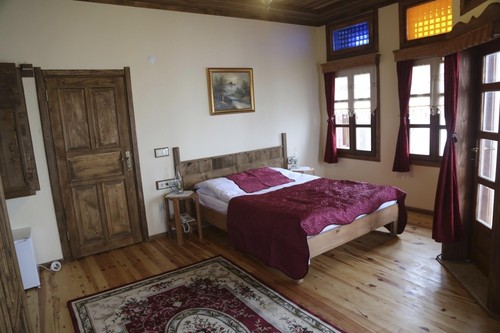 Oflu said that he has been interested in and collecting historical artifacts for almost 40 years and that he had previously established two other enterprises that brought Rize's historical richness to the forefront. Oflu talked about his dream of establishing an enterprise to maintain the Turkish-Islamic cultural heritage, reflecting Ottoman architecture.

'Product of 20 years of research'

Indicating that the structure is a product of professional research over 20 years, Oflu stated that he tried to visit every historical site in Turkey and searched areas where historical artifacts are common, such as Safranbolu, Taraklı, Taşköprü, Kastamonu and Amasya.

Stating that he had observed Hansaray in Crimea, Oflu said that he tried to work in parallel with Hansaray in terms of ornamentation and architecture and that the entrance of the hotel is identical to that of Hansaray.

He tried to collect materials from several parts of Turkey to re-create the historical traits of the places he visited, saying: "I bought stones for the infrastructure from Muğla. Saplings for the design of the garden are from Adapazarı and Yalova. The trees are from the Black Sea Region. I bought cedars of different kinds from Samsun. I bought construction materials from at least 10 cities in Turkey. I had to look in other cities as some of them cannot be found in Rize."

Stating that he follows dilapidated and ruined structures and people who know of his interest in antiques, Oflu said: "In the hotel you can see historical fire places compatible with Ottoman architecture dating back to the first year of the Republic. I bought one from Trabzon. They called me and said that I can take it if I wanted. It was in a structure about to be demolished. It was a fireplace made in 1955. In another incident, I received information about a mansion dating back to the Ottoman era but it was demolished afterwards. It was rumored that there were haremlik and selamlık (characteristic cabinets used in Ottoman mansions, thanks to which, the host could supply guests with personal necessities like towels, water, etc. without seeing the opposite sex) in the mansion. I took the selamlık and kept it in the hotel."

Implying that his aim is to work as a cultural service rather than a trading house, he said they gathered Ottoman doors, double knockers, selamlık cabinets and bride rooms from old mansions. Oflu added that the entrance to the hotel is faithful to the original building and that the wooden door with two big wings will be used only for the entrance for horses, while small doors are for guest use.

'Door knockers symbolize Ottoman culture'
Oflu said doorknockers also are examples of the concept of privacy in Ottoman times and talked about the functions of different kinds of knockers. Big knockers with a higher pitch used to indicate male guests, while small ones indicated females. The doors were opened according to the pitch of the knocker.

He said the comfort of guests and family members was of great importance in Ottoman culture. Oflu added: "There used to be cabinets, named haremlik and selamlık. Hosts supplied guests' personal necessities without entering their rooms thanks to these cabinets. Necessities like meals, towels, etc. were put in cabinets from the outside, and they were taken inside just by turning the cabinet. Thus, we applied the same old system in our hotel to be able to conserve Ottoman culture."