One of the favorite, crucial sites in Turkey in terms of religious tourism, Sümela Monastery, welcomes thousands of local and foreign guests each year, contributing both to tourism and the economy of the region. Since it was shut down for renovation and restoration, new tourism destinations are being promoted in the region.
The Ministry of Culture and Tourism is working to restore Hagia Varvara Church, which is located 300 meters above the valley, on the slope going up to the monastery. Due to the restoration and survey work, the historical texture of the church was revealed, and it became a new destination for tourists coming to visit Sümela Monastery. It will open for tourism after the Ramadan holiday and offer the chance to tour inside the monastery in 3-D. In addition, as it has marvelous views of Sümela Monastery, located in Altındere Valley, observation terraces will be built around the church.
Speaking to Anadolu Agency, Maçka Mayor Koray Koçhan noted that with a 4,000-year-old history, the region is an important tourism center with its cultural and natural structure where tourists can walk down paths of the past, while enjoying beautiful natural vistas around them. He said that the municipality is striving to introduce new tourism destinations while Sümela Monastery is undergoing restoration and that the region is a favorite spot for religious tourism with its many monasteries and churches.
Hagia Varvara Church has been inactive for years and could serve as an observation point for the Sümela Monastery.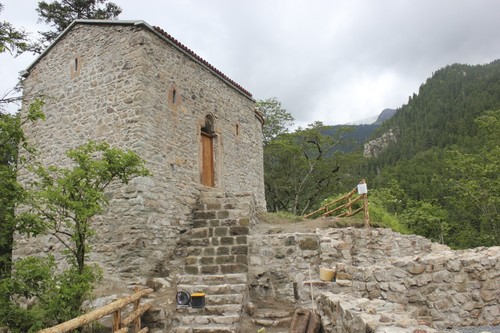 "We submitted applications to the Ministry of Culture and Tourism and thanks to them, now work is ongoing at the church, and Hagia Varvara Church will become another tourism destination. Its restoration is completed, and it will serve as a pre-introduction office for Sümela," said Koçhan.
He also noted that there will be 3-D visuals of Sümela Monastery in the church and a terrace has been created to tell the history of Sümela Monastery with information concerning its historical texture included. "It became an area for tourists to easily access and view the monastery and the valley. It'll serve as a small church standing before Sümela Monastery," Koçhan added.
It's built right opposite the pathway leading to the magnificent monastery on a rock and is a small, cute, chapel-style church. There are also ruins of eight or nine houses from the time when the area surrounding Sümela Monastery was inhabited. It's also on the track where people may enjoy nature walks and trekking.
Koçhan thanked the Ministry of Culture and Tourism, the Governorship of Trabzon and City Culture Directorate and also confirmed that work was ongoing to build observation terraces, which will enhance the popularity of the region.