Bodrum, without a doubt, is one of the most popular holiday resorts in Turkey. It is a paradise for locals and foreigners with white houses, boutique hotels, turquoise coves and historic sites. You can enjoy the sea and sand during the day, while at night it becomes the center of entertainment. The history of this district in Muğla is as rich as its entertainment. According to Heredotus, who was born in what is now Bodrum in 484 B.C. and who is known as the "Father of History", the city was founded by Dorian Greeks. Later, Carians and Lelegians settled in the area. In 650 B.C., the Megarians came and expanded the city and changed its name to Halicarnassus.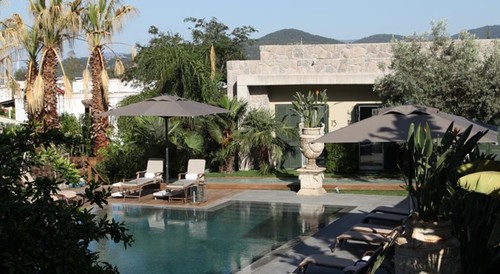 Bodrum offers many hotel options. I recommend staying at a boutique hotel. One of these is Bella Sombra in Türkbükü. The hotel, which means "beautiful tree that gives shade", completely reflects Italian architecture. The hotel designed by Murat Pilevneli will make you feel as if you are in Tuscany. In particular, the pool landscaping is quite ambitious and very different from pools you have seen before. Tiles, asymmetric architecture of the pool and surrounding natural stones provide a different pool experience. Decorations and umbrellas around the pool were special ordered -- some from Italy, some from Konya. Hotel rooms are minimalist and stylish. I especially loved the wicker bed headboards. A Bose sound system and Etro brand bath products are used. Pillows and quilts contain goose feathers. Bella Sombra is affiliated with Yoga Metrique Consulting, one of the best centers in its field. Call this center for a private yoga session during your stay.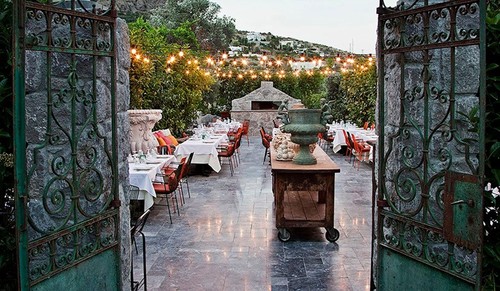 Let's talk about the entertainment aspect of the hotel. The hotel, run by Şebnem Ercantürk and Murat Özalp, who are experienced figures in the sector, opened the season with a very different sense of entertainment. Bella Sombra, which adds Greek and Turkish mezes to the menu, promises modern tavern entertainment. Live performance is available four days a week. In the pleasant bar area of the hotel, visitors can have unforgettable moments with Cenk Suyabatmaz, İskender Paydaş and Nova Group orchestras. It is overcrowded during Happy Hour parties and is mainly filled with foreign tourists. In particular, the area around the bar with cushions becomes overcrowded. For drinks, try the Bai Thai cocktail in the hotel bar, which has a rich cellar. Stuffed artichoke with olive oil, mutabbal with pistachio, Circassian pate, baked potato with sea food, sea bass with fresh spices in a stone oven, crispy calamari with corn flakes, namos tempura, tartar balls, and sushi are among the dishes that make a difference in Bella Sombra's new menu. Weddingsare held in the hotel, so those who dream of a wedding in Tuscany can visit Bella Sombra without going too far.
Bodrum is undoubtedly famous for its beach clubs, and this summer, many brand new beach clubs have opened, and I particularly recommend The Sands, recently opened by Alp Franko and Julien Martin, who opened L'assiette restaurant in Les Ottoman Hotel in Kuruçeşme, Istanbul, last month, and also La Suite Lounge in Bodrum. The Sands opened with an appearance by famous music producer and DJ Ozan Dogulu. The Sands proved itself with this event and has shown everyone that it will be one of the focal points of fun in Bodrum this summer.
The Sands Beach Club on the beach of the Mandarin Oriental Hotel is a summer venue with cream-colored parasols, stylish chaise lounges made of walnut and private lodges full of linen pillows just a few of the details, creating complete French elegance. Most important is that truckloads of sand were brought from the Maldives to operate this venue in Cennet Bay. While giving its guests a beautiful evening with Happy Hour, it also offers a unique dining experience. The menu, which mainly includes Mediterranean delicacies, also features unique Turkish flavors.
The famous Beach House Burger, which is among the signature dishes here, is prepared with cheddar cheese, basil sauce, tomatoes, lettuce, red onion and pickles and served with French fries. On the menu, which offers healthy and fresh choices, Nicosia Salad and Caesar Salad are among the season favorites. Pizzas cooked in a wood fire, meats marinated with local herbs and grill-cooked and daily fresh seafood are essential dishes. The facility, which also has a new Ofyr brand barbecue used outdoors by Michelin star chefs worldwide, offers various experiences. La Suite Lounge has a magnificent view over the terrace area of the Mandarin Oriental Hotel. The area for live music performances has an ambitious bar menu. If you want to enjoy Jazz in summer, your address in Bodrum should definitely be La Suite Lounge.

Tips of the week

Top 3 Restaurant of the Week
- L'assiette, Kuruçeşme
- Hazine, Bodrum
- Momo, Alaçatı
Top 3 Hotels of the Week
- Bella Sombra, Bodrum
- Zeytin Konak, Alaçatı
- Sofa, Nişantaşı
Top 3 People to Follow This Week
- Elvan Tığlıoğlu, Fashion Designer
- Ebru Baybara Demir, Chef
- Esra Zeynep Yücel, Artist