Although the neighborhood of Kuzguncuk is one of the many modest communities along the Bosporus, it plays an important role in Istanbulites' collective consciousness with its history of peaceful coexistence. For centuries, this quaint neighborhood was home to a mix of Jews, Greeks, Armenians and Turks, evidenced by the synagogues, churches and mosques that rise side by side in the traditional and beautiful Kuzguncuk.
Kuzguncuk, meaning "little raven" in Turkish, is located in the Üsküdar district at the base of the Bosporus Bridge. To this day Kuzguncuk is admired as a traditional neighborhood where tradition lives on and old fashioned values prevail. Small shopkeepers stand strong and take possession of the cosmopolitan nature of 19th century Istanbul. While roaming the main street of Kuzguncuk, İcadiye Street, you will come across a butcher shop, a bakery, a haberdashery and a stationary store, not to mention the scattered cafes and restaurants you must try out.
For history buffs
For those who are particularly interested in the history of the well-preserved neighborhood of Kuzguncuk, here are a couple of sites you might want to visit.
As mentioned earlier, Kuzguncuk is famous for its coexistence of many ethnic and religious groups within Istanbul. While strolling down İcadiye Street you will come across two of the main historical attractions. Originally built as a summer services synagogue in 1878, the Beth Ya'akov Synagogue is the only synagogue that still functions in Kuzguncuk. Although many of the synagogues' former members have relocated within Istanbul, the synagogue is visited on the weekends to keep it from closing.
Also located on the İcadiye Street is the beautiful Church of Hagios Panteleimon, which was built in 1831 on the site of a church dating back to 550 during the reign of Emperor Justinian. With its reputation as one of the oldest churches still in use in Istanbul, the Church of Hagios Panteleimon is unique in its architectural style as the domed bell tower was added later on in 1911.
Kuzguncuk is also home to one of the largest Jewish cemeteries in the city. The Nakkaştepe Jewish Cemetery dates back to the 15th and 16th centuries with gravestones in both Hebrew and Ladino.
Also located in Kuzguncuk is the famous Abdülmecid Efendi Köşk, which is a historical wooden mansion originally built as a hunting lodge in the 1800s. Neo-Ottoman in design, the beautiful mansion was home to Abdülmecid Efendi, the cousin of Sultan Abdülhamit II, who banished him to this building, forbidding him to enter Istanbul. The large garden surrounding the köşk is today owned by the Yapı Kredi Bank.
Located right by the water in Kuzguncuk you will find the Üryanizade Mosque, which was originally built as a masjid, a small prayer room, in 1860. It was later converted to a mosque which would become famous for its wooden minaret.
The Armenian Surp Krikor Lusavoriç Church is another church still standing in Kuzguncuk, which was built in 1861.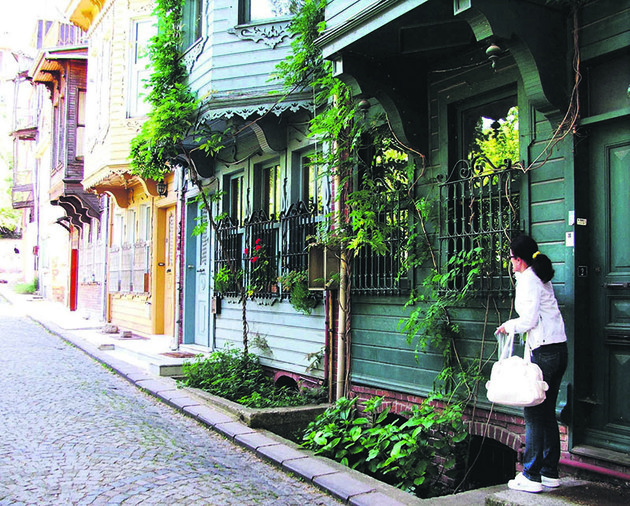 For bookworms, coffee addicts
With its extraordinary funnel-like architecture, the Nail Bookshop located on İcadiye Street is a hot spot for bookworms and coffee enthusiasts. This concept bookstore combines the inseparable duo of coffee and books. Once you have purchased a book and ordered your espresso, make your way to the very top floor and take a seat by one of the large windows. Nail bookstore is also a venue where Literary Conversations are held regularly. If you want to check this amazing place out the address is Kuzguncuk Mahallesi, İcadiye Caddesi, No: 32, Üsküdar/Istanbul.
For a home cooked meal
Kuzguncuk, being a neighborhood of local businesses is famous for its home cooking restaurants. Also located on the main street, you will find a spacious and intimate restaurant, Masum Kitchen (meaning innocent kitchen.) Once you climb the colorful staircase, following the heavenly scents, you will find yourself in Masum Kitchen. With its mission to present organic products, Masum Kitchen is perfect for vegetarians and healthy eating gurus. Masum Kitchen also offers vegan options, unsweetened desserts, gluten free meals and herbal teas. If you've started you Kuzguncuk tour bright and early, try Masum Kitchens organic breakfast menu which is supplied completely from local producers in the Kuzguncuk neighborhood. You can find Masum Kitchen at Kuzguncuk Mahallesi, İcadiye Caddesi, No: 21/1, Üsküdar/Istanbul.
For those with a sweet tooth
Chocolatier Aziz Bey is a modest chocolate shop in Kuzguncuk where seasonal products are offered to those with a sweet tooth. In the winter season, hot chocolate varieties increase, while in the summer cold chocolate and seasonal fruits are presented with their delicious chocolate desserts. Customers are allowed to personalize their drinks with flavors such as lavender, cinnamon, pepper, lemon, hazelnut, pistachio, coffee, almond and blueberry. Make sure you stop by this nostalgic and welcoming chocolate shop which reflects Kuzguncuk and what it stands for in the most elaborate way. Find the best chocolate in the neighborhood at Kuzguncuk Mahallesi, İcadiye Caddesi, No: 56/A, Üsküdar/Istanbul