Summer vacations are not only about sun, sand and sea. Sometimes, people just want to become useful and get handy in their spare time. Those who are fed up with the stress brought by work life and big cities have recently shown interest in ecological farms. Those who want to spend their time nested in nature, while looking after animals and contributing to nature in the meantime are going to ecological farms. Natural life enthusiasts spend their vacations on a voluntary basis or for a certain amount of fee at the ecological farms in the villages of Antalya, Muğla and Burdur instead of spending their holidays in five-star hotels.
The volunteers who start working at sunrise are taking care of the animals on the farms before breakfast. Volunteers working in the field and herding goats gather fruits and vegetables on the farms and make jams and food. Learning how to milk goats and cows and make cheese and yogurt, the volunteers consume organic products far away from technological devices. They spend an average of one week on these farms at their own request and return to life in big cities with the peace of mind that they have made themselves useful.
Veterinarian Burdur Öztürk Sarıca, head of Lisinia Wildlife Rehabilitation Center, said they welcome nearly 1,000 visitors at their centers annually, explaining that 90 percent of volunteers come from abroad, and that Turkish volunteers have started to come to their centers in recent years.
Noting that there are no special task distributions for volunteers, Sarıca informed that the volunteers work at the center in the fields of the rehabilitation of wild animals, the production of aromatic plants, the activities of nature schools and the conversion of aromatic plants into products. "These volunteers have a sense of responsibility. They do not see it as a holiday. They feel they have made themselves useful. They do not see this place as a vacation, but rather as contributing to nature and improving themselves, Sarıca said.
Ali Can Avşar, a student at the Middle East Technical University (ODTÜ) Genetics Department, who came to the center voluntarily, said he stayed for 10 days at the center and that his first job in the morning was to take care of the animals, adding that they renewed the water of the wild animals in the center, fed them and cleaned the place they stayed in. "My style has never been a concept of luxury holiday. Here we deal with village affairs and this makes us happy," he added.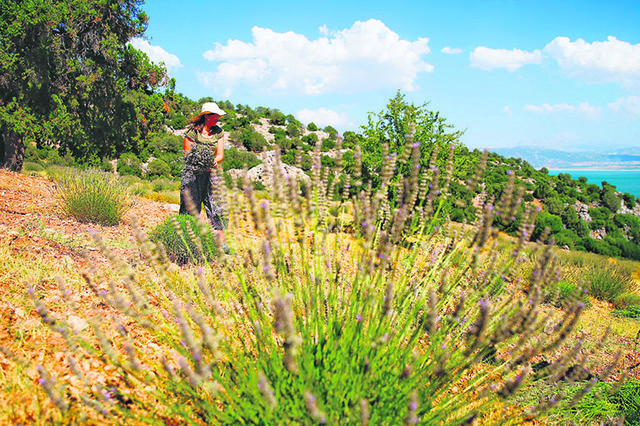 Buse Uysaler, a student from the ODTÜ Mathematics Department, said she likes nature and came to the center to have different experiences. Informing that they fed the animals at the center before having breakfast in the morning, Uysaler said: "We feed the eagles, kestrels, jackals, owls and wild boar. I love animals. We do not see this as a holiday. We learn something. We have plenty of time here to think. We do things we cannot do in the city and gain experience. Time passes very slowly here. Moving away from people and buildings gives you peace."
Victoria Klasina, who came to Burdur from Crimea, also explained that she felt free at the center. Describing the happiness of taking care of animals in clean air, Klasina said: "I feel so good here. I'm picking fruit from the gardens, making jams, and also look after the animals and feed them."
Buket Ulukut, who founded a goat farm in Muğla's Seydikemer district, said she came to Yaka Quarter to produce cheese and be a rancher five years ago. Pointing out that there are 55 goats on her farm, Ulukut said those who want to have the same experience come to the farm and stay.
Mentioning that volunteers learn how to make cheese, Ulukut said: "Volunteers are interested in livestock here. They learn cheese recipes that they can simply apply in their homes. As consumers, they receive information on what to look for in terms of dairy products."
Ayşe Dirikman, who founded an ecological farm in the Beycik Quarter of Antalya's Kemer district, said that domestic and foreign volunteers helped them at their farms located on 13 acres. Dirikman said they set out with the dream of living in nature and enabled other people to benefit from this dream by establishing an ecological farm. "People connect with nature here. Each visitor is busy with something. We collect wood in the winter and do garden work in the summer. We knead dough, turn kitchen waste into fertilizer and do all these things together," Dirikman said, adding that visitors join and experience life in nature and leave here having learned new things.
Baki Mert Kayalar from Kocaeli said he had planned to stay on the farm for three days because of the noise of the city, but could not leave the farm for 20 days, explaining that he helped with the care and irrigation of trees, kitchen and garden work. "People can find these things difficult, but they are not tiring because we are in nature. If we walk 100 meters in the city, we pant for air, but walking for miles in a place like this is not tiring at all. The sounds of birds and insects are fascinating, and I feel comfortable here," Kayalar said.
Kayalar added that he does not understand people spending a vacation in concrete hotels and that is why he prefers ecological farms instead of five-star hotels.