With summer coming to an end, there is still a chance to explore the natural beauties around Turkey and enjoy outdoor sports.
There are numerous rafting spots in 48 provinces across the country, making it home to some of the best rafting destinations in the world.
Turkey's Developing Sports Branches Federation Deputy Chairman Fikret Yardımcı explained that with increasing interest in outdoor sports, rafting is in its heydays in Turkey.
"In terms of potential, rafting is the most prosperous type of sport in the country. Turkey is a country that is booming in terms of rafting, thanks to its rivers," Yardımcı said.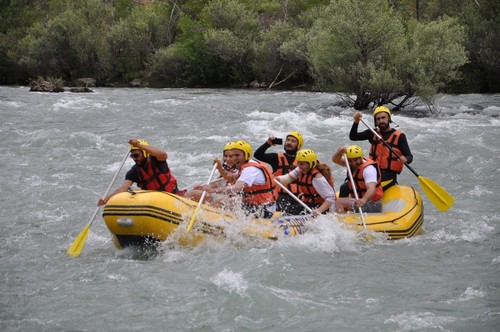 Years ago, rafting in Turkey was considered an extreme adventure sport and only those who dared to put on a helmet got into rafting canoes and let the river and white rapids carry them downstream.
However, the Turkish Youth and Sports Ministry initiated a project to promote rafting amid efforts to prove that people of all ages can enjoy rafting.
As a result of the project, Turkey now hosts national and international rafting events annually.
"Before Turkey was a part of the international fasting platform, rafting organizations were 'dull,' so to speak. As a participating country in championships, we not only solidify our presence in the rafting arena but we also bring our culture and character with us so that our national anthem is recited while our flag is being swayed on the one hand," he said.
He stressed that rafting was a great way to promote Turley's natural and cultural wonders.
Turkey's Black Sea region is the most suitable region in Turkey for rafting, thanks to its geography.
The high mountains and rainy weather in the region allows the rivers of the Black Sea region to remain at a suitable level year-round, beckoning adventure seekers to experience the thrill of rafting.
In the city of Rize alone, there are 25 rafting companies which host 8,500 tourists daily.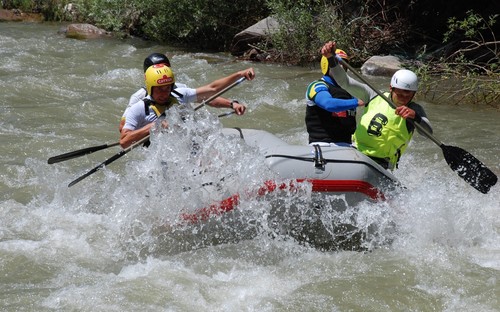 Officials have been encouraging local management companies to open rafting facilities in Eastern Anatolia, as well.
"We will promote both tourism and the economy. Thanks to the increased economic potential and developments in the region, local residents will utilize rafting as a business opportunity. That is the scope of our entire plan," the Developing Sports Branches Federation head said.
"We do not merely think of the sport of rafting, we also try to evaluate its reflection in the best way," he added.
He stated that the federation prepared 250 pages of data on how to evaluate and implement Turkey's potential in terms of rafting.
"Now, 48 provinces in Turkey have opened businesses for adrenaline-filled rafting activities. Rafting is the most prosperous type of sport in Turkey, thanks to the many rivers around the country. Comparatively, in Europe, you cannot find more than five rafting spots. The only suitable European countries for rafting are Slovenia and Slovakia," he said.
"On the other hand, in a single Turkish province like Erzurum, for example, you can find five different spots for rafting. The whole story of rafting in Turkey is not only limited to Antalya province. Now, Antalya is operating at full capacity in terms of the sport, with 10,000 people seeking to go rafting on a daily basis. We will bring 1,000 visitors to Erzurum for rafting and bear all the expenses. When they visit Erzurum for rafting, they will want to come to the city again," he added.
Yardımcı said that Turkey's Developing Sports Branches Federation has implemented similar projects in some pilot spots which have yielded positive results.
"When we learned that the district of Dalaman in Muğla province did not have any rafting facilities available, we initiated activities there. Now, rafting activities are gaining momentum and keen interest in Dalaman. Major clubs have even started to apply for the establishment of facilities in Dalaman," he said.
"We organized a championship in Kayseri's Develi district and, so far, we have received applications from seven tourism agencies seeking to conduct rafting facilities there," he added.
Looking at the numbers Yardımcı provided, there are currently 250,000 local and foreign tourists who go rafting in Turkey daily. However, 60 percent of the income generated from this revenue goes to the respective foreign tourist agencies.
"We will stop the flow of revenue that currently goes to these foreign agencies. Our country is serving 250,000 rafting enthusiasts daily, making rafting the second biggest revenue generator after football in Turkey," he explained.
"We challenge those who try to sabotage our tourism potential by dominating rafting and hindering sports facilities. Rafting will be a federation in its own right," he said. "We are preparing a file upon the demand of our minister. Our federation will embrace all of Turkey and promote sports such as rafting which are inherently dynamic sports."

Top 10 rafting destinations in Turkey
Çoruh River - Artvin
Fırtına Stream - Rize
Dalaman Stream - Muğla
Manavgat Stream - Antalya
Melen Stream - Düzce
İkizdere River - Rize
Munzur Stream - Tunceli
Köprüçay - Antalya
Bekili Stream - Denizli
Zamantı River - Kayseri