Leaving the legendary turquoise Ölüdeniz (Dead Sea) behind, one cannot help but wonder if there is another place to challenge the beauty of Fethiye. Located in southern Turkey, Fethiye is a famous tourist attraction for both domestic and international holidaymakers. Ölüdeniz is usually the first stop for visitors; however, for those who are a bit more adventurous: Take a trip up the valley to discover the ancient lands.
After spending a couple of days on the beach, Faralya, which is also known as Uzunyurt, is enjoyable for its unique nature and quiet surroundings. There are many ways to climb up to Faralya, which is 8 kilometers from Ölüdeniz and 22 kilometers from the city center of Fethiye. For those who want to drive up to the valley, the ancient Lycian road is ready to take you to the famous Kabak Bay and Faralya, located above the bay.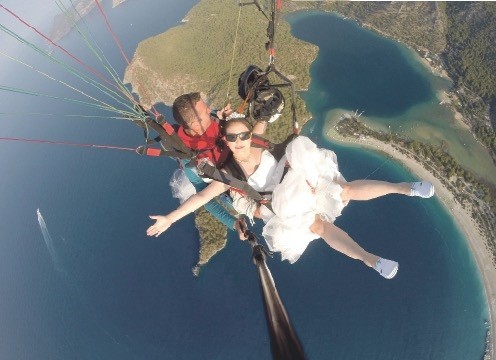 The ride takes 30 minutes to an hour. A narrow, winding, but tarmac (and occasionally potholed) road connects the village to Ölüdeniz, where it joins the main highway toward Fethiye near the Blue Lagoon. Though the distance is not that far, it feels longer due to the narrow road with a cliff on one side. It is possible to jump out of your skin every few minutes during the drive.
Once you reach the final stop, you can either walk down to the bay to jump into the bluest sea or find a ride up to Faralya. If you do not own a car, it is possible to jump on a minibus that leaves every few minutes. Also, feel free to hitchhike since it is possible to run into people traveling from Ölüdeniz to Faralya in the open season.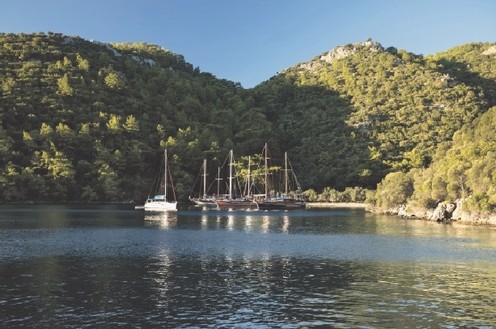 During high season, especially June through September, boats sail from Ölüdeniz to Butterfly Valley three times a day. Tickets for the ride include the return so keep the ticket you get when boarding the boat from Ölüdeniz, since it is needed for the boat that takes you back to Butterfly Valley.
To enjoy nature, hiking from Ölüdeniz to Faralya is also an option. Although it is a challenging route (includes walking on ropes), some hikers manage to complete the entire 16 kilometers. Locals and travel agencies usually advise
travelers to spare two days to hike to Faralya and Kabak Bay. It is certainly much more comfortable to spend two days in the mountains and combine this trip with camping to enjoy and appreciate the beauty of southern Turkey.
Truthfully, the path between the village of Faralya and Butterfly Valley is quite dangerous. Hikers must follow the hiking path marked on the map and never take short cuts. The hiking path features small waterfalls; thus, take every step with extra care. It is also wise to travel light if you are considering hiking to Faralya, as heavy luggage or a backpack might lead to an injury or worse.
It is not certain where Faralya got its name, but locals usually use its modern-day name: Uzunyurt. Faralya, which is a protected area thanks to its untouched natural beauty, was previously named one of the six hidden paradises in Turkey by the Times Magazine, and once you set foot in the village, it is not hard to understand why. To appreciate the beauty, climb until you reach the top where the village is located. Although you might consider traveling to the top by car or minibus, wear comfortable shoes; if you walk to the village or go down to Kabak Bay with flip flops, a very painful journey awaits you.
When you reach your destination, the view of the valley and the turquoise sea will surely mesmerize you. There are a couple of accommodation options in Faralya. You can either enjoy the small luxuries of boutique hotels, some of which have bungalows, or you can spend the night in camping sites in the village or on the path up to the village. Apart from the hotels, some locals open their doors to tourists by renting rooms in their own houses. Accommodation prices usually include breakfast, but do not forget to ask your host.