Turkey is a fundamentally weird place in a lot of ways. When visitors from the west come, they tend to emphasize the exoticism, or the cooking, or the architectural history, or the long tradition of folk arts. While all of these are lots of fun, what often gets overlooked is how utterly bizarre some parts of the country are. For instance: The honey which makes you go crazy if you eat it, the whistling language from the Black Sea region, the chicken dance. (Yes, Turkey has one of those. It's called Tavukları Pişirmişem. Look it up.)
The average Istanbul resident's cure for the winter blues is to buy a ticket to Antalya and sip something fruity out of a coconut on the beach while waves lap soothingly onto the sandbar. And while that's fun, I wanted to do something a little more interesting. So, I assembled a list of a few unusual things to do around İzmir. And, it's İzmir, so at least it'll be warm. And, if you decide that you hate these strange things, you can always retreat to a beach, or go see the ruins at Ephesus again. Without further ado, here are three suggestions for a wintertime adventure in the Aegean.
Old machines in İzmir
İzmir is best known for its long and glorious boardwalk, its weird mackerel sandwiches and stuffed mussels, and its fried donut holes. There's even a famous çöp şiş place where Elijah Wood's photo is up on the wall holding up a handful of meat skewers, along with a hundred other celebrity photos. No doubt all of these are great things about İzmir; I was keener to look at the antique machines. İzmir has seen a lot of industrial-age engineering experiments, and it can be fun to transport yourself back to a time before all of us had magic cameras and phones in our pockets.
The first and most obvious stop is the Konak Clock Tower. The well-known symbol for İzmir's spirit can be found in the eponymous Konak square. İzmir holds a special place in the Turkish imagination because the fight for Turkey's independence began in İzmir, when the Greek king sent a battalion of men after World War I to take Istanbul and make it a new Greek capitol. (Funny story - he got bit by a monkey, died from infection, and then the new Greek king was too unpopular and not quite competent enough to complete the military campaign.)
That's all beside the point. The clock tower was designed by a Levantine French architect, Raymond Charles Pere, and given as a gift by the German Emperor Wilhelm II, to commemorate Abdülhamid II's 25 years on the Ottoman throne. Admire the unusual mashup of architectural styles the tower shows off, set your watch, and move on. There are more steampunky things to see.
In the 1900s, a Jewish businessman named Matt Levi built an elevator to move people from the lower town to the upper town.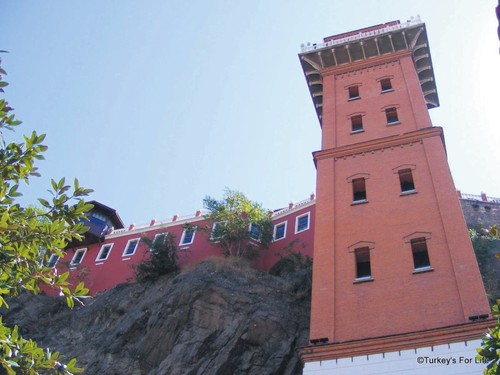 This was a huge help, as previously the residents had to climb more than a hundred steps up a steep slope to get around. It is called Asansör, which means, simply, "Elevator." There were two lifts, one steam-powered, and one electric. They've both since been remodeled to modern electrical systems, but the brick tower still stands, as do the hundred-year-old elevator cars. At the top, you can get a great view of the gulf.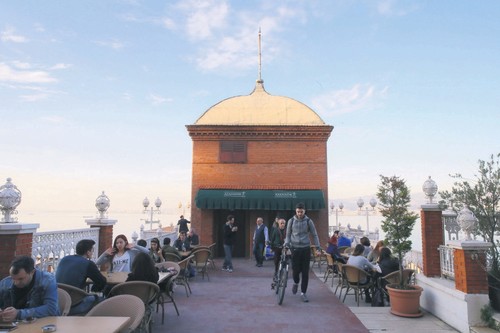 I find it a bit strange that a bit old elevator is such a huge tourist attraction in İzmir. People get married up here, probably so that when they get pictures, they can get the view. Though nobody's shoveling coal into a furnace, and no white-gloved helper awaits his guests inside the car itself, it's still an unusual feature of İzmir's mechanical history. Go up, go down, and move on.
Finally, the best old machines from a hundred years ago can be found in the Hamza Rüstem Photography House. Rüstem is one of the giants in Turkish photography history. He was born in Crete, immigrated to İzmir during the population exchanges and opened his own studio. His grandson Mert still operates the studio as a museum, where he shows off hundreds of Rüstem's old glass negatives, photographic machines, and photos from an İzmir a century ago. Half the stuff looks like scuba equipment, and the other half looks like accordions with a lens. You have achieved peak steampunk.
Watch some camel wrestling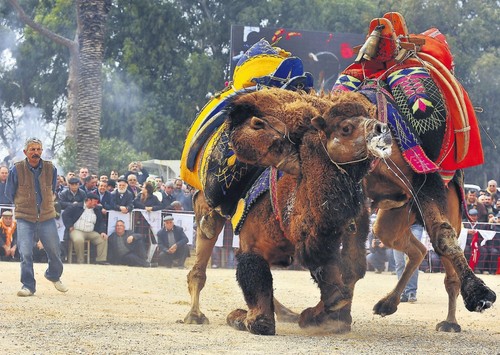 Camel wrestling is exactly what it sounds like. It's not man versus camel, no, but two camels duking it out for dromedary supremacy. The adoring camel owners dress their beasts in bells and whistles and furry knit blankets, almost like a team jersey. Spectators gather by the hundreds and create a festival atmosphere, with pan flutes and drums playing in street bands, and barbecues set up everywhere, fragrant meaty smoke in the air. An insane man narrates the match in a combination of sports commentary and poetry. The day before the matches, there's a camel beauty contest. Read those words again and let it really sink in: They day before the camels wrestle, there is a camel beauty contest. How could a person even judge a camel beauty contest? Can Homo sapiens really impose their beauty standards on Camelus dromedarius? (I typed that out as the dumbest guess I could muster and then looked it up, and that is the real scientific name). Some people think that camel spit is good for your complexion and rub it on their own faces. This is amazing.
A camel-wrestling match lasts about five minutes, to much hooting and hollering from the spectators. If we're comparing strange, animal-involved combat traditions worldwide, camel wrestling is way less violent than, say, bullfighting. Matches are restricted to 10 minutes so it doesn't hurt the camels too much, and biting is strictly forbidden. Nobody has to die! Also, camels don't often want to fight with each other. Half the fun of the match is convincing them to spar, and laughing along with the crowd when the camels lose interest in the match. In older, more savage times, a female camel was led into the ring, so the males would have the impression they were fighting over her virtue. Even so, winter is breeding season, and the camels tend to be more aggressive than normal. The camels thaw each other with their long hairy necks until one falls over and the other can, well, sit on him. The winner does a camel salute, and his owner dances and cheers and wins some token or small pot of prize money. I'd like to thank the nomadic Yörük people for getting hugely bored some 2,000 years ago and coming up with the most ridiculous spectator sport imaginable.
If you want to see some camel wrestling, go to the Facebook page Deve Güreşi Sevenler (Camel Wrestling Fans) and look for the picture marked Takvimi (calendar). There, you'll see a list of all of the villages and provinces and dates in the Aegean region that will host camel wrestling matches. It's best you go to a smaller village - you're more likely to be drawn into a wackier all-day party and welcomed as a guest, rather than just a tourist.
Check out the mastic grove in Çeşme
​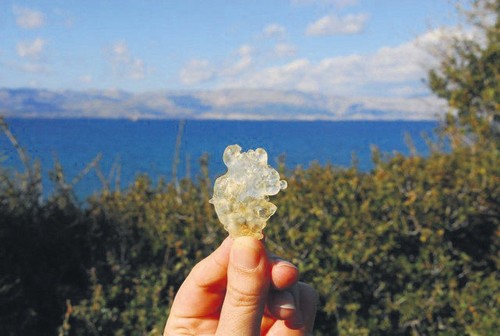 The way more obvious choice for Ceşme is one of the many pleasant resort towns, like Ceşme itself, or Alaçatı, or Ilıca beach. These are totally reasonable things to do. But wait! Wouldn't you rather see the only mastic grove in Anatolia in the village of Çiftlikköy? I know I would!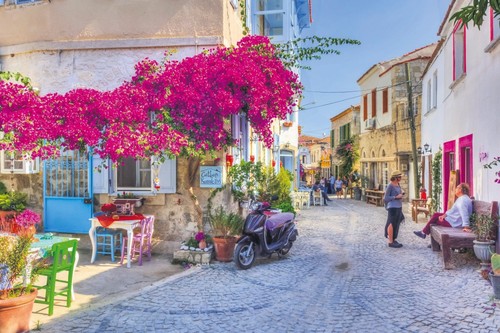 Alaçatı
Mastic, or "damlasakızı" in Turkish, is the crystallized sap of a variety of tree which basically only grows on the island of Chios and the Çesme peninsula. Harvesters take what's basically powdered Tums antacid tablets and spread it in piles near the roots. Then they tap the tree, and then sap drops out into the Tums sand over 10 or 15 days. The result is a bunch of yellowy crystals. This utterly weird product got its name from the Greek word for "to chew" from whence we get the word "masticate." That's because it was originally used as chewing gum. It was so precious back in Ottoman times, it was worth its weight in gold. The sultan had a fiat monopoly on trade, and all of the mastic-producing villages on the island had walls built all the way around them, so the only ways in or out was by ladder. If you stole mastic, the penalty was death.
Why is sap so valuable? It has wonderful properties of texture, flavor, and aroma. Besides gum, it goes into ice cream, coffee, jam, medicine, a smorgasbord of other things. The flavor is somewhere between pine tree and Redbull. You'll warm up to it, I promise. Almost all of the world's mastic is still grown on the island of Chios in Greece. However, there's been an effort to bring mastic cultivation back to Aegean Turkey. The Turkish Foundation for Combating Soil Erosion (TEMA) planted 3,000 mastic trees about six years ago in the village of Çiftlikköy, and they have been trying to preserve the grove for future mastic-lovers to get real Turkish-grown mastic.While none of these suggestions will bring you the relaxing, winter escape that you might crave, you'll do better to create some memories for yourself for the holidays. After all, what sticks in your head better: A spa day? Or that time you took a steam-powered elevator to see camels wrestle and eat tree sap soup? Wait, never mind. That's a terrible idea. Go to the beach.